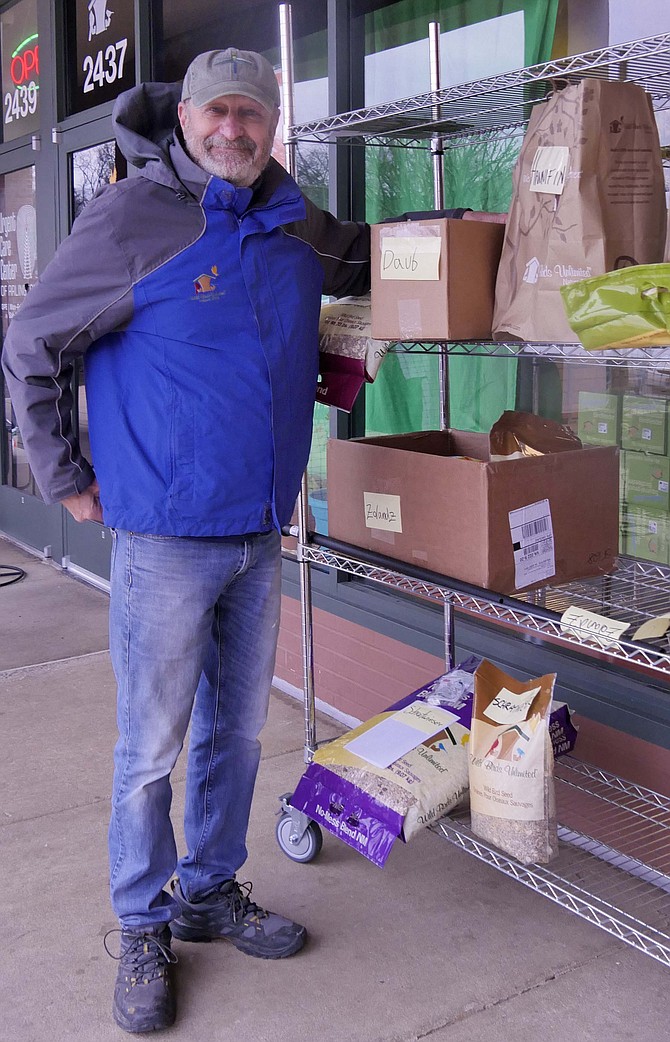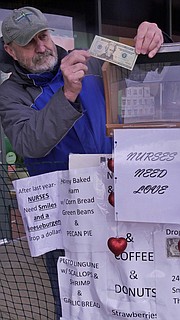 If you want to buy birdseed, you have to be persistent. You have to walk around a net strung across the sidewalk to separate Wild Birds Unlimited from the Covid testing site next door. The parking spots in the shopping center are packed with the cars full of passengers waiting to get some of the 300 tests administered every day.
But birdseed customers are persistent. Michael Zuiker, owner of the Wild Birds Unlimited franchise says, "That's the crazy thing—we had our best year ever last year in my 29 years at Harrison Shopping Center. We worked extra hard; we had to learn to adapt."
Zuiker says he thinks things changed because when Covid hit, people were stuck at home, and they noticed the cool birds in their backyard. When they had been working they didn't pay as much attention but when they were home they noticed when the feeders were empty. Now that they have joined the ranks of the bird enthusiasts, some are buying different kinds of feeders to attract a variety of birds.
Zuiker says his business is mostly actual bird food since the in store customer shopping is closed and customers can't browse around to pick up bird jewelry or clutch toys for kids or birdbaths. But "we've turned into a baby Amazon with about 50 percent of our business now delivery. It used to be we'd put seed in your car and you'd go." Now if you prefer, you can order ahead and you can pick up your order on the metal rack outside the door of the store and it will be delivered to your car (wherever it is parked).
Now they are delivering all over N. Virginia. Zuiker explains it has been tough the last few days with the ice storm. They were totally closed Thursday and opened late on Friday. "Now today and tomorrow we have to run all over the place."
He says that a year ago when Covid hit, Zuiker thought they would be finished after 28 years. "We had no clue what to do. We went from retail to no one coming in. What happened is everybody was scared to death."
And then things changed dramatically; the Urgent Care Clinic next door got really busy with Covid tests.
Zuiker says it used to be there were two nurses sitting on the couch all day at the Urgent Care waiting for patients; now after Covid there are up to 10 nurses doing 300 tests a day in 12 hours. "They work so hard." Now the people wait in their cars, which sit numbered in the parking lot waiting their turn for a test.
"I used to see numbers 1-12. Then it kept blowing up. In a couple of weeks, it was 24-25, then 100. You could look down the whole line of cars at the shopping center."
Zuiker provided coffee and donuts for the nurses and then he came up with the idea to put out a plastic bird feeder with a dollar bill and a sign. Before you knew it they had raised $6,000 over six months for pizza, lunches and other goodies to keep the nurses going.
But while they closed for in store customer purchases, the store kept an online presence and offered delivery as well as curbside pick up. Zuiker says the regular customers kept coming and in the summer new customers started coming. Those waiting for COVID tests were required to wait in their cars.
Zuiker remembers the shopping center when he first opened his store. "The shopping center was run down with a 40 percent vacancy rate." But they did have a Popeye's and a McDonald's and a liquor store right next door. When they tore down the old A&P and built a Harris Teeter, things turned around. But things were challenging then, too. "I'd been here 6 years, and people asked me: was I new?"
"We try so hard to reach out to people. We just need awareness that we're still open." And Zuiker says he has learned some things about marketing when with all of his efforts, people still don't know he is open. And then there are the people who ask, "Can I see the birds?"
Looking ahead Zuiker is hoping to reopen the store inside in June or so when the Urgent Clinic next door moves to the front of the shopping center in a rebuilt space and when he has been able to get a Covid vaccine. "I live in Montgomery County and we don't have enough vaccine."
In the meantime, he says stock up on your Winter SuperBlend, no mess birdseed, thistle, P&B suet or the hot pepper super suet to keep the squirrels away. Or maybe a new squirrel buster eliminator feeder. Watching the squirrels try to get into your new squirrel-proof feeder can be an afternoon's entertainment.