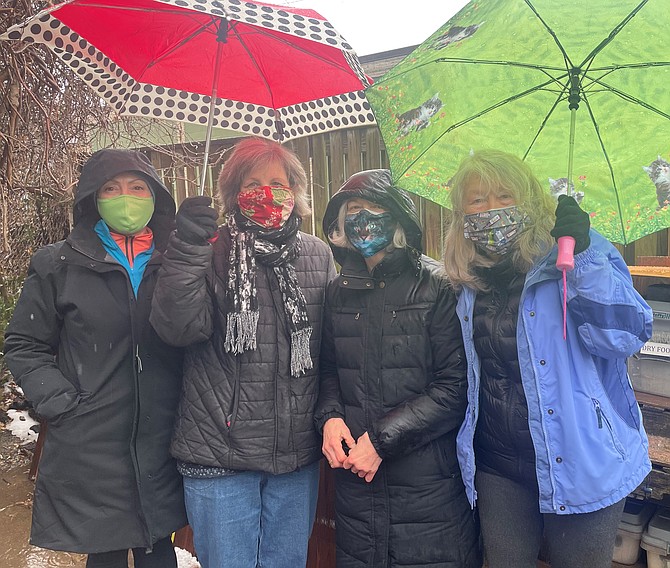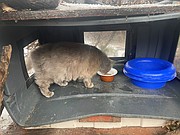 Ever since Devon Cain was a young girl, she has loved cats. The retired art teacher has volunteered at shelters and several cat organizations but in 2013, she discovered another passion: caring for a feral cat colony in Arlandria.
"Ever since I can remember I have done my best to help cats in some form or another," said Cain. "But the hardest and the most rewarding for me is my work with ferals. My heart belongs with the ferals, strays, and abandoned cats that deserve proper care from humans."
For several years, Cain was among dozens of volunteers to feed and care for the feral colony in Arlandria. She left the area in 2018 but still stays involved through donations of artwork to raise money to support the feral cats.
"I became involved in March of 2013 and helped a trapper TNR [trap, neuter, release] the cats," Cain said. "Many of the cats had previously been treated but the history of the colony isn't clear. Supposedly it was started by an employee of a local business in the area."
Despite community support, Cain chooses not to disclose the location of the colony to protect the cats.
Currently, there are 17 volunteers caring for the Arlandria colony, which varies in number at any given time.
"The original cats were Boo, Rex, Reggie, Mosby, Matty, Le Nez, the two Radleys, and Little G," Cain said. "Sadly, we have lost all but three of the cats. One had to be euthanized due to chest cancer, we found the body of one at the site, and the rest just disappeared."
Over the years, Cain and other volunteers purchased food and set up cat shelters at their own expense.
"After clearing the area of debris, I began creating a home for the cats," Cain said. "I purchased large storage bins and used either Styrofoam tubs to line them or I taped in silver insulation. A sprinkling of organic flea powder on the bottom of the bins, a mound of straw, and a 5-inch square opening to keep the raccoons out helped to complete the new homes."
The colony site has evolved over the years and now consists of several shelters, a storage unit and two feeding stations. The site is cleaned several times per week and the shelters are changed out two times per year.
The colony volunteers see to it that the cats get regular care from a veterinarian.
"Every cat in the colony has had a yearly rabies shot and other vet care is given at the same time," said Cain. "To my knowledge, only one cat was trapped due to having a wound which turned out to be chest cancer."
According to Cain, it can be difficult to trap a cat after the first time as they become "trap shy."
"Before I moved, all the cats had a three-year rabies shot which helped cut down on the necessity to trap," Cain said. "However, one cat has a skin issue and must be trapped on a yearly basis."
To Cain, the trappers are her heroes.
"It takes nerves of steel or a very calm nature to be a trapper," she said. "It can also take a lot of time and effort due to special traps, conditions – no food the day before so they are hungry, decent weather if possible, special smelly food, etc. – and availability of caretakers to help. Usually, they need to spend the night in someone's home before going to the vet."
Word of mouth has allowed the group to expand its support base, both with volunteers and local businesses.
"One nearby business in particular has been outstanding in its support for the colony," Cain said. "They have allowed caretakers to set up tables to sell my artwork, talk with people about the cats and to collect donations. We have a large display board with pictures of the cats and the site, and pertinent information about feral or community cats"
Cain urges everyone to support organizations that care for feral colonies, particularly those that provide TNR services.
"The plight of feral and abandoned cats is of great concern to me," Cain said. "If a stray or abandoned cat is able to join a feral cat colony and they are not neutered, their offspring will grow up feral. But if their kittens are trapped early enough – approximately 8-12 weeks old – they can be socialized and adopted."
Since leaving the area, volunteer Ginny Richards has become the colony's lead organizer.
"There is so much good about what we do," said Richards. "The long-term faithfulness of our volunteers means that on any given day, there are cats who don't need to worry about how they are going to eat."
Donations to the Arlandria feral cat colony may be sent to Richards via her email: ginnyrmail@aol.com.