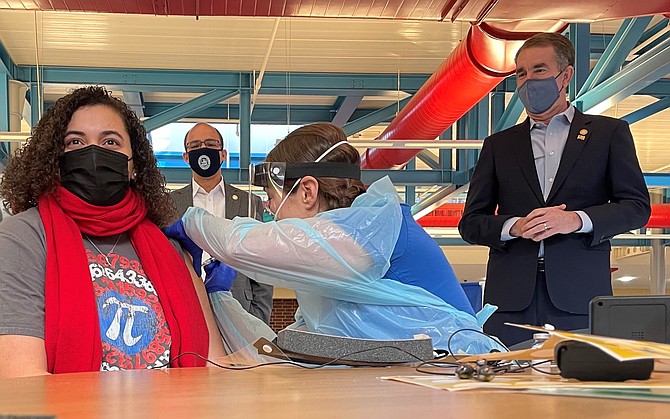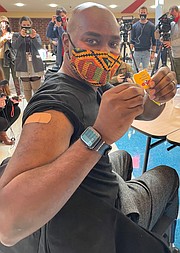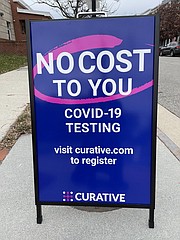 Virginia Gov. Ralph Northam was on hand as vaccinations began Jan. 12 for Alexandria City Public School employees with ACPS Superintendent Gregory Hutchings among the first to receive the initial dose of the Moderna COVID-19 vaccine.
Leanne Desmond, a nurse at Douglas MacArthur Elementary School, administered the vaccine to Hutchings and to Danielle Thorne, a geometry teacher at T.C. Williams High School and the first ACPS employee to sign up for the vaccine.
"I am very excited to be here," said Thorne. "This gives me a sense of relief to be able to receive the vaccine today."
The Alexandria event is part of the city's move to Phase 1B of the vaccination process, which includes teachers, police officers and other essential workers, and those over the age of 75.
Mayor Justin Wilson and Alexandria Health Department director Dr. Stephen Haering joined Northam for the event.
"We've been fighting this fight since March 7," Northam said. "The hope we are seeing – this light at the end of a long, dark tunnel – is the vaccine. We need more shots in people's arms and are hoping to have a majority of Virginians vaccinated by the end of the summer."
Desmond, who has been administering the vaccine since it first became available in the city, was also excited about the move to Phase 1B.
"It means a lot to me to be able to begin administering the vaccine to my fellow ACPS employees," Desmond said. "I am excited that my colleagues now have the opportunity to get vaccinated."
The move to Phase 1B comes as new COVID-19 cases across the state have spiked. The Virginia Department of Health confirmed 5,798 new cases on Jan. 9 alone, with 407,947 confirmed cases across the state. As of Jan. 12, Alexandria has confirmed 8,248 cases with 458 residents requiring hospitalization. Of those, 91 residents have died due to COVID-19.
"Our statewide vaccine effort is off to a good start," Northam added. "We are ramping up the effort to get as many people as possible vaccinated as quickly as possible. We need to get our children back in school and our businesses back up and running as quickly as possible."
Hutchings praised the team effort of the Alexandria Health Department in getting ACPS personnel vaccinated.
"This has been a collaborative effort with Dr. Haering leading the way," Hutchings said. "We need to get back into our school buildings and get back into some sense of normalcy."