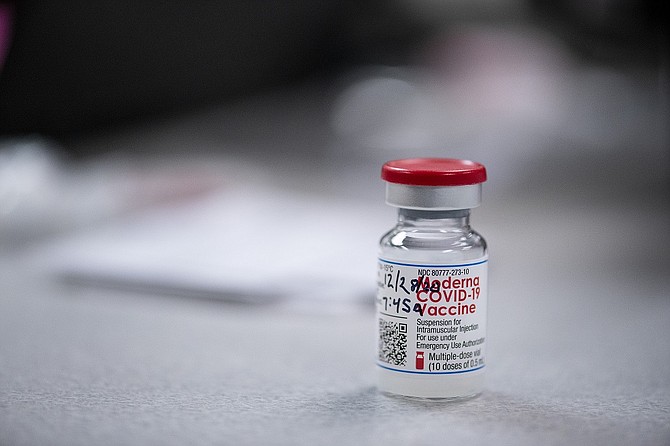 "I want to assure you that everyone who wants to be vaccinated will be," said Jeffrey McKay, Chairman, Fairfax County Board of Supervisors.
After Gov. Ralph Northam said last week that people aged 65+ and people ages 16-64 with high-risk medical conditions could register to receive the COVID-19 vaccine, technical difficulties on the Fairfax County site Monday morning, Jan. 18 prevented individuals from registering.
"Our apologies. Please be patient as we work to fix this problem," tweeted the County.
In a noon newsletter to the Fairfax County Community, McKay said, "I understand your frustrations and anger." According to McKay, it was a "cloud-based problem" with the vendor, and in the meantime, the County had a fix to allow those eligible to register online or by phone.
McKay added that as of Monday, 40 percent of county residents were eligible to be vaccinated. However, the County's ability to vaccinate depended entirely on vaccine being sent to them from the state. He said, "We have a very limited supply of vaccines coming from the state and we are constantly working to get more."

The Fairfax County Emergency Information website details the process for scheduling vaccination appointments at Health Department Clinics. However, the County website warns: "It may take months to get through these priority groups. This is why – even if you register for an appointment – it might take some time before you can actually secure a slot and get vaccinated. There are plans to increase options for vaccine in pharmacies and health care provider options, which over time will give people more choices."
According to the Fairfax County Health Department's instructions:
Step 1: The registration process collects basic information so we can confirm your eligibility and add you to the appointment queue. After you complete the questionnaire, you will see a "thank you" screen. People who need assistance with registration, who need to register in another language, or who do not have proper internet access or technology for online registration can contact our call center at 703-324-7404...
Step 2: You receive a confirmation email...
Step 3:You will receive an email alerting you it is time to schedule your appointment...
Step 4:You receive an email to confirm your appointment...
Step 5: You get vaccinated.
The following are links provided by Fairfax County Emergency Information:
Email questions or concerns to ffxcovid@fairfaxcounty.gov. This email account will be staffed Monday through Friday, 8 a.m. through 6 p.m.
Visit the web portal for coronavirus that serves as a one-stop online resource for information. www.fairfaxcounty.gov/covid19/
Learn more about COVID-19 on the Health Department Coronavirus (COVID-19) Webpage or FAQ page
Follow @fairfaxcounty and @fairfaxhealth on Twitter.
Questions continue to arise, such as what about people who already received their first dose of Moderna at the Fairfax County Government Center or people who got their first Pfizer dose at Inova Fairfax, for example.
A spokesperson for County Supervisor Walter Alcorn (D- Hunter Mill) said, "There is so much info out there and it can be confusing. The short answer is that if you received your vaccine at the Government Center (or other county facility) from the Health Department, you will be notified by the Health Department. If you received your vaccine from Inova, you will be notified by Inova."
On Tuesday, the County alerted online that its call center was experiencing high volume and recommended using the online Vaccination Registration.
As of Friday, Jan. 13, McKay reported:
Virginia, in its entirety, receives about 110,000 doses of vaccine a week.
168,000 residents in the Fairfax Health District are considered to be within phase 1B.
As of this morning at 5 a.m., the Fairfax County Health Department had vaccinated 15,980 people since Christmas. This does not include vaccinations administered by Inova or at long-term care facilities.
As of late Wednesday (Jan. 13), 31,000 residents had scheduled an appointment with the Health Department since Monday.
On Tuesday, Jan. 19, Virginia Hospital Center's online message read: "VHC is not currently able to accommodate the individuals in the priority group 1b, age 65+ or those 16+ with underlying medical conditions. Updates will be made to this site as we are able to accommodate additional groups...Our community vaccine clinic is located at Walter Reed Community Center and you must schedule an appointment online. If you are a healthcare worker or a person over the age of 75, you can schedule your COVID-19 vaccination online now."
The hospital's website clarified vaccine distribution and availability. The following are highlights:
Q: What happens if I don't meet the criteria, but I have already scheduled my appointment?
If your appointment is this week and you are not a healthcare worker or over the age of 75, please arrive at your appointment as scheduled.
Q: Can I schedule an appointment if I am not an Arlington County resident?
Yes. However, if you are not an Arlington County resident, we ask that you check with your local health district about the availability of vaccines in your area.
Q: What do I do if there are no available appointments?
We are scheduling appointments based on the supply of vaccines we are receiving. Due to high demand, our scheduling system may not be displaying any available appointments. Future appointments will open as we receive more vaccines. Please check the website later.