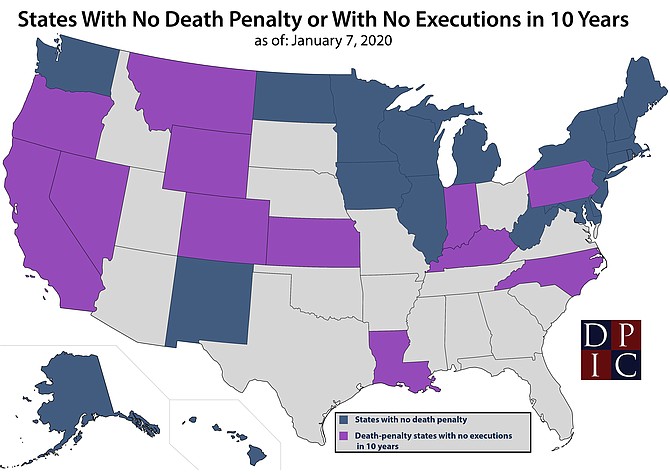 A few weeks after Alexandria Commonwealth's Attorney Bryan Porter was sworn into office in 2014, he found himself prosecuting a serial murderer. Charles Severance was indicted for capital murder after a killing spree that included three prominent Alexandria residents over the course of a decade as part of a deranged attempt at revenge against a city he blamed for separating him from his son in a custody hearing. Porter's friends in the law-enforcement community were urging him to seek the death penalty, but Porter had campaign as a prosecutor opposed to the death penalty and he wasn't about to back down now.
"I sincerely questioned the morality of seeking capital punishment for a person so affected by mental illness," Porter wrote in his book about prosecuting Severance. "My waiver of the death penalty spurred some to criticize me online. I remain convinced I made the right choice."
Virginia has executed people more people over a longer period of time than any other state, a tradition that stretches back into colonial days when Captain George Kendall was executed for treason. Over the years, the commonwealth has executed more than 1,300 people. Now, Virginia may be about to join 22 other states that have abolished the death penalty. A bill to discontinue capital punishment has already been approved with a bipartisan vote in a Senate committee, and Gov. Ralph Northam says he's ready to sign the legislation if it reaches his desk.
"I believe the time has come to abolish the death penalty in Virginia," said Porter in an interview this week. "Human beings are imperfect, and that means it's just not reasonable to expect that the death penalty can always be implemented justly or impartially or infallibly."
RARELY IS A VOTE in the General Assembly a matter of life or death the way it is right now for two people currently on Death Row. For them, the debate over ending capital punishment isn't an academic discussion or a political debate. Supporters of the death penalty say the ultimate punishment is necessary to make sure dangerous people are removed from society.
"An executive death sentence absolutely guarantees the killer will never kill again," said Michelle Dermyer, the widow of a Virginia State Police trooper who was murdered in 2016. "It is imperative that Virginia continues to allow the death penalty as an option for those families who make a decision to seek it as justice for their loved one's death."
Critics of the death penalty say it's too expensive, doesn't act as a deterrent and is used disproportionately against Black people. The coalition of organizations supporting legislation to end capital punishment in Virginia include religious groups, civil rights groups and families of victims who say murdering the murderers will not bring justice. Some of the most vocal advocates are the lawyers who have seen the process up and close and personal in courtrooms across Virginia.
"For 25 years I've been walking into courtrooms and purporting to have dignified discussions about whether or not we should make one of the other people in the room stop breathing." said Doug Ramseur, a board member of the Virginia Association of Criminal Defense Lawyers. "There's no denying that it's racist and values white lives over Black ones, and it has the potential to execute innocent people and it's just plain unnecessary."
Most of the opposition to eliminating the death penalty comes from people connected to the law-enforcement community. They say criminals who kill officers deserve to be put to death. When the Senate Judiciary Committee considered the bill earlier this week, one of the speakers who testified against the bill was former Sen. Bill Carrico (R-40), who spent many years as a Virginia State Police trooper.
"The death penalty is reserved for the most pathological, most heinous crimes that are committed against people," said Carrico. "When they commit these crimes they commit them against you and I. They commit them against law-abiding people."
"The death penalty is racist."
— Fairfax Commonwealth's Attorney Steve Descano
THE BILL TO end the death penalty was introduced by Sen. Scott Surovell (D-36), who points to examples where executed defendants were later found to be innocent. Laying out his case to the committee this week, Surovell said one of the problems with putting together juries in capital cases is that they exclude people who are morally opposed to the death penalty, which prevents about 43 percent of people in having a say over whether defendants are executed. He also dismissed the argument that the death penalty serves as a deterrent to killing officers.
"Anybody who's dumb enough to take a shot at a law enforcement officers is probably asking to be killed," said Surovell. "I mean, you're going up against someone who's armed, and the idea that having a death penalty on the books is going to deter someone who's that stupid or reckless or craven doesn't hold water."
The Virginia State Police Association is leading to opposition to Surovell's bill, arguing that people who take the life of law-enforcement officers deserve to be put to death. Making the case to senators that they should continue executing defendants, executive director Wayne Huggins recounted the case of a special agent who was shot and killed in 2017. His murderer was convicted of capital murder and sentenced to 36 years. He also mentioned the killer of a Richmond police officer who was released after serving 40 years.
"Life no longer means life," said Huggins. "Not only are they not getting the death sentence, they're not even getting life in prison."
THE LAST TIME the death penalty was used in an Alexandria case was in 1990, when Wilbert Lee Evans was executed by electrocution after being convicted of murdering Alexandria Sheriff's Deputy William Truesdale. The murder happened in January 1981 when Evans shot Truesdale with his own weapon while the deputy was leading the inmate back to jail after a hearing at the courthouse. Defense lawyers accused Alexandria Commonwealth's Attorney John Kloch of withholding crucial evidence in the trial. Eyewitnesses said Evans bled profusely as he was being electrocuted.
"I am dead, and you don't have to hate me anymore," was Evans' last statement, an apology to the Truesdale family.
Supporters of the bill to abolish the death penalty point to the glaring racial inequality in how capital punishment is applied. When the governor outlined his opposition to the death penalty in his State of the Commonwealth address last week, he pointed out that a person is more than three times as likely to be sentenced to death when the victim is white than when the victim is Black.
"The death penalty is racist," said Fairfax Commonwealth's Attorney Steve Descano. "The role of the prosecutor always should be to build a criminal justice system that is fair for all people and is also effective, and the death penalty is neither of those things."