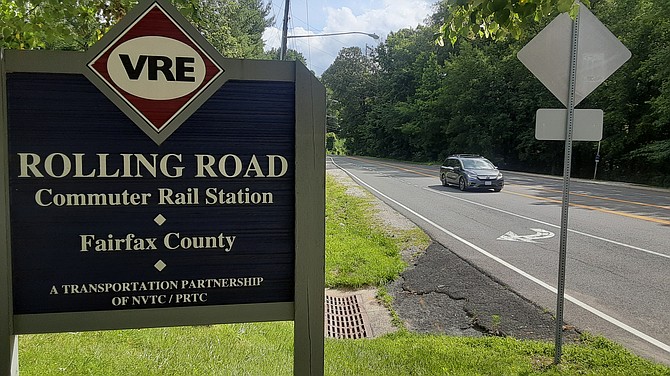 Some area Springfield commuters look at the Virginia Railway Express line to downtown Washington, D.C. as an important transit link in the way a Metro line would be, and they flock to the Rolling Road station on weekday mornings to find the lot filled, so the parking spills out into anywhere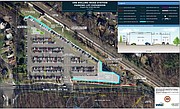 available, including the shoulders of Burke Road. There are lot expansion options that wouldn't call for a multi-level parking garage, or a drastic paving venture, and these options were part of the June 10 virtual Public Information Meeting.
The VRE has plans to expand their trains, so the platforms will be extended, and at Rolling Road, the lot will add parking spaces within the current footprint. "The neighborhood supports it," said Supervisor Pat Herrity (R-Springfield). "The lot serves primarily government workers," he added.
The project is a short-term improvement to the parking lot to increase capacity, meeting materials said. Existing sidewalk will be replaced to ensure the parking lot complies with ADA Guidelines. Officials will extend the curb and gutter along Burke Road to the north to prevent vehicles from parking on the grass area to the north.
Engineers began designing this solution in March 2019 and are finalizing the plans over the summer. Construction is scheduled to begin next summer. The cost of this expansion is $1,925,000. There are two utility poles that will need to be relocated.
At the meeting, there were concerns over transit and the construction impacts on Burke Road. Since the lot expansion is being done in the existing footprint of the lot and surrounding land, the only work being done along Burke Road is the addition of curb and gutter as most of the construction will be on site. Herrity's office will get a rough estimate and put it on the project website. Regardless, the work on Burke Road will only be during non-peak hours from approximately 9:30 a.m.-3:30 p.m. During construction, the equipment and work may impact some of the existing parking spaces, but the Herrity's office will let everyone know in advance, they said.
"We're making some pedestrian and bus improvements as well," Herrity said. Tom Biesiadny, the Director of Fairfax DOT, said that "there are no plans for increased bus service in this area -- 17C runs here and we are not increasing buses on Burke Road or at this station."
Initially there was talk of putting a multi-level parking garage at the location, but Herrity noted that the garage at Burke Centre, one stop away, does not fill up and that type of parking expansion is not needed at the Rolling Road stop.