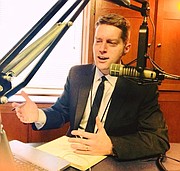 The Washington, D.C., Pro chapter of the Society of Professional Journalists announced the recipients of its 2021 Dateline Awards for journalism excellence June 15 in a virtual presentation. Alexandria Gazette Packet took home five first place and finalist awards in the weekly newspaper division, by Michael Pope.
Pope's "Interrogating Inequality" in the Gazette Packet won the Non-Breaking News category. His "Crashing Economy," won the Business category. His reporting for the Gazette Packet made him a finalist in three additional categories: "Alexandria's Failed Experiment with Wards," was a finalist in Features; Pope's Criminal Justice Reform reporting was a finalist for Beat Reporting; "Disproportionate Policing" entry was a finalist in Investigative Journalism.
Pope also won three first-place awards for his radio broadcast work with Virginia Public Radio: He was winner of Non-Breaking News for Reporting on the Incarcerated; winner for Beat Reporting for Virginia General Assembly coverage; and winner for Business for "Unemployment in Virginia."
"What a challenge the judges faced this year in selecting the best of the best," said Randy Showstack, president of the Washington, D.C. Chapter of the Society of Professional Journalists. "This has been a year when extraordinary events reared their heads, merged, and sometimes collided – a pandemic, urgent calls for social justice reform, a presidential election and ... an increasing concern about climate change. So, it is not surprising that our contest would receive a record number of entries, with so many of the entries displaying the highest caliber of journalistic excellence."
The Alexandria Gazette Packet and its sister Connection Newspapers are lucky to have a reporter of Michael Pope's quality as a regular contributor, said Mary Kimm, editor and publisher of the newspaper group.
Awards were presented for excellence in TV, radio, newspaper, magazine, newsletter/trade publication, and online journalism, encompassing breaking news, business writing, commentary, photography, and more.