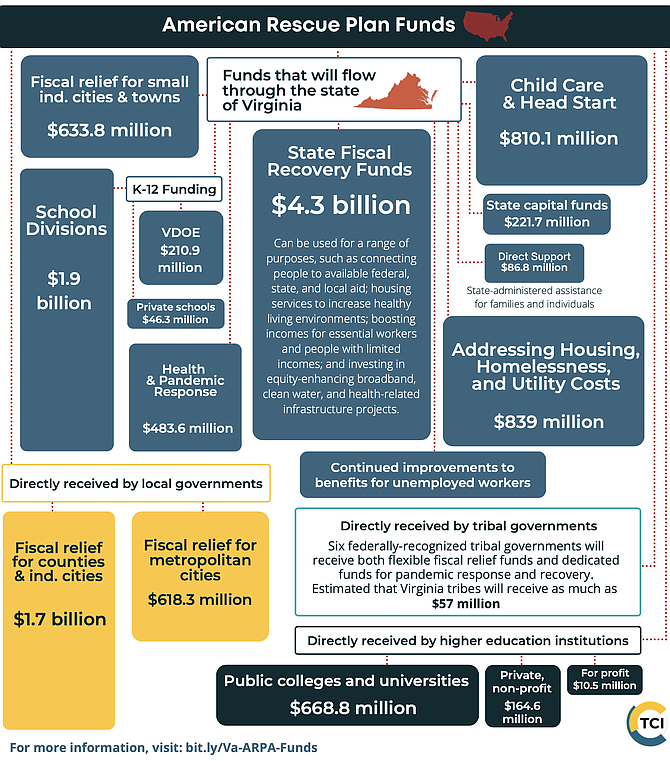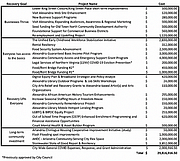 Not since the days of the New Deal in the 1930s has the federal government showered so much stimulus cash on Virginia, and Alexandria is about to receive millions of dollars for everything from guaranteed basic income and flash flooding improvements to staffing at the Freedom House and planters to make the King Street pedestrian plaza look more inviting.
"This is an opportunity for the city to make some transformational investments as well as to do some experimentation, which I'm particularly excited about," said Alexandria Mayor Justin Wilson. "Some of this stuff is not going to work, and that's OK."
The money is coming from a variety of sources, and each funding stream is aimed at offering a helping hand to people who are still suffering from the economic crash caused by the pandemic. Members of the Alexandria City Council have already spent $30 million, and they'll have another $30 million available next May. The Alexandria School Board will get $35 million. And next month, the Virginia General Assembly will hold a special session to figure out how they want to spend $4.3 billion.
"State leaders should really be thinking about the impacts from COVID-19, particularly the different impacts of the pandemic — both economic and health — on communities throughout the state," said Chad Stewart, manager of education policy at the Commonwealth Institute. "We know that the pandemic did not affect all communities equally, and it's really important to take that into account for an equitable approach."
Leaders in the General Assembly are currently negotiating behind the scenes to nail down a spending plan before the gavel comes down on the special session, avoiding a protracted fight over priorities at a time when they'll also be appointing several judges to a newly created appeals court.
Gov. Ralph Northam has already announced some of his priorities, including grant programs for small businesses, money for tourism and investments in broadband.
"The pandemic has reinforced how important high-quality broadband is for the health, education and economic opportunity," said Northam at the Southwest Virginia Higher Education Center in Abingdon, where he announced the $700 million broadband investment. "It's time to close the digital divide in our commonwealth and treat internet service like the 21st century necessity that it is — not just a luxury for some, but an essential utility for all."
"Some of this stuff is not going to work, and that's OK."
— Alexandria Mayor Justin Wilson
Even with those commitments, the General Assembly still has wide latitude for how to spend a significant chunk of change. That could lead to a clash of interest groups as the special session approaches. For example, business groups are hoping they'll be able to persuade lawmakers to invest in the unemployment trust fund. Critics say making a large deposit into the trust fund could prevent business taxes from going up, but they say that should be balanced against spending that could help families.
"We think that keeping the cost of having employees down is important," said Barry DuVal, president of the Virginia Chamber of Commerce. "History has shown that federal dollars have often been used to restore the unemployment trust fund. Without this, the cost to employ someone is significant."
Similarly, lawmakers are probably also going to experience a clash of interest groups on how to spend money for education. Although school boards across Virginia will be able to spend some of the money from the federal government and the Virginia Department of Education will also get an allocation, lawmakers are also considering ways to invest in the public school system.
"There has been a concern that the funds are really mostly directed toward upgrades and renovations as opposed to new construction," said Chris Wodicka, senior policy analyst at the Commonwealth Institute. "I know that's something that some folks in the education world are concerned about because they see that as maybe the wrong priority."
One potential spending priority that's receiving a great deal of discussion is providing wraparound services at community schools. That could be for things like assistance signing up for broadband services, food assistance or after-school programs. The idea is that school facilities can also serve as community hubs for health services. Advocates are currently pressing lawmakers to invest in the idea of community schools during the special session.
"You might place a health center or ways to access additional family services right there within a school building or right there within a neighborhood," said Rachael Deane, legal director for the Youth Justice Program at the Legal Aid Justice Center. "Those can be really wonderful ways to increase equity and increase community engagement, and I think it's important that we use some of this money to explore new models for education like that."