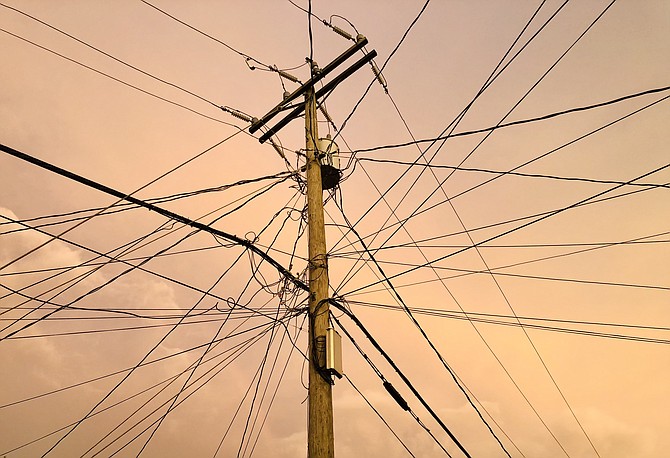 About 15 percent of Alexandria students did not have access to the internet when the pandemic began last year, a statistic that reveals how many households in Alexandria are locked out of the modern economy. Some were hopeful the problem might be solved by a massive $700 million investment by Virginia in expanding broadband. But the spending plan recently approved by Gov. Ralph Northam and Democrats in the House and Senate sets aside only $17 million to help low-income residents connect to existing wireless broadband networks.
That's less than 3 percent.
The vast majority of the latest round of federal stimulus money will likely end up lining the pockets of a handful of legacy telecom providers. Companies like AT&T, Comcast, Verizon, CenturyLink and Cox are expected to receive hundreds of millions of dollars in grant money from the Virginia Telecommunications Initiative to finance private, for-profit networks across the Southwest and Southside. Meanwhile, low-income people here in Alexandria will be in competition with every other jurisdiction for a slice of the $17 million set aside to help low-income people gain access to the internet. Critics say lawmakers could have spent more money on low-income people now and waited for the upcoming round of infrastructure spending to invest in expanding last-mile connections to rural Virginia.
"I'm appalled at how little is targeted to low-income people," said Kim Bobo, executive director of the Virginia Interfaith Center for Public Policy. "You could make it completely free and available around every school that is really low income. You could make it free at public housing for two or three years. There are ways you could have focussed additional money and waited for the federal infrastructure dollars."
"We could help address some of the affordability issues if we had true competition."
— Alexandria Mayor Justin Wilson
The pandemic laid bare the inequity of internet connections as employees fled the office and students struggled with online learning. More than 200,000 households and businesses in Virginia have no high-speed internet access, a problem for rural parts of the commonwealth where financing the construction of the infrastructure isn't as profitable. Here in Alexandria, the problem isn't access. It's affordability. Comcast has a monopoly on service, and consumers can either afford it or they can't.
"I think there's room for public investment to help spur competition, which ultimately increases access, quality and affordability," said Alexandria Mayor Justin Wilson. "We could help address some of the affordability issues if we had true competition."
EARLIER THIS MONTH, Alexandria broke ground on a new fiber optic network. City officials dug their ceremonial shovels into the ground to bury a tube allowing for a new municipal network. Buried next to it will be fiber conduit containing a future network that'll be a moneymaker for the city. Alexandria officials plan on leasing that infrastructure to the private sector, and the city is already in talks with specific companies the mayor declined to identify.
"We have not proposed or envisioned being the service provider ourselves, and there's a debate about whether that makes sense in the future," said Wilson. "Right now, that's not our strategy."
Community and municipal broadband providers have had a difficult time in Virginia, where well-connected legacy telecom companies and cable providers have been cutting campaign checks for years. In this election cycle alone, according to numbers from the Virginia Access Project, the technology and communications industry has already donated more than $8 million. Virginia Tech professor Erv Blythe says it's part of a tradition that dates back to the tobacco profiteering of the Virginia Company of London.
"In Virginia, for 400 years, government has been set up to serve powerful corporate interests to the detriment in some cases of community interests," said Blythe, a former vice president for information technology. "Virginia should encourage, not discourage, locally driven community business models."
"We've spent millions of dollars and have not solved this problem yet."
— James Bohland, professor of urban affairs and planning at Virginia Tech
LATER THIS FALL, the Virginia Tech Center for Economic and Community Engagement will publish a new book titled "Vibrant Virginia." It will include a chapter written by Blythe and his colleague, James Bohland. The professors argue community and municipal broadband could be the solution to making last-mile connections for people without access across Virginia. The chapter details how major corporations rigged the system to help themselves while simultaneously handicapping the competition.
"We've spent millions of dollars and have not solved this problem yet," said Bohland, a professor of urban affairs and planning at Virginia Tech. "It's imperative that the state begin to look at how to empower its municipal governments to manage and create their own broadband network systems."
Don't expect that to happen anytime soon.
The code of Virginia currently has a series of obstacles for municipal and community providers, the product of successful lobbying by large telecommunications companies. For example, service prices cannot be lower than incumbent providers. They must be able to demonstrate that they will be profitable in the first year. And localities are not allowed to subsidize development of locally controlled infrastructure.
"While there is what I would consider to be a silly and counterproductive prohibition on municipal governments as municipal governments operating municipal broadband networks, there is nothing stopping any municipality from creating an authority," said Evan Fineman, the governor's broadband advisor. "And that authority can take in any subsidization it wants from the local government. It can build anything it wants. It can offer any sort of network technology to any customer at any price with no restrictions."
Blythe and Bohland disagree that the constraints are "silly." They say existing state law serves as a way to ensure major corporations make windfall profits while at the same time preventing local governments and community organizations get a piece of the action. As for the idea that creating authorities is a solution, they're not buying that either.
"An authority is basically a political entity," said Blythe. "With these kinds of restrictions there are many communities that would never take the gamble that they would be able overcome these obstacles and be successful in this arena."