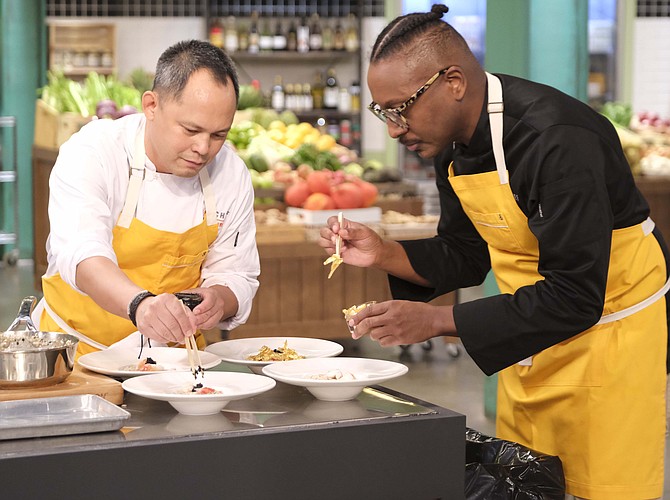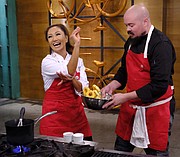 "Good evening and welcome to the Bravo Top Chef Amateurs. Tonight we have Zuliya Khawaja, a vegan from San Diego competing with Rodney Faraon, a former CIA analyst from Arlington 'with a license to kill.' He says he could kill people 'with this little finger.'
"At stake tonight is $5,000 and ultimate bragging rights." Top Chef Amateurs is a new cooking show scheduled on Thursdays at 9 p.m. on Bravo channel.
"Tonight's contest will be 'the seven deadly sins challenge' where each dish will be inspired by one of the deadly sins." Khawaja eyes the selection of chef's knives and draws one that reads "gluttony." Rodney draws next and ends up with "greed."
"Each of you will have a famous top chef to help you with details or advice but we want this dish to be all yours. Khawaja is assigned Isaac Toups and Faraon gets Gregory Gourdet.
"You have 45 minutes on the clock. Here are your white chef's jackets. Let's begin."
Faraon thinks only a moment and decides to make lobster risotto—a dish that surely could symbolize greed. "Let's check the refrigerator to be sure they have lobster." But no lobster is in sight.
"How about these?" He pulls out a tray of large king crab legs. "Let's make it look expensive. Can we do truffles and caviar?"
Meanwhile at a table nearby Khawaja is working on a dish with rich polenta topped with sautéed squash rounds simmered in miso ginger sauce and sprinkled with pomegranate seeds—a dish which she says could symbolize gluttony.
Faraon says, "I'm going to break the famous risotto curse," a reference to the dish that has foiled a number of top chef contestants. "Having all of these crazy ingredients can be risky.
"My main concern is time. It's like a scene in a spy movie with the clock ticking and I have to disarm the nukes. It took so long finding my ingredients." He mutters risotto takes a long time to cook properly.
"30 minutes guys."
Faraon explains, "My mother used to run a little hole-in-the-wall Philippino restaurant so it gives me some experience."
Faraon pours the risotto into a skillet. "Let's get the rice toasting. Making risotto is not advising the President." After the risotto has absorbed all of the white wine, Rodney pours in the seafood stock, a little at a time. "I've got to keep stirring or it will ruin the rice."
Isaac Toups looks over. "Looks burned to me."
Rodney replies with a smile, "That's an illusion."
Faraon turns to his assistant Gourdet. "How are we doing with the crab?"
"This risotto is mercurial. It doesn't want to cooperate. I have to taste it constantly and keep stirring."
7:10 and counting down. "Let's put in the truffle." He is still tasting the risotto; it's still a little al dente. Faraon pours on some more seafood broth, praying it will get done in time.
Gourdet has been working on the crabmeat. "Let's put the crab on first, then the caviar." And the grand finale to symbolize greed, Faraon sprinkles gold leaf lavishly around the dish.
"5-4-3-2-1 hands up."
The judges send the contestants out of the room and savor the dishes slowly while they discuss the final verdict. The judges comment on the risotto. "Could have used a little more seasoning, a different plate to showcase all of the ingredients, a little more cooking to get all of the kernels or rice done." But overall an excellent dish.
But when the scales of fortune are weighed, it is the vegan dish that takes the day. Rodney laments, "I join the list of chefs who have succumbed to the risotto curse." And he says he knew when he had a vegan chef as his opponent, it would be tough because to get this far they have to be excellent chefs.
Faraon says he was glad the challenge worked out the way it did. "If I'd gotten 'the radish' like the previous episode, I don't know what I would have done." But when he got this particular seven sins challenge, he knew he could create a narrative around an idea.
He says he chose risotto based on an experience he had in a previous life. "I was sitting across the table from a very wealthy man, and we didn't speak each other's language. So it was mostly grunts and looks over food." He decided risotto was clearly an expensive food he needed to pay attention to.
Faraon explains one of the judges makes dishes that are simple but well executed. "I knew I had to do this without a mistake." While Faraon concentrated on the risotto he says, "Greg is a great chef and he was giving me advice about what else to put in as well as tips on technique. I wanted to add cream but he suggested mascarpone, which we added at the end to add creaminess."
Looking back Faraon says it could have used more liquid, "but it tasted great. All things meshed well together."
He says Gourdet was skeptical about putting the caviar and truffles together, "but the balance was just right. And Gregory was pushing me to use more salt." Faraon explains that he has cut back on salt in his own cooking but one difference between home chefs and restaurant chefs is that restaurants use more seasoning. "That's what makes them great chefs, right?"
When he isn't at his day job as a partner and chief creative officer at an international intelligence consulting company, he is cooking new cuisines to discover what kind of flavors different cultures love. "I feel like I got a lot of intellectual curiosity from my time at the CIA.
"One of the great things about living in this area is that we are beyond the culinary renaissance; there are so many great chefs."