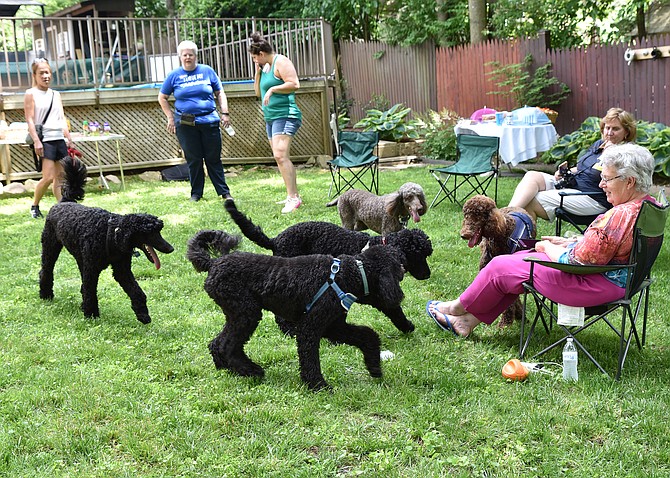 There wasn't a single dry eye at Gabby's long overdue family reunion in early June. At the time, Gabby hadn't seen her children since they were nine weeks old. Still, as six of her fully grown sons walked into her sprawling Arlington backyard, Gabby greeted each of them as if no time had passed at all.
"Oh, she knew exactly who the 'puppies' were," said Jan Clements, who was one of Gabby the poodle's foster mothers. "She greeted each of them at the gate of her backyard, sniffing them up and down. Every time a different one of her puppies would show up, Gabby would go up to him with her tail wagging, so excited. There were people there, but she wasn't interested in them at all. … it was all about the puppies for her."
In case you missed it: Gabby and her children are all purebred Standard Poodles. The puppies have been adopted into new homes in Fairfax, Arlington And what made their early summer reunion – and their story in general – remarkable is that not one of their lives was ever a given.
Gabby's Christmas Miracle
This story began just a few days before Christmas 2019, when Gabby came into the care of the Lost Dog and Cat Rescue Foundation (LDCRF), Arlington-based animal rescue organization. Roughly two years old and pregnant with at least her second litter of puppies, the starving and dejected Gabby had just been removed from an especially inhumane backyard breeding operation in southern Virginia.
"Her hair was badly matted, and she was so malnourished that her coat was the color of rust," said Jan, who is a long-time Lost Dog volunteer. "It was obvious that Gabby had been badly mistreated. That's what you get with backyard breeding situations – people making a lot of money off animals suffering."
Jan and her close friend, Amy Hintosh – another Lost Dog volunteer – first met Gabby when Amy was called into Lost Dog's Rescue Care Center for what was likely Gabby's first ever grooming session. Amy is a professional dog trainer and former groomer, and Jan – with her expertise as a retired physical therapist – came along to soothe this greatly neglected, and thus understandably very anxious, dog.
"They were worried her matted hair would hinder delivery and make it difficult for her pups to access the 'milk bar,'" Amy explained. "Jan came with me as back up in case I needed help and to give Gabby comfort. Once we saw her, we both knew she was special. It broke our hearts to see her in such terrible condition."
Right then and there, Jan and Amy decided to give Gabby a home for Christmas… and for delivering her puppies, whenever that would be.
"We didn't know how pregnant she was, but whenever it was going to happen, I just couldn't see her giving birth outside of a home," Jan said. "She needed a Christmas miracle and that was something I could give her."
The Arrival: Puppies, Puppies, and More Puppies
Jan brought the emaciated, pregnant Gabby home, where the plan was for her to take the "day shift," while Amy would stay over and take care of Gabby at nights. Around the clock, Gabby was showered with love and care unlike anything she had ever experienced.
"Gabby hadn't had a lot of love and affection, and she really craved it," Jan recalled. "The first thing we did was try to get her to eat because we had to get food into her to feed the puppies. We also took her to the Shenandoah Valley and went camping, where she really thrived. All the while, she was so thin that we thought she had at least another month to deliver."
As it turned out though, Gabby was only at Jan's house for 12 days before delivering her puppies. In the wee hours of New Year's Day 2020, Gabby delivered her first healthy puppy, and then the next, and then the next…
"I just kind of braced myself," Jan said. "We were expecting four to five puppies at most, with Gabby being so thin and having lacked proper care and prenatal vitamins. We also weren't necessarily expecting live births. But then the puppies came, and as sick as Gabby was, she was licking and taking care of them, nursing them, and just being such a good mom."
It didn't stop there, either. Even though the average litter size for a healthy Standard Poodle is seven puppies, Gabby went on to deliver ten in total – three girls and seven boys, each of them with either chocolate brown or black coats. And even though some weighed less than a pound at birth, they all survived – thanks to Gabby, Jan, and Amy (and the support of a large community of Lost Dog volunteers).
"For weeks, it was all day, all night feeding puppies," Jan said. "We didn't get a lot of sleep, and that's the commitment you make as a foster parent – doing whatever it took to keep those puppies healthy until they could be adopted."
Nurturing these newborns involved monitoring the puppies' weight regularly to make sure they were eating enough and feeding them when Gabby was too sick to nurse.
Jan and Amy named all ten of these puppies after different areas of the Shenandoah Valley – a region very special to both. In birth order, the puppies were named: Detrick, Markham, Luray, Linden, Royal, Elizabeth, Carmel, Riverton, Helmuth, and Woodstock.
Saying 'See You Later' (Never Goodbye)
In March 2020, all of Gabby's nine-week-old puppies – and Gabby – were adopted through LDCRF. And since day one of each of the dogs' new lives, all 11 of their families have kept in touch through a private Facebook page that Jan set up for sharing photos, updates, and anecdotes.
"We wanted Gabby's puppies to have the advantage of growing up together," Jan said. "Amy adopted one of the puppies, Detrick, and the other puppies were officially adopted through a special event. Then Gabby was adopted the next day by her now mother, Denise, who is the most wonderful pet parent. I really believe God chose her to take Gabby and raise her. Gabby is loved and spoiled and just the sweetest thing, and she lives so close, so we have had the privilege of watching her grow and get healthy."
These days, Gabby is not only the picture of health: in Jan's words, she is also the "poster child for rescue."
"We weren't even sure she would survive labor and delivery, let alone ten healthy puppies," Jan said. "She's the poster child for rescue – this is what it's all about. Dogs come in terrible shape, but if we volunteers can take them into our homes and give them love and affection and let them know they are wanted, lives change. Take Gabby, for example: because one dog came into a rescue, 11 families have been blessed."
And even though not all 11 "puppies" and their families were available for this summer's reunion, Amy said it was still an unforgettable day – especially after a year (plus) marked by COVID-19.
"It was magical," Amy said. "To see Gabby go up to each of the boys as they arrived, sniff them, and start to dance – you could tell she immediately recognized them as her pups. The boys all seemed to recognize her, too. And … it's been wonderful to remain in touch with all the pups and their adopters. The Facebook page helped so much during the initial pandemic lockdown. The adopters were able to reach out to us, and each other with questions and concerns. We get to see their growth and development and have been able to compare personalities."
The goal for the next reunion is to have Gabby and all ten of her Valley Pups, with their varying personalities, there in the flesh. This gathering is tentatively planned for the fall, and, of course, the Shenandoah Valley is on the shortlist of locations.
As Gabby and the Valley Poodle Pups continue to flourish, LDCRF staff will be telling Gabby's story for years to come. They are just one reason – or 11, rather – why people should adopt, and "not shop" when bringing a new pet home.
In order for LDCRF to continue saving these dogs and cats, donations are always appreciated. You can find more information on Lost Dog and Cat Rescue Foundation at https://www.lostdogrescue.org/.