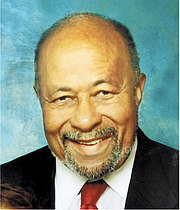 Reston pioneer, humanitarian, and entrepreneur Burton "Burt" Emmanuel Lamkin died June 24, at the age of 86. He and his wife Kathryne moved to Reston in 1966 based solely on Robert Simon's 1964 commitment to an "open community." To the best of the couple's knowledge, they "were the thirteenth African American family to move to the developing town," according to Reston writer Rev. LaVerne McCain Gill, in her book, Reston's African American Legacy, Volume One. Two years later, Congress passed the Civil Rights Act of 1964.
Still, the landmark 1968 "Fair Housing Act" meant as a follow-up to the Civil Rights Act of 1964 was a congressional pipe dream away. Segregated housing existed in the District of Columbia and surrounding suburbs, including Reston and Herndon.

Burt lived to see that dream and others come true. He made his mark locally and internationally. "Burt Lamkin was the finest of gentlemen—a man of deep consciousness and courage, whose humanitarian response to both his neighbor and the sojourner were compassionate as well as just," said Rev. Dr. Marcus Leathers, Pastor at United Christian Parish in Reston. "As his ability to remember names, faces, and events eluded him, his capacity to love and empathize with his fellow sisters and brothers didn't fade."
Burt graduated with a bachelor's degree in Chemistry from Denver University and a master's in Library Sciences. As a published author, he served as a part-time professor for graduate courses at the University of Maryland. He lived lifelong learning. Burt's interests spanned topics, and his productivity required four secretaries, according to the Celebration of His Life and Legacy [1934-2021] held July 20, 2021, in Los Angeles, Calif.
As Burt's health began failing a few years ago, he and Kathryne relocated to California to be near family. Burt is survived by his wife of 61 years, Kathryne "Kathy" (Stephens) Lamkin, adult children: Burton Eugene, Stephen James, Staci Lamkin Boggeri, sister Joyce Lamkin, and loved ones.
BURT MADE HIS MARK, creating collaborative opportunities for the greater good in his professional and service careers. Highlights include Associate Commissioner, Bureau of Libraries and Education Technologies [the U.S. Department of Health, Education and Welfare, Office of Education under President Nixon], Mr. Roger's Neighborhood & Sesame Street [U.S. Department of Education], U.S. Agency for International Development (USAID), and Rotary International: Rotary Club of Herndon.
According to Sarah Duckworth, 2002-03 Governor, Rotary District 7610, when Burt became the District Governor of Rotary District 7610 in 2006, his life mirrored the Rotary International Presidential Theme of "Lead the Way." "His enthusiastic commitment to Rotary and The Rotary Foundation was exemplified in every position he held, from club president to district governor - receiving awards and recognitions all along the way - including Rotarian of the Year...
Learning of Burt's death, fellow Rotarians recalled his contributions as a leader, always "giving service above self," with his gentle disposition, and not leading followers but creating leaders.
According to Rotarian Jim Vollmer, Burt implemented a significant grant request of the Herndon Rotary Club called Project Lucy in South Africa. It proved to be the first considerable grant Herndon Rotary Club implemented through The Rotary International Foundation funding. "It was a project that a local town chieftain coordinated because he had a disabled family member who needed assistance and other disabled children and young adults who needed support. The Herndon Rotary Club, thanks to Burt's lead, provided funds to install a large bathing and bathroom facility to support the living quarters."
In addition, Volmer said that Burt's efforts helped secure Rotary grants to support United Christian Parish's [UCP] partners. Together, they supported purchasing land and building a church, community medical clinic, and an elementary school in Bathsinda, Rwanda.
ROTARIAN Pat Williams, a past president of Herndon Rotary Club and Assistant Governor, called Burt "The Great Encourager." She said that Lamkin stimulated the growth of the Club as well as the growth and promotion of individual Herndon Rotary members. Burt presented an affable manner when leading people toward growth. Tenacity spiked with genuine kindness. "Burt probably asked me two dozen times to consider applying for the job of District Governor," she said. "He did it gently, with his warm twinkly smile.
"Burt will be forever in my heart and the cherished memory of all of us," said Williams.