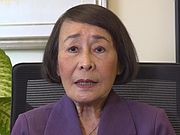 A Vietnamese refugee turned philanthropist who works in Reston knows first-hand the fear and challenges of poverty. Kimmy Duong, of McLean, understands the stress of poverty and the strength necessary to pull free from the grasp of economic hardship. But mostly, she understands the benefit of hands reaching out to help her. Their gifts provided Duong the opportunities to create her own opportunities later.
Giving back and paying it forward is Duong's mantra. It became Duong's life mission to support humanitarian efforts for people in her Vietnamese homeland and adopted United States communities.
According to Duong, she came to America as an adult in 1975. "I had nothing but $30 in my wallet," Duong recalled the date, April 29, the day before the fall of Saigon when the Communists took over her country. When she fled Saigon, she left behind her work as an IBM programmer-analyst. People in the United States helped Duong, and she benefited from a "generous America," a country of opportunity for an immigrant.
Initially, the challenges of her new life proved "very worrisome" and difficult for Duong. "I wanted to be able to help my family back in Vietnam," she said. "I worked four jobs. IBM was my main job, and I worked as a waitress and a sales lady at a fabric store because they gave a discount. I [also] worked at a fast-food shop," Duong said.
Now Duong is expanding her charitable efforts. Known for educational scholarships and gifts support for students attending higher education, health grants, welfare programs such as support for victims of COVID-19 and others, on Wednesday, May 26, Duong spoke about her newest endeavor, umbrellaed under the Kimmy Duong Foundation. It is the Welfare Hardship Program.
Duong said the program aims to help individuals and families in the Virginia, Maryland, and D.C. areas experiencing economic hardship. The amount of aid for each household is $500 or $1,000. The Foundation provides a maximum of 20 grants per month and operates on a rolling basis throughout the year.
Duong said that the Hardship Grant Program is open to heads of household, from a single person household to multi-member households. All must have incomes under 150 percent of the federal poverty line and experience economic hardship. Applicants must reside and work in the Virginia, Maryland, and D.C. area. There is a limit of one grant per family per month. The applicant must provide their name, address, email, phone number, a letter explaining why they require assistance, two letters of recommendation, a tax return showing income below the poverty line, and a filled Affidavit of Hardship form.
A review committee determines the approved grantees every month. The Foundation will notify approved applicants by email or phone. Approved grants are provided by the last day of the month in which the application was reviewed. "We came here with nothing, and we benefited from generous America," said Duong. "We are in a position that we can give back to more people." Visit https://thekimmyduongfoundation.org/portfolio/welfare-hardship-program for more information.