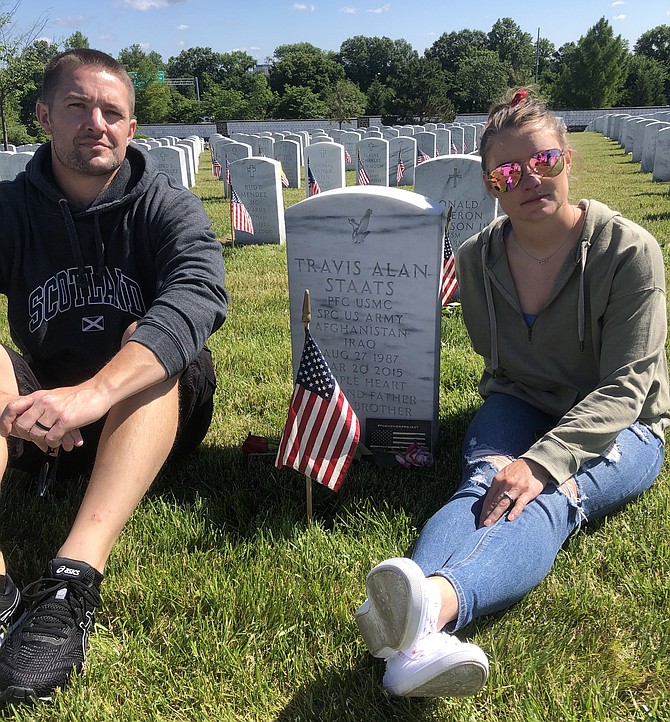 "Travis didn't want to lose his job and his means to support his family. He loved his job and wanted to continue in the service. So he didn't get the help he needed. We should make sure you don't get penalized for seeking help." — Deanna Muir, sister
Deanna Muir sat with her husband, Daniel, her arm draped around the headstone of her brother, Travis Staats, the way a sister does, casually affectionate. Staats was a casualty of the Iraq and Afghanistan wars. It was Memorial Day 2021 in Arlington National Cemetery, and the poignancy of this grave of a man born in 1987 and dead before age 30 was not lost on other visitors, who looked over and saw the family's grief, still fresh, of Staats' death in 2015.
He started out as a sniper in the U.S. Marines, serving in both theaters, and then joined the U.S. Army hoping to make it to the Green Berets. "He was always looking for the next challenge," said his sister. "He wanted to go as high as he could."
SPC Staats was a combat engineer on a bomb squad, clearing a road of IEDs in Nangarhar Province in Afghanistan on November 26, 2011. The intelligence they had was sometimes right and sometimes wrong, and as Staats himself said, "sometimes the IED would be just an inch off of where it was supposed to be." That was the day Staats' luck ran out.
But Staats didn't die in Afghanistan. He took his own life, four years later, after returning to the U.S. to recover from the bombing of his Hummer. After feeling the full impact of his tours in the war zone, struggling with depression and PTSD, he was unable to ask for help, either because he was afraid to ruin his military record, or because as a man, he thought he should be able to handle this himself.
He left behind a wife, two toddlers, his sister, his family. None of them suspected he was suicidal. All of them had talked to him a day or two before he died, even the night he died, and he was upbeat and as always, the one in the family everyone turned to for strength and a positive attitude. "He was the least likely person to do this," said Deanna. "We had no idea."
Staats tells about the day he was injured in a National Geographic Eyewitness War episode called "Bomb Squad Boom." His Go-Pro follows the bomb squad as he tells his story — a young, confident, even humorous realist. "The route we were clearing led from our base, and had a lot of traffic from the base that was headed out to other areas; our job was route clearance so everyone else using the road stayed safe." But it was dangerous work, and Staats notes in the video that every time he went out "I knew in my head I might not come back."
His sensitivity about his role comes through when he also explains the Taliban in that area were there to kill U.S. personnel. As he narrates the story, his squad watched a Predator kill two Taliban insurgents who had been placing an IED on the road.
"People say we are sick-minded, some people say we are crazy. But if the Predator hadn't taken out the enemy, they would have gone on to put down another IED and kill us. You gotta tune your mind into things like this to help you cope." The videos in the National Geographic series show how young these soldiers are, and how they carry on with the mission even when one of the hummers blows up and their squad members are medevaced by helicopter.
That day, Staats thought he had a few minutes before they got to the IED the intelligence had indicated and they would defuse, so he grabbed a meatloaf MRE (meals ready to eat) thinking, "Boy, this would be a terrible last meal!" That's when his hummer went over an IED they didn't know about. Staats sustained traumatic brain injuries and was hospitalized in Germany until he returned to the U.S.
"He was never the same after the war service," said Deanna. But it was so subtle, no one noticed just how different he was. He recovered physically but mentally he was struggling. No one knew he was haunted by what he had seen and done in the war, by living every day on the edge. Staats was like many other war vets; he just didn't talk about it.
WHAT WOULD his sister want done differently for those returning with PTSD and mental health issues from Afghanistan and Iraq?
"I'd definitely want to reduce the stigma of mental health issues," she said. "People think if you have mental health problems you are weak, or unfit. No one wants to talk about it. And the second thing is, I would make sure the returning military get the counseling they need. Travis was scared of losing his security clearance if he sought help for his emotional issues. He didn't want to lose his job and his means to support his family. He loved his job and wanted to continue in the service. So he didn't get the help he knew he needed. So we need to make sure you don't get penalized for seeking help."
An organization called Stop Soldiers Suicide reports over 114,000 deaths by suicide of veterans since 2001, and since 2006, there has been an 86 percent increase in suicide rates among 18-34 year old male veterans.
Deanna and Daniel had another reason to visit the cemetery on Memorial Day. They are both in the Air Force. She is an Airman First Class who just finished basic training and has started her training as a photojournalist at Fort Meade; her husband has been in the Air Force about 8 years, and is a staff sergeant with a radio engineering and SATCOM background. They were separated for the pandemic, and now that they are both vaccinated, they were able to meet up in Washington for a long-awaited reunion. He coached her long distance through Basic, took care of the dogs and her car, and she got through training and went to a graduation full of empty seats. He drove up from their home state of Georgia to visit on this long weekend.

The grief of an untimely death aside, they are looking forward to their careers in military service as they also cherish the memory of Travis Staats. Serving their country, and honoring others who have served, is just part of who they are.
To hear and see Travis Staats talk about his time in Afghanistan, see "Eyewitness War," streaming on Amazon. https://www.amazon.com/Caught-Outside-the-Wire/dp/B00ESB2M76/ref=sr_1_1?crid=XPQ78XECPCY7&dchild=1&keywords=eyewitness+war+full+episodes&qid=1622477734&s=instant-video&sprefix=eyewitness+war+%2Cinstant-video%2C156&sr=1-1
To learn more about suicide among returning soldiers, see: https://stopsoldiersuicide.org/vet-stats