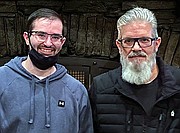 Doug Post from Arlington flew to Seattle in early March and returned home with only 35 percent of his liver. His uncle, Tim Seafler, who lived in Alaska, had nonalcoholic fatty liver disease that seriously affected his quality of life. But Seafler's score on the calculation that determined eligibility for a deceased-donor organ was too low to make him eligible.
So when Post's mother decided to order a blood test for herself to determine whether she was a viable candidate to donate a liver to her brother, Post decided to get his tested as well. He flew to the University of Washington Medical Center in Seattle to do the full testing. It turned out he was the perfect candidate and his mother might not have been.
"I am the right age, size and blood type. My uncle is 6'2" and I am 6 feet tall. A bigger person has a bigger liver so you can take a larger portion of the liver and it will grow back 100 percent." Transplant surgeons took 65 percent of Post's liver and told him it would grow back in three weeks and would be fully functioning in two-to-three months.
"For someone my age it was a low-risk procedure," Post said. The surgeon at the University of Washington Medical Center in Seattle talked him through it, "and I had a lot of confidence in the doctor that he could do the operation safely. I was convinced the chances of serious complications were really low."
Although the University of Washington team has performed 13 living-donor transplants, this was the first patient from Alaska to receive a living-donor transplant.
It wasn't an easy decision.
"For me after seeing the state my uncle was in and that he was unlikely to get a deceased liver donation, it seemed like the right thing for me to do." Many people put the organ-donor designation on their driver's license to offer an organ after they die. But most people don't decide to donate an organ while they are living. His uncle's nonalcoholic fatty liver disease was a progressive disease that took a turn for the worse in March 2020, with increasing brain fog. Seafler reported that simple conversation had become like solving a puzzle.
Despite Post's decision to go forward, the experience was more nerve wracking during a pandemic. He had to fly out two days early to get a negative COVID test. And Post explains, "I didn't want to fly out and get sick and bring it back or get sick coming back." But he knew other people who had travelled during COVID. He wore two masks and used hand sanitizer. "I'm young in a healthy demographic. It wasn't holding me back."
After his surgery he says it was the trickiest. There are no visitors in the hospital due to COVID restrictions "and post surgery you are on painkillers and not all the way there. There was nobody there for me to talk to and trying to use the phone to tell people I was alright when I was groggy was a tough thing to do."
Unexpected things can happen, and there were a couple of things they had to figure out after Seafler's surgery, such as a blood infection and a bile duct that didn't repair correctly.
Seafler was hospitalized there three months but just flew back home to Eagle River, Alaska in early June.
"He is doing a lot better," Post said.
Seafler said, "As soon as I woke up after surgery, I felt focused." He added, "When someone said something, the meaning of the words registered right away. I didn't have to think about it." Seafler was surprised and grateful that his nephew would donate an organ for him. "But he's the reason I'm still here."
Post was required to stay in Seattle for two weeks after the surgery before returning to resume his job in data science at Georgetown where he does technical research projects.
But it was only two weeks of his life, he said. That and not being able to drink alcohol for three months. But Post suddenly realized that the three months has just ended.