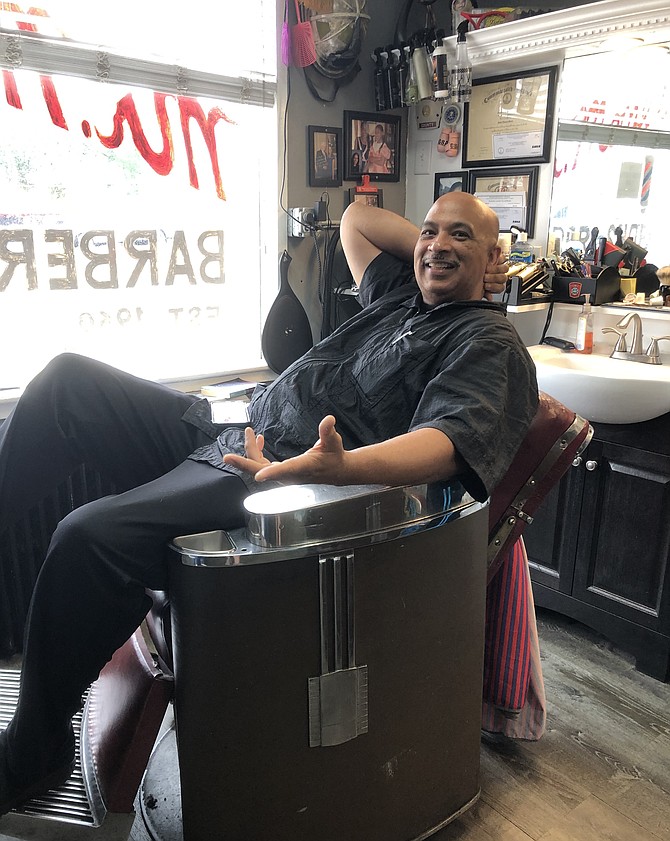 Jim Moore sat back at his barber chair on Lee Highway last week, the shop quiet on a midweek, midday visit, no longer the hub it was in pre-pandemic days. Although masks are off, Moore has continued to schedule haircuts so he doesn't get the last-minute rush on Friday nights.
What was happening for Juneteenth? Moore didn't know of anything specific. Maybe he'd give 19 dollar haircuts that day. He was surprised when the visitor said she had never heard of Juneteenth until two years ago, nor had most of the people she knows, even today. "What about the Tulsa Massacre?" he asked, sitting up in his chair.
"Hadn't heard of that either," she said. Moore said for Black Americans, they knew about both from childhood.
Juneteenth represents June 19, 1865, the day enslaved Black people in Galveston, Texas, heard that they were free.
"Juneteenth is the oldest nationally celebrated commemoration of the ending of slavery in the United States. Dating back to 1865, it was on June 19th that the Union soldiers, led by Major General Gordon Granger, landed at Galveston, Texas with news that the war had ended and that the enslaved were now free. Note that this was two and a half years after President Lincoln's Emancipation Proclamation – which had become official January 1, 1863." https://juneteenth.com/history/
Juneteenth celebrations are a lot like the Fourth of July. People wear red, white and blue because those colors represent the American flag, a reminder that slaves and their descendants were and are Americans. Picnics featuring traditional African-American foods and music characterize Juneteenth celebrations. Virginia made Juneteenth a state holiday last year.
"Do you think things are going to change in society, with all the focus on Black Lives Matter and anti-racism?" Moore's drop-in visitor asked.
"Not really," Moore said. "I think we can talk more openly about it, but the issues are still there." Moore does his part. He votes in every election, and even though the White House didn't select his shop for the nationwide network of barber shop/vaccination clinics, he asks everyone who comes in for a haircut if they have gotten vaccinated. Preston Pharmacy, recognizing the role he plays in the neighborhood, also asked him to publicize their free vaccination program down the street. So far, everyone he has asked is vaccinated.
Juneteenth Events
A search of Juneteenth and Arlington mostly turns up the fact that government offices and libraries are closed June 18 and 19.
https://secure.actblue.com/donate/vajuneteenth run by the NAACP.