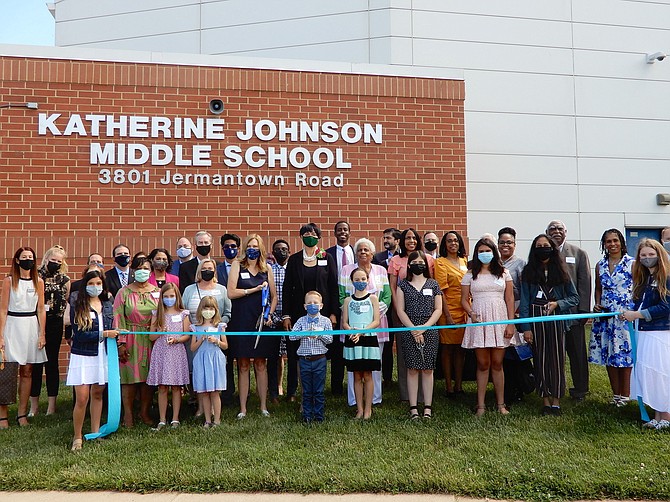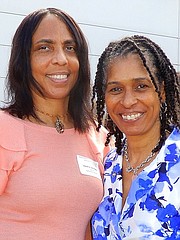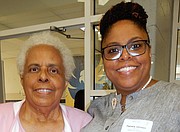 No longer honoring a Confederate soldier, Fairfax City's middle school is now named after famed NASA mathematician, Katherine Johnson. With a slew of dignitaries, plus Johnson's relatives in attendance, a joyful renaming ceremony was held June 4.
"I couldn't think of a more inspiring person to go into the future with than Katherine Johnson," said Fairfax City School Board member Jon Buttram. "I'm enthusiastic about it and am looking forward to this school continuing to be great, but under a new banner."
Board colleague Mitch Sutterfield said Johnson's name is "instantly recognizable" and gives the school "redemption" for its former moniker. Eighth-grader Genesis Say said Johnson "made a great impact on the world." But until the movie, "Hidden Figures," not many people knew about it. So, she said, "With the school named after her, more people will explore her story."
Seventh-grader Isabella Benavides, on the name-change committee, called it "a new start for the school, the county and everyone. I think it's great that we're doing this." So does school Principal Tammy Hanna.
"We were thrilled when the Board selected someone who'd broken barriers, because that's what we tell our children, all the time," said Hanna. "And Katherine Johnson broke through barriers, not only of race, but gender. She was a behind-the-scenes person. And in middle school, you invest in kids, but don't always get to see the fruit. So this is a very appropriate name for a middle school."
JOHNSON'S NIECE, Valerie Johnson, an FCPS math resource specialist, was "elated that they chose her name and she's finally being recognized for the work she's done for NASA and the world. Every summer, I'd visit with her and my uncle James in Hampton Roads. She loved to entertain, tutor, sing in her church choir and garden – and everything she did was math-related. But when I was growing up, African-American women weren't revered, so I didn't recognize the magnitude of what she'd done. Without social media, if people didn't celebrate us, we had to write our own narratives and tell our own stories."
Samantha Richards, president of Katherine Johnson's sorority, Alpha Kappa Alpha called the renaming "amazing. She's definitely no more a hidden figure, but an icon of courage, hope and unlimited potential. I knew Dr. Johnson over 36 years, and she'll continue being a launching pad for others."
Another niece, Pamela Johnson, was "excited and honored that they selected her name for a school. She always wanted to educate children, so this is a wonderful honor for her." Also at the ceremony were relatives Carol Jones, Katherine Johnson's brother-in-law, Lonnie Johnson, and sister-in-law, Mildred Johnson.
"We're happy this recognition has been given to her,' said Mildred Johnson. "She was an outstanding role model, especially in the sciences, for young girls and women. A brilliant mathematician, she helped write the formula to put a man on the moon. And we thank the school and Fairfax City for this honor."
Welcoming everyone to the ceremony, City Schools Superintendent Phyllis Pajardo said, "Names matter and tell people they're valued. We thank the School Board – it's the reason we're here today. And we're tremendously honored to have members of Katherine Johnson's family with us.
"This school joins a handful of public buildings in Fairfax City named after women – and the first named after a woman of color," continued Pajardo. "That is historic. And as the first Black woman to serve as Fairfax City Schools superintendent, it means I can see a Black woman featured prominently in this school."
Hanna then explained some of Johnson's quotes to the students, telling them, "Never be afraid to ask questions. You might be the one asking what everyone else wanted to know. Know your learning style and follow your passions. Katherine Johnson wasn't afraid to tell people what they didn't want to hear, and she always did her best."
School Board member Toby Sorensen said that, as a Black woman in the 1950s, "Johnson breached the boundaries of what was expected from someone of her race. We want her name to inspire current and future students. Like her, reach for the stars and soar, Eagles, soar."
School alumni and 2006 Nobel Prize winner in medicine, Dr. Craig Mello, sent a video congratulating Johnson's family, plus Fairfax City Schools "for having the wisdom to choose this name. Science unifies all people because it values questions, rather than beliefs, and searches for answers to make this world a better place."
Dr. Aprille Ericsson, of NASA's Goddard Space Flight Center, was an aerospace engineer, has led space-flight mission teams, and designed and built systems to manage spacecraft. An MIT grad, she's the first Black woman to obtain a Ph.D in chemical engineering from Howard University.
AT THE RENAMING CEREMONY, she said, "Dr. Johnson shows us that, by studying and working hard, you can make a difference. As a child, I was inspired by the Apollo missions, but had no idea Johnson was instrumental in getting us into space. We both attended HBCUs [Historically Black Colleges or Universities] and broke barriers in our academic careers. And all you scholars can do it, too. I'm fortunate to have known Katherine – whose broad shoulders I stand on. We both taught at Black public schools, and teachers are rock stars."
As a young girl, said Valerie Johnson, "I just knew her as Aunt Katherine – a woman of character, poise and grace. As an adult, I learned she had superpowers. She had passion, courage and perseverance, sent astronauts to the moon and back, and taught us the impossible is possible. So students, dream bigger, think bigger and do bigger, just like my aunt."
Closing out the ceremony, Pajardo thanked the Johnson family for "sharing a part of your loved one with us. We welcome you to the Katherine Johnson Middle School family, and we'll work hard to make her proud."
Snapshot of NASA's Katherine Johnson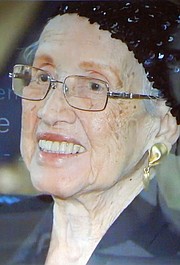 Katherine Johnson helped send astronaut John Glenn into orbit around the earth and, later, was an integral part of Neil Armstrong's moon landing. She was also one of the brilliant Black female mathematicians featured in the book and movie, "Hidden Figures."
Born in West Virginia in 1918, she always loved and excelled at math. She started high school at age 10 and graduated from college at 18. She was also one of three Black students to integrate West Virginia's graduate school in mathematics.
In 1952, Johnson joined the all-Black computing section at the National Advisory Committee for Aeronautics (NACA). Five years later, she became part of NACA's Space Task Group which later became NASA.
She was a team member who worked on various space projects. And according to NASA, in 1962, Johnson "was called upon to do the work she would become most known for" – preparing for Glenn's orbital mission and controlling the trajectory of his Friendship 7 capsule mission from liftoff to splashdown.
With the introduction of IBM's calculating machines and the glitches accompanying them, Glenn famously asked engineers for Johnson to run the numbers before his takeoff. "If she says they're good, then I'm ready to go," he said. The flight was a success and marked a turning point in the space race between America and the Soviet Union.
Johnson retired in 1986, after 33 years at NASA. And in 2015, she was awarded the Presidential Medal of Freedom, America's highest civilian honor, by President Barack Obama. She died in 2020 at age 101.