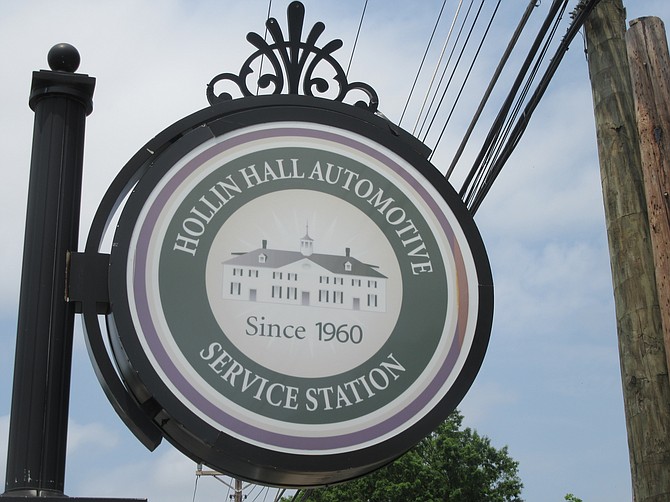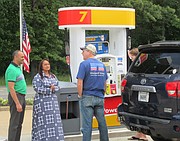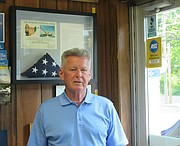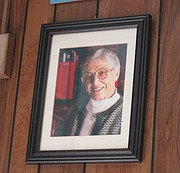 The walls inside Hollin Hall Auto are lined to the ceiling with plaques, certificates, resolutions, articles, photos and more memorializing the Harvey family's 60 years of business success and their multiple contributions to the community. New owners Raheel Sheikh and Usman Nasin will keep all the accolades on the walls, keep the same 12 employees and continue the Harveys' friendly service, says Sheikh.
Tom and Judy Harvey are retiring and moving to their next chapter on Maryland's Nanticoke River. In May, they sold the business that Tom's father, Leon, started in 1961.

"It is time for the Harvey Family to say goodbye to all of our wonderful customers and friends who have supported us over the decades," Tom wrote on Facebook. "Over 70 million gallons of gas, hundreds of first jobs, three generations of customers and employees and in excess of $1 million put back into the community, thanks to your generous support of our business."
Knows the Business
Sheikh started with a Texaco station in Fairfax City in 2003 and now adding Hollin Hall Auto, manages five. He does it because he likes running his own business and engaging with the public. "It's energizing," he said recently.

For his wife, Aeshah, "It's like coming home," she added. She grew up in Mount Vernon and graduated from West Potomac High School. She fondly recalls holding a Sandburg Middle School fund-raising, car wash at the station.
"We have big shoes to fill," Raheel commented. "You can't do much better than Tom Harvey." Few Hollin Hall customers would dispute that. On Memorial Day, as three flags fluttered at half-staff, Tim Koch, a Wessynton resident filling up his lawn mower gas can, commented, "I love this place. The service is exceptional. They help you out. And you can dispose of old gas here."

Brendan Melley from Waynewood, loves the air pump. "The air is the best part," he raved. Customers can fill tires in the middle of the night without a fee, he said, denouncing other stations that limit customers to one minute with timed coin machines.
Harvey History
Leon and Ruth Ann Harvey bought the business in 1961. Living in the Plymouth Haven community, they had seven sons between 1947 and 1965: Cleveland (Butch), who died in 1970 in Vietnam; Leon Jr., who died in 2001; Tom; Michael; Steve; Bob and Jimmy. The boys attended St. Mary's Catholic School in Alexandria through eighth grade and then Fort Hunt High School. Every son worked at the station at one time. Leon had a rule. No boy could pump gas until age 13. When Tom turned 13 and started pumping, "I thought I'd died and gone to heaven," he chuckled.
In 1966, Leon died after several heart attacks. Somehow, Ruth had done some of the station's bookkeeping at home between seven sons' diapers, meals and baths, but she had no driver's license. She was the first woman allowed to take over a Gulf franchise, Tom said. Many locals fondly remember Ruth behind the cash register where she cheerfully worked until age 90. She died at age 93 in 2016. "She sent all seven sons to college," Tom recalled. "Her entire life was dedicated to her boys."
Through the Years
Tom started helping Ruth manage the business in 1970. He laughs remembering the days without credit cards or a cash register. He had a chrome coin changer on his belt, a wad of bills in his pocket and doled out green and Top Value, coupon-like trading stamps. The family has endured gas lines and gas shortages. Until 2009, the station had three employees who pumped gas and washed windshields. (They still do it for elderly and disabled customers.) As oil companies regrouped over the years, the station had to rebrand several times, including one phase as an independent, and as a franchisee of Gulf, Chevron, Shell, Chevron again and then back to Shell.
Growing up in the area, "Everyone knew everyone," Tom recalled. "The girls came to check out guys working there. The guys came to check out the girls." During their full-service days, they had a rubber hose across the front pavement to alert employees inside that a gas customer had arrived. Local pranksters rode their bikes back and forth across the hose to ding the bell.
Today, for services like a tire rotation, oil change and repairs, the station has five bays, 12 employees and regularly pays to update mechanics' training. On fixing cars, Tom argues that 90 percent is diagnosis and 10 percent is repairing. The station was named the number one Gulf Oil station in the mid-Atlantic several times for the highest volume of gas and accessories sold. "It was always a fun business," Tom remarked. "I could not have asked for a better place to do this because of our wonderful customers."
A fixture in the Fort Hunt neighborhood, Hollin Hall Auto has supported numerous Little League teams, the Fort Hunt Youth Athletic Association, (the organization's longest continuous supporter), scouts, PTAs, schools, preschools like Tauxemont and Aldersgate and other local groups and causes like Wounded Warriors. During the Bosnian refugee crisis, they employed two refugees and helped their families find furniture, clothing and other necessities.
New Owners
Raheel and Aeshah Sheikh married in 1997. After working for MCI in information technology and serving clients like Dell and Amazon, Raheel decided to try the gas station business. Starting out, he worked from 6 a.m. to 11 p.m. most days. Aeshah took him lunch and relieved him at the cash register while he ate with their three children.

They live in Prince William County where one son attends Hylton High School. Another son and a daughter are at George Mason University. Aeshah's father has managed a Texaco station in Alexandria's Del Ray community since 1980. Raheel is on the Prince William County school system's Career and Technical Education Board and was appointed to Virginia's Workforce Development Board by Governor Ralph Northam.
Their partner, an accountant, Usman Nasin, also owns three gas stations, a restaurant and a truck stop.
On the next phase, Tom reminisced, "It will be strange not to wake up and worry about employees and customers," but he acknowledged that he is "adjusting every day." When he announced the station's sale, he was touched by warm outpouring on social media, concluding, "Maybe we did do it right."
Hollin Hall Automotive Service Station is at 7926 Fort Hunt Road, Alexandria 22308; 202-930-8826; https://hollinhallauto.com/