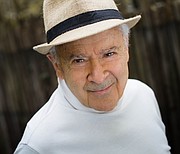 95-year-old Howard Eisenberg says he was carded recently and asked to provide proof of his age as he boarded a train on his way to visit his 80-year-old girlfriend.
"Three different conductors carded me. I said, 'Look, isn't my gray hair enough?' The conductor said, 'Nope, that could have started at 40." They insisted on seeing my driver's license and boy, was I proud."
What's the secret to a long life? Three local seniors reflect on their lives and share their accomplishments and their advice to younger generations.
Born in Manhattan, Eisenberg, who now lives in Alexandria, began his lifelong career as a writer while doing a stint in the military.
"I started writing at 18. WWII had just ended and my captain learned that I'd had a couple of years of college. He said, 'PFC Eisenberg, the Nazis who were in this barracks left a mimeograph machine and a typewriter here. Write me a newspaper to improve morale.' You don't say no to your company commander, so I wrote 'The Rifleman.'"

Eisenberg, who recently completed the script for a musical, says he's been a writer ever since. "I've written for radio and television. I've written magazine articles, he said. "I shared magazine and book bylines with my amazing late wife, Arlene.

To him, age is just a number and he says he has no intention of retiring. "There is so much to write about that I don't plan to quit until my fingers break off in the computer keys," he said. "And then I'll try dictating."
He has three children, six grandchildren and three great grandchildren. "I have to do a bit of math to keep track of progeny," he jokes.
Eisenberg doesn't attribute his longevity to genetics. "My mom only reached 62 and my dad his mid-70s," he said. "But those were meat-and-potato days. You ate what tasted best, not what was good for you."

Instead, he attributes his good health to prioritizing nutrition and taking vitamins. A healthy diet and regular exercise are two habits that Eisenberg attributes to hitting the 95+ mark. "Down with sugar and white flour," he said. "The more colorful the food the better."
Broccoli, spinach, asparagus, yams and low-fat, sugar-free ice cream are among the foods that he enjoys. "Of course, this is common sense, not prescription," he said.

Inquisitiveness is a trait that Eisenberg advises younger generations to acquire. One of his regrets is not being bold enough to ask questions when he didn't understand something in his youth.

"I joined my outfit as an infantry replacement and they gave me a bazooka, which I'd only fired twice and that was in basic training, he said. "I didn't remember how to shoot it but was sadly too embarrassed to ask guidance from one of the Battle of the Bulge seasoned veterans. Big mistake."
"So when a machine gun nest stopped us and the captain shouted, 'Bazooka up front,' I was momentarily frozen in place," continued Eisenberg. "The GI carrying bazooka rockets saved me. He turned and ran to the rear with the ammo and I had to chase and tackle him. By the time I got back with the ammo the machine gun was kaput."
This experience taught him the value of seeking as much information as needed to gain the understanding necessary to complete a task.
"You may not carry a bazooka, but there will be many times at different stages in your life when you won't know how to do something. Don't be a shy guy or gal. Ask questions, ask questions, ask questions. Ask until you're sure you understand. Then do it."
Adele Aspinwall – Bethesda, 98
Adele Aspinwall was an English teacher in Chicago for 68 years, mostly in the inner city.
"I enjoyed looking out for and encouraging children that some people had written off," she said. "I've had so many students come back to me and tell me how I motivated them and touched their lives. That's how I knew I was born to be a teacher."
When she retired, she moved to Bethesda to be closer to her daughter, three grandchildren and five great grandchildren. Now, 98-year-old Aspinwall lives in the mother-in-law's suite in the home of her daughter.

Aspinwall's mother lived to be 87 years old and her father was 67 when he died. She believes her longevity comes from exercise and a healthy diet.

"I would advise young people to begin preserving their health and develop and maintain a sense of style when they're in their 30s," said Aspinwall. "Stay current with trends. I don't need to dress like a 25-year-old, but I also don't have to look frumpy. When you look well-dressed then you feel good."
Aspinwall is in a bridge club and plays regularly with a group of friends. She says this helps keep her mind sharp.
"Maintain friendships and good relationships with your family members, especially your children, she said. "If that's difficult then set boundaries. But the most important thing is to stay in contact with other people. I don't focus on my age, I just focus on maintaining my health, style and relationships."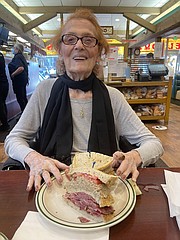 Miriam Halprin, 103 of Springfield
Miriam Halprin of Springfield is 103 and credits her longevity to eating and drinking in moderation. "You need a positive mental outlook, good genes, a good laugh and an extremely high degree of vanity."
Born in Vermont, she worked as a legal secretary at Hofstra Law School. After retiring at age 75, she moved to be closer to her family which includes one son and one grandson.

These days, she spends her time reading, watching movies and playing cards to keep her mind sharp.

Halprin says her son is her greatest accomplishment, and the life advice that she would give to younger generations is, "Always keep a positive outlook and a sense of humor."