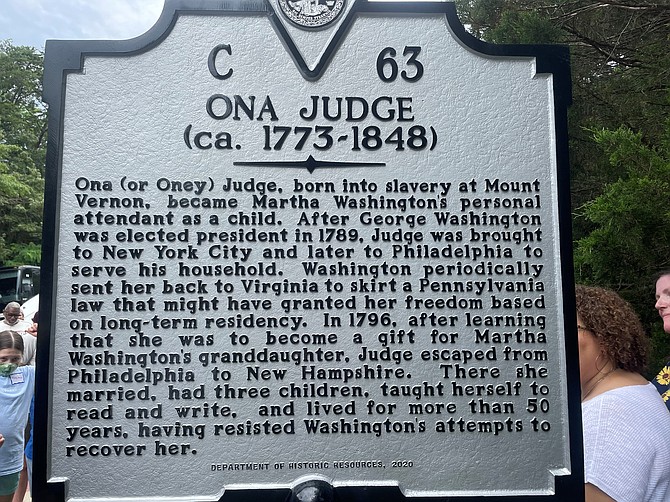 For years, the nation's first couple, George and Martha Washington, pursued Ona Judge, a young woman who in 1796 escaped a life of slavery in the Washington household to live in freedom in New England.
On June 19, as the nation celebrated its first federal Juneteenth holiday, the life of Ona Judge was remembered during the unveiling of a historic marker outside the Mount Vernon Estate where Judge was enslaved as property to Martha Washington.
"Black history has been richly and vibrantly told in the City of Alexandria but basically erased here in Fairfax County and other neighboring counties," said Maura Keaney, a Fairfax County Public Schools teacher who led FCPS students in nominating Judge for recognition with the historical marker. "Black history is Virginia history and should be taught all year."
Judge's story was nominated for recognition with a historical marker by the students in Keaney's fifth grade class at Laurel Ridge Elementary School. The class wrote nomination letters as part of Gov. Ralph Northam's Black History Month Historical Marker Contest.
According to the Fred W. Smith National Library for the Study of George Washington at Mount Vernon, Ona Judge, often called Oney by the Washingtons, was born at Mount Vernon in around 1774. She was the daughter of Betty, an enslaved seamstress living on Mansion House Farm, and Andrew Judge, a white English tailor whom Washington had hired. Ona Judge fled the Washington home in Philadelphia in 1796 as they prepared to return to Virginia, eventually making her way to New Hampshire. She went on to marry and start a family, evading attempts to recapture her over the years.
"Until three students wrote successful nominations for the new Virginia historical marker, there was not a single Virginia historical marker in all of Fairfax County about a Black man or a Black woman in Virginia history," Keaney said. "There were only two in the county about women at all. Through Governor Northam's Black History Month Historical Marker contest, these students have made a lasting impact in addressing the injustice of the erasure of some Black history stories from the history of Virginia."
Guest speakers included Virginia Secretary of Education Atif Qarni and Dr. Erica Armstrong Dunbar, author of "Never Caught: The Washingtons' Relentless Pursuit of Their Runaway Slave, Ona Judge." Members of the Fairfax County Board of Supervisors attended the event, including Mount Vernon District Supervisor Dan Storck and Chairman Jeffrey McKay.
Tessa Tritan, one of the Laurel Ridge Elementary School students who researched and nominated Judge, had the honor of unveiling the historic marker.
"This fuller history at Mount Vernon does not cancel George Washington," Keaney said. "He is still our first president, still the Commander-in-Chief of the Continental Army of underdogs who beat the mighty British. His meritorious accomplishments are not erased by his moral failings."
Despite escaping to freedom, Judge legally remained the property of Martha Washington, although attempts to recapture her ceased following the death of George Washington in 1799.
"Everyone who pauses now as they walk past this sign will be seeing a different perspective of Mount Vernon and George Washington," Keaney said. "This Fairfax County woman stood up to the most revered man in the world and was never caught."