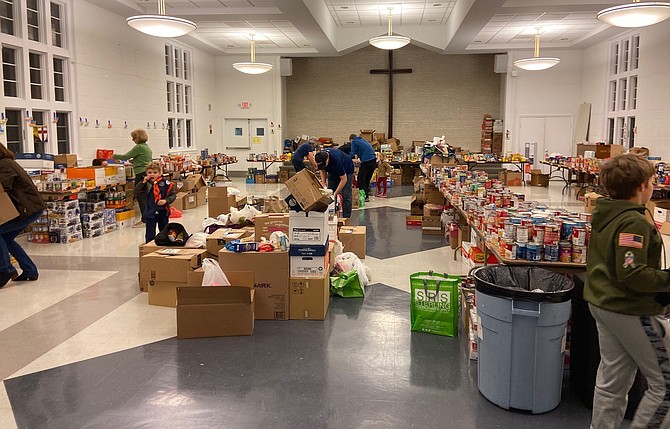 The need to help the hungry in the local community continues to grow as neighbors struggle to chose between paying bills and providing food for their families. Over the past few weeks, Cub Scout Pack #157 Herndon placed stickers on doors asking residents and business owners to help local food pantries over the holidays. The pack requested non-perishable canned or boxed foods and household items such as diapers and soap in support of "Scouting for Food," a Boy Scouts of America national initiative to help fight hunger in local communities.
"We couldn't have been more excited when Green Lizard Cycling reached out to team up," said Jon Kantor Tiger, Den Leader and "proud father of Sammy Kantor." According to Beth Meyer, co-owner of the Lizard and member of the Green Lizard Foundation, when fellow board member Jason Sickels shared information about the initiative, not only did they set out boxes in the shop and contribute but with others decided to fund a bulk shopping trip at a local H Mart.
"A kind woman helped pick out the items that would be most helpful to families in our community," said Meyer. I learned about the different ways Indian and Hispanic/Latino cultures use chickpeas, and Asian cultures use rice noodles, and so much more. I hope that the diversity in our donation can provide some comfort to families in our area regardless of their color, language, status, or religion."
Over the days, the boxes continued to fill. Contents spilled across the floor. When Kantor arrived on Wednesday, Nov. 13, there was so much he couldn't fit it in the car. "He promised to return the next day with a larger vehicle and the support of pack members. …Even when Jon and the Cub Scouts returned, it took them more than one vehicle to hold all the items. It was great to see the scouts insisting that they help carry the items, even if it was one bag of rice at a time. What an awesome group of kids, leaders and parents," said Meyer.
Where to give locally
Many food drives are taking place locally, some like 'Scouting for Food' on a one-time basis and others on an ongoing basis. The nonprofit organization, Cornerstones based in Reston, provides a map of food providers with information for consumers on its website, www.cornerstonesva.org/map-to-donate-food/. It lists various non-profits and other emergency food assistance providers as well as retailers that accept SNAP and/or WIC.