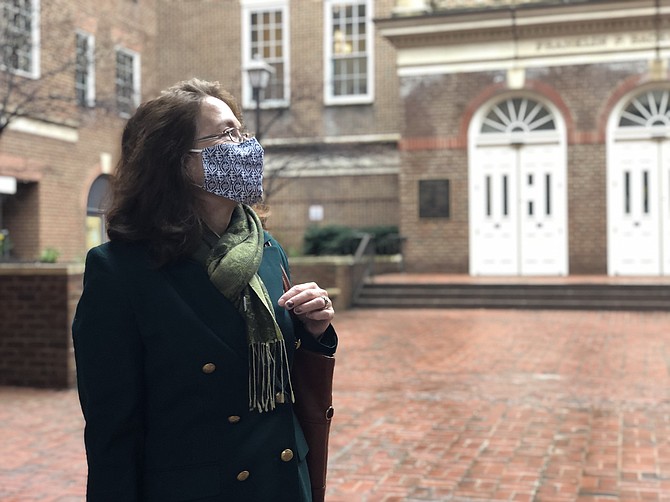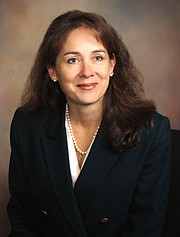 Prosecuting unethical lawyers is not a great way to win friends and influence people. Yet somehow Kathleen Uston has been able to figure out a way to trade her job as assistant bar counsel at the Virginia State Bar for a seat on the Alexandria Circuit Court. She'll be installed on the court next week, the culmination of a career that has given Uston an inside look at some of the worst lawyering in Virginia while also giving her a special insight into the role ethics plays in the law.
"I had a trial against Katie, and her performance could have been on TV," said Seth Guggenheim, a friend and colleague who supported Uston's candidacy for the bench. "It was just a withering cross examination of the complainant in the case. She was so so so well prepared."
Members of the General Assembly elect judges to the bench in a process that usually doesn't attract much notice or attention. Uston's candidacy was a bit rougher. A senator who had been disbarred grilled her about her career, and critics of the Alexandria court system showed up to troll her. When the hearing fell off the rails, a Republican senator was caught in a hot-mic moment declaring the proceeding "a shitshow." Nevertheless, she landed the job and is about to assume an office on the fourth floor of the city courthouse.
"She is going to be particularly attuned to attorney conduct," said Yvonne Weight Callahan, who worked with Uston at the Virginia State Bar. "It puts her way up there in terms of making sure that people maintain standards of conduct."
KATHLEEN MAUREEN USTON was born in New London, Conn., the daughter of a famous blackjack player who gained widespread notoriety by developing a system of card counting. He was kicked out of casinos all over the world, and he achieved a level of notoriety after appearing on the CBS newsmagazine show "60 Minutes" in 1981. The interview with Harry Reasoner made her father famous for counting cards, but she says that was only one dimension of a vibrant career that included earning degrees at Harvard and Yale before becoming the youngest senior vice president of the Pacific Coast Stock Exchange and writing the best-selling book "Mastering Pac-Man."
"It's not about winning. It's about a search for the truth."
— Kathleen Uston
"My father was a mathematical genius, and his mind was constantly in motion," said Uston. "His brilliance was not dedicated to the game of blackjack. It's just that it was the only casino game where you can gain an edge over the house, and he wanted to unravel that puzzle."
She received a bachelor of arts in political science from Miami University in Oxford, Ohio and a juris doctorate from George Mason University School of Law. She was also a founding member of the George Mason American Inn of Court, a group of students, lawyers and judges that meet to discuss legal issues informally and network professionally. After graduating law school, she began practicing in Alexandria doing civil litigation and criminal defense as well as serving as a court-appointed commissioner in chancery and as a guardian ad litem.
"My work as a guardian ad litem was by far and away the most rewarding aspect of that practice because I got to meet the social workers and the city attorneys who do this work day in and day out for our community — and not being paid enough to do it," said Uston. "But it doesn't matter to them because they do it out of commitment and duty and a true love for their fellow man and woman, and it's amazing to meet people like that."
AFTER MORE THAN a decade lawyering in Alexandria, Uston took a position as assistant bar counsel for the Virginia State Bar. In this position, she spent a dozen years investigating and prosecuting unethical lawyers. Lawyers accused of wrongdoing can be fierce in disciplinary proceedings, so Uston had to be prepared for just about anything. Over that time, colleagues said, she developed a keen sense of legal ethics and how they applied to the real world.
"Lawyer discipline is not a fun subject, and it's also a very arcane area of the law," said state Sen. Scott Surovell (D-36). "But she approached it with a balance of practicality and realism."
Lawmakers who considered Uston for the bench were particularly impressed by this part of her resume, an experience that gave her a view of the profession that most lawyers never see. She describes the job as a public-service role because the job involves seeking justice for clients who have been wronged by shady lawyers. Prosecuting attorneys isn't quite the same thing as prosecuting criminals, though, and the rules of evidence are different. But people who know Uston say this experience will serve her well in her new position.
"She is going to be particularly attuned to attorney conduct."
— Yvonne Weight Callahan
"It required her to make some uncomfortable decisions because she's reaching opinions about the ethics of fellow attorneys," said Alexandria Commonwealth's Attorney Bryan Porter. "If you boil down a judge's job to its core it's to make tough decisions. That's what they're selected for, and that's what they're paid for, and so I think Katie's experience as bar counsel bodes well."
Much of that experience is shrouded in secrecy.
"She could never tell us exactly what she was up to because so much of that stuff is cloaked in confidentiality," said Marcus Simon (D-53), who works with Uston's husband. "Stories about lawyer misconduct are often stories about sex, drugs and rock and roll. Some of it was funny, but some of it was sort of sad."
USTON HAS SERVED as president of the National Organization of Bar Counsel and president of the Alexandria Bar Association. Her nomination to the bench may have been a bit rocky during the General Assembly session. But that's behind her now, and she says she's ready to put on the black robe and start hearing cases in the courtroom recently vacated by former Judge Nolan Dawkins.
"It's not about winning. It's about a search for the truth," said Uston.