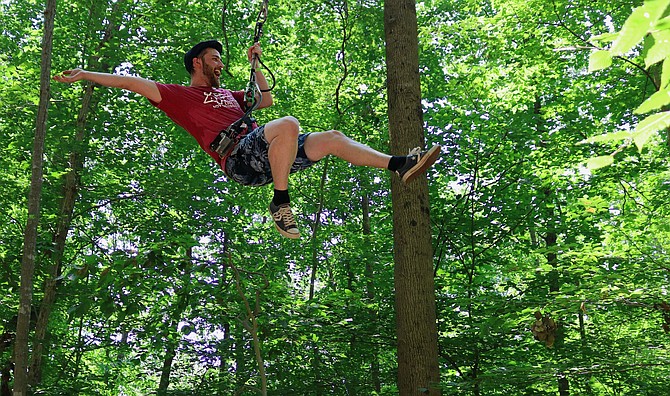 It takes adventure and a strong stomach to do the "monkey drop," at the Go Ape Treetop Adventure course at the South Run Park in Springfield. Although the participants are outfitted with ropes and a vest, a six to 10 feet freefall can be a challenge, said course manager Nikki Kiwus.
"It's more of a psychological challenge," said Kiwus, a West Springfield High School alumna that's been with Go Ape since 2017. The Monkey Drop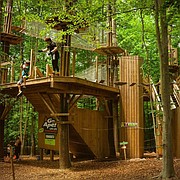 is among the options along with the Journey Course and Adventure Course at South Run.
Go Ape started in the mid 2000s, when the "founders were looking to launch a business with a vision of giving back to our local communities through outdoor adventure and environmental stewardship," company information stated. They created a network of zip line and aerial adventure courses in the United Kingdom and formed a partnership to bring the idea to the United States. Frederick, Maryland became home base for the team and their vision became reality with the very first Go Ape USA course in Rockville, Md.
Go Ape Treetop Adventures can be found throughout the country in thirteen states, and Kiwus worked at their facility in Nebraska before becoming permanent in South Run.
South Run opened in 2017, and Kiwus has seen many go through the course and come out with a different mindset about heights and their own ability to conquer. "It's a great way for people to do something challenging outdoors," Kiwus said. Especially during the pandemic because it is already socially distanced, and outdoors to lessen the spreading of COVID-19. She's noticed that there are now smaller groups, but "people need gloves and masks," she said.
It takes all types too, ranging from scout troops, sport teams, birthdays, bachelor parties and bachelorette groups. "They have a lot of fun," she said. It's a shared experience that bonds guests and the instructors aim to create a safe and positive environment where guests can challenge themselves and push beyond their comfort zones, Go Ape said. "We're passionate about motivating people to swap 'I can't' for 'I can'," their motto reads.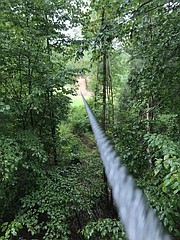 Since it does require a certain physical stature to complete the courses, there are size requirements. At the Journey Course, the participant must be three foot, three inches tall. On the Adventure Course, the size goes up to four foot seven inches tall. They've had participants as young as three. At some facilities, they incorporate axe throwing too.
There have been times when the harness is on, they're up in the tree, and the participant chickens out, it's not a big deal. "We're here to help them out the rest of the way," Kiwus said.
The Go Apes company has partnerships with public parks and they participate in a revenue share plan. The Fairfax County Park Authority receives a percentage of each ticket sale to reinvest back into their local communities. At South Run, the county made between $10-$28,000 pre-pandemic, said Cindy Walsh, the director of Fairfax County Park Services. At Richard Jones Park in the Reston area, the Pleasant Valley Golf Club is another situation where a commercial entity is working with the parks.