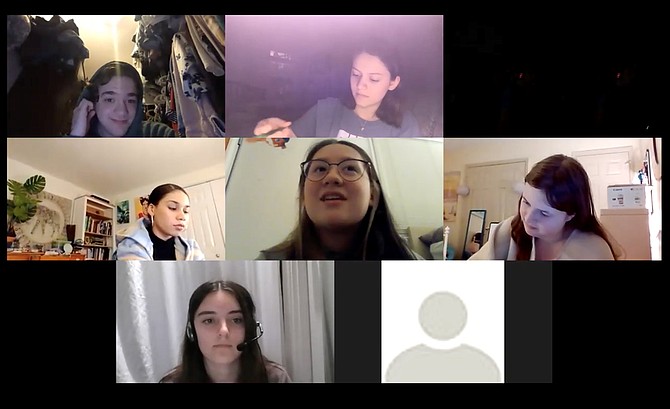 Intricacies within our everyday human experiences are many times lost in time – but Robinson Secondary School's "Epiphany" podcast made sure that these stories are shared with audiences far and wide. From stories of visiting the beautiful coasts of a country to the feeling of being safe and sound, the podcast series shared stories from within the Robinson community. Without further adieu, Let's Ramble!
"Epiphany," a one-episode installment for a podcast series titled Let's Ramble dived into the meaning of epiphany and shared the stories of two community members of times in which they were struck with a sense of realization. Produced in January 2021, the podcast aimed to find common themes between drastic stories and connect even the most separate realizations together.
Hosting the show with absolute charm, Harry Glicklin approached the audience with a confident and welcoming persona – creating an atmosphere that made the audience feel included within the conversation between the host and the interviewee. Not only did he make the interviewees feel comfortable, but was also conscious of the material being discussed, paving the way for the right speakers to cover the material if needed, as he did in the second story regarding a women's rights issue. The first interviewee, Shailey "Shay" Pratt, tells a story of a time she visits Meteora. Pratt, who went by Shay in the podcast, captured the beauty of the Greek monastery with description and passion for her travels. Although hesitant on embarking on her travels to Greece, Pratt soon realized that even the most unknown places could be one of the most beautiful places she could visit – and through the way she described Meteora, beautiful was an understatement!
Following Pratt's story, Erin Oedemann shared a less pleasing story: one of discomfort, fear, and disgust. After being approached in a parking lot, she realized that the situation was far more inappropriate than she believed, and she told her story in a sincere way. Despite the scary situation, Oedemann had her epiphany and came to terms with the seriousness of the situation and did so with a mature and honest way which respected the severity of the situation.
Taking inspiration from interviewers to boost listeners for Let's Ramble, Digital Manager Abigail "Abby" Camp also handled publicity and pulled quotes to promote the podcast on Instagram and regularly updated the podcast's Instagram story and feed. In addition to the publicity, Harry Glicklin, the host, and Gabby Smith-Stutzer had to tackle new challenges in the virtual theatre era: recording a podcast. To accomplish this, they recorded interviews for the podcast through video-communication platform Zoom, allowing for clean and concise recordings.
Robinson High School's "Epiphany" is one of many installments for podcast Let's Ramble that shared the stories of community members that would otherwise go unheard and shared the connections between our unheard epiphanies. Audience members were sure to question if their previous experiences held more weight than they originally thought!