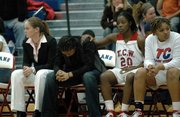 No one involved in the T.C. Williams girls basketball program thought they could lose. Not the coach, the players, the boosters and after defeating nearly every power in the region, their opponents knew they were the team to beat.
"No one including us thought we were going to lose," said T.C. Williams head coach Jim Lewis. "For the whole season, I never think about losing, and never thought we would lose."
Then it happened. Unexpectedly.
In the Patriot District championship game Tierra Ruffin-Pratt, the Lady Titans renowned junior and school's all-time leading scorer went down with an injury. When the team was poised for postseason play, Ruffin-Pratt dislocated her left shoulder with 38 seconds left in the third quarter.
From there, the Lady Titans had a distinctive different feel. T.C. Williams managed just one field goal over the final quarter to stave off West Springfield, 51-52 on Saturday for their third straight district title.
"When you have that type of dramatic thing happen in the course of a championship game, that spoke volumes about the quality of our players," Lewis said.
Senior point guard Burts, one of three Lady Titans named to the all-tournament team, contributed nine points. She, however picked up her fourth foul midway through the second quarter, leaving the scoring load on Ruffin-Pratt (22 points) and classmate Rachel James (seven points).
West Springfield's Pui Sham drained a three-pointer to get within four at 45-41, but T.C. Williams connected on crucial free throws to get their third straight district title.
<b>IT FELL APART, </b> two days later when the undefeated Lady Titans, riding a 22-game winning streak and an unblemished record lost to Robinson, the four seed from the Concorde District.
Without Ruffin-Pratt, who suffered a similar injury last season, the Lady Titans were down 26-21 at halftime. The Rams ballooned the lead to 12 in the fourth quarter, but T.C. Williams, behind the home crowd, seemed poised for another late-game comeback when it cut the lead to 42-39, behind eight consecutive points with just over four minutes remaining.
"It was another example of where we'd been before, in a similar situation at Lee, where I thought we would remain confident and find a way to win," Lewis said.
Robinson scored on three consecutive possession to widen the lead to eight, mostly behind Tessie Evans' game-high 24 points. She hit six three-pointers, while the Rams connected on 12-of-16 free throws in the final frame.
"A lot of things happened that were unexpected," Burts said. "Things just didn't go our way. I don't think this is the way it was supposed to end."
Burts and Ruffin-Pratt, who didn't dress, were visibly upset on the bench during the game's final two minutes.
"As the game went on, it was harder to watch," Ruffin-Pratt, who was named the most valuable player in the Patriot District tournament for the third straight year. "It was tough. You can't describe it. It's hard to explain."
Each player cited the locker room, when both realized that the season was abruptly over as an especially bitter pill.
"All of the seniors were crying," Burts said. "All of the juniors were crying for the seniors. People were upset — mentally, physically and emotionally. It was really sad."
Lewis said very little immediately after the game, letting the players' emotions simmer before conducting any more team activities.
"Everyone handles things differently," Lewis said. "Tears are an expression of how anyone handles something. Other people grieve more privately. I don't try to legislate that."
<b>LEWIS REAFFIRMED </b>his commitment to Lady Titans program signing a letter-of-intent to stay with the school for another season on Tuesday. He told his team after the district title that he will spend the summer as the associate head coach for the Indiana Fever, one of the WNBA's 14 teams. Lewis said he will hold a basketball camp during the summer.
Still, the emotional wake of the upset was real for seven seniors who slaved for a state championship for the last four months.
"It feels like we did a lot for nothing," Burts said. "Twenty-two wins doesn't mean anything if you don't take something. We took the Patriot District championship and that's something, but it's not what we could have accomplished."
The loss was especially tough on Ruffin-Pratt, who felt helpless despite having another year of eligibility.
"We could have done a lot more and it shouldn't have ended like this," Ruffin-Pratt said. "It's hard, but there's nothing we can do now."