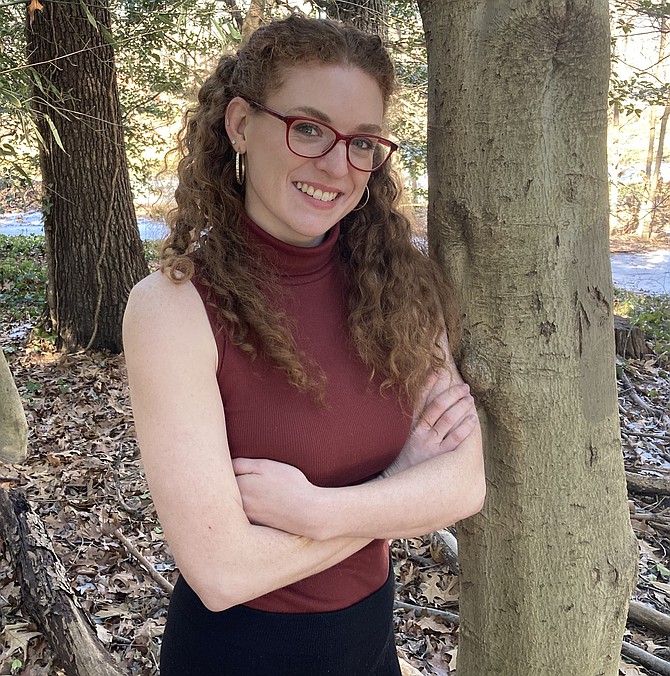 Emerging singer-songwriter Amanda Cunningham of Reston shares her struggle with personal accountability, power when forming close friendships, and self-esteem in her newest single, "Pattern" (2021). Originally a self-described pop/rhythm and blues [R&B] singer, Cunningham recently admitted her voice and lyrics are turning more country. "I'm currently working on new music now that will reflect this shift better," Cunningham says on her website.
"Pattern" is best described as a musing, sensitive song. Cunningham's soulful voice, storytelling, and acoustic guitar chords subtly draw listeners toward an introspective look at the mental health process of holding oneself accountable in failed relationships, learning from mistakes, and not cashing out of growth that leads to peace.
"Amanda's vocal style and instincts are spot-on as an artist," said Cari Cole, CEO/Founder, A & R Director / CCVM Label w/o Walls.
According to Cunningham, the lyrics for "Pattern" came about when, in 2019, she joined Cole's "Signature Writing Circle" program and was teamed up with Miranda Glory, NBC's 2020 Songland Songwriter. Cunningham recalled her private, co-writing prep session with Glory. Cunningham tapped an emotional pain intertwined with confusion. Cunningham's authenticity, the topic's depth and relevance, mental health, resonated with Glory. "She related to it," Cunningham said.
What followed were two 60-minute, one-on-one sessions putting truth to lyrics during which Cunningham crafted her song's message. According to Cunningham, "Pattern" examines her ten-year journey of "being ghosted," suddenly cut off from close, female friendships, the other women moving on without providing reasons.
"The common thing is me, something I'm doing. The song talks about maybe I should look inside at myself. There are patterns that I need to break… [and see] there were red flags… in the relationships," said Cunningham.
Part of the lyrics Cunningham wrote for "Pattern" (2021) reads: "… Didn't know that I couldn't cry That it'd scare you outta my life Didn't know I had to sacrifice And play nice, all the time Is it me or does this always happen Must be something cuz I keep attracting All these people who ain't here for me All these people who don't care for me… Gotta break this Pattern Pattern."
According to Cunningham, when she went to sing the lyrics for the final release, she made a few minor tweaks. "Certain words are easier to sing, but it is pretty much as is," she said. Cunningham said feedback proved positive.
"Writing this song with Amanda was so much fun," said Glory. "We both connected over loving soulful music, so this one came very easily. Super excited for this record to be out in the world," she said.
Visit Cunningham's website to listen to her singles, "Pattern," (2021), "Selfish Fool," (2020), and, "Highlights of Youth," (2020).