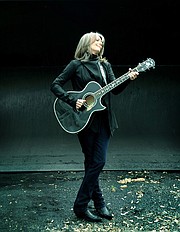 Grammy award recipient Kathy Matea is known as an uplifting singer, songwriter and musician. Matea can be a too infrequent performer in the Fairfax County area. Soon she and her longtime collaborator, guitarist Bill Cooley will open the 2016-2017 season of professional performances at Reston's CenterStage.
"I am excited to bring you the very best in performing arts with the Professional Touring Artist Series," said Paul Douglas Michnewicz, director, Arts and Events, Reston Community Center. "The upcoming elections inspired me to program a variety of thought-provoking yet entertaining performances including Kathy Matea's beautiful reflections on the common man."
Matea's Reston performance is billed as "The Acoustic Living Room." Matea and Cooley are expected to share songs, both classics and newer, along with stories near and dear to both the duo and their audience. The evening will weave together the heartfelt and the haunting about love, lost and living life. Songs heard may include "18 Wheels and a Dozen Roses," "Where've You Been?" along with other musical numbers. The evening can also be expected to include the less often heard from an older album, or perhaps Matea will find a unique way to cover a rock hit.
Whether musical numbers from deep archives of requested hits, each tune will come with Matea and Cooley's very own distinct manner of interpreting life through voice and guitar. For those less aware of Matea, she has produced nearly 20 albums with bluegrass, gospel, and Celtic influences. Her lyrics go directly to the soul. Who cannot be smitten with lyrics such as these: 'Where've you been? I've looked for you forever and a day. Where've you been? I'm just not myself when you're away.'"
Matea is also a well-known storyteller with inspirations from her Appalachian roots and experiences beyond the West Virginia landscape.
The new 2016-2017 Reston CenterStage professional performance season runs the gamut from "John Coultrane's and Marvin Gaye's observations of brutality, examinations of religious and racial strife with 'Beyond Sacred' and 'The Pursuit of Harmony,' to a celebration of African American culture with 'Black Nativity,'" said Michnewicz.
There will also be an examination of the feminine in choreographer Erica Rebollar's 'Sacred Profane' and Pulitzer Prize winning journalist Eugene Robinson. There is also plenty of "just plain fun" with the likes of "Happy Vaudeville Holidays," noted Michnewicz. "I hope you will come to the CenterStage to learn and laugh and love."