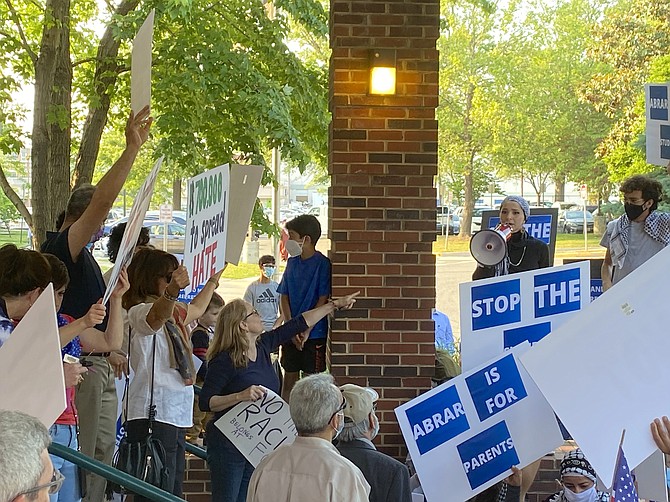 With Ramadan's ending on May 13 and on May 14, Fairfax County School Board Member Abrar Omeish posted what some considered controversial statements on her Twitter and Facebook accounts. Her posts coincided with airstrikes and rocket attacks. Civilian casualties mounted on the Gaza Strip, and Hamas launched rockets into Israel.
On May 13, Omeish, a Muslim Libyan-American, posted: "Eid Mubarak! Congrats on 30 days of worship! Hurts my heart to celebrate while Israel kills Palestinians & desecrates the Holy Land right now. Apartheid & colonization were wrong yesterday and will be today, here and there. May justice + truth prevail. #EidWith Palestine." twitter.com/AbrarOmeish
The following day, Omeish posted: "War is terrible for everyone. I hear those hurting. I continue to be here for each of you. People of all faiths deserve Holy Land peace. All forms of hate are unacceptable. Ensuring justice & honoring the humanity of everyone remains as urgent as ever. I look ahead to robust & empathetic engagement with Jewish leaders and all allies. Let's build together." www.facebook.com/AbrarforSchoolBoard
In the eight days after Omeish's posts, she received death threats and calls for her resignation.
On May 20, during the FCPS School Board Hybrid Meeting held at Jackson Middle School, in Falls Church, about 100 people rallied in support of Omeish, while about 30 people demonstrated objecting to her statements.
SCHOOL BOARD CHAIR Dr. Ricardy Anderson (Mason) opened by reading a statement: "The School Board understands that the increased violence in the Middle East over the past weeks causes a range of emotions, including grief, anger, and fear. … The Fairfax County School Board does not have a role in resolving geopolitical conflicts. However, we recognize that our students and families are hurting and are fearful of what is happening abroad and locally with increased acts of aggression against our Jewish and Muslim communities. … In this, and every moment, it is important that we reject Islamophobia, anti-Semitism, and xenophobia."
Omeish is one of the 12 School Board members elected for the four-year term 2020-2024. Out of the 12 members, she is one of three elected county-wide who serve at large, representing all 1.2 million residents of the County.. Omeish is a 2013 FCPS graduate; Yale 2017 graduate; Georgetown Law Juris Doctorate/Master of Public Policy candidate, and Blume fellow.
Omeish's social media posts resulted in a barrage of daily reactionary posts, live media interviews, and press releases by individuals and organizations who called for her to apologize, resign from her position as a school board member, or be recalled. Reposting these statements occurred, including speakers' interpretations and perspectives of Omeish's views, ultimately resulting in death threats against her.
May 14, fellow school board member Melanie Meren (D-Hunter Mill) twitter.com/HunterMillFCPS, posted: "As a S.B. Member I'm aghast at the alienation @AbrarOmeish's sentiment has cast on many in our community, including myself, & am appalled at the setback this puts in @FCPSEquity work. Rebuilding of relationships will need to happen."
On May 15, the Fairfax GOP released a statement "blasting the 'hateful screeds' of Abrar Omeish — and calling for the school board member's resignation," attributing the statements to Fairfax GOP Chairman Steve Knotts.
On May 17, Fairfax County Board Supervisor Pat Herrity (R- Springfield), said, "I don't necessarily support recall efforts unless there's something egregious, and I think in this case there is …and I will share it publicly," in an interview on The Larry O'Connor Show.
"The focus seems to be on everything but [core education] …You know, anti-racism, equity agenda … We need to take [Fairfax County Public Schools] back and get them going in the right direction," said Herrity.
While posts and media attention resulted in calls for Omeish to resign, they also triggered support, including the May 20 demonstration outside Jackson Middle School. Starting at 5 p.m. the school board held a closed meeting inside the school, part of its Hybrid Regular Meeting. Two polarized protest groups formed outdoors in front of the school.
Earlier that day, a cease-fire took effect to end the violent 11-day conflict. Associated Press reported: "At least 230 Palestinians were killed, including 65 children and 39 women, with 1,710 people wounded, according to the Gaza Health Ministry. … Twelve people in Israel, including a 5-year-old boy and 16-year-old girl, were killed."

UNDER THE EYES of Fairfax County police officers, protesters occupied the dual-walled entry with a wide staircase leading to the cordoned-off and protected front doors to the school and its adjacent patch of grass. The larger group in support of Omeish numbered upwards of 100 individuals. Mostly wearing masks for Covid protection, they rallied together with signs that read, "Abrar is an equity champion" and "Melanie Meren, you do not represent us." They chanted following the lead of Mariam Abou-Ghazala of Fairfax and others who yelled into megaphones, "Freedom of Speech. You cannot impeach."
The smaller group, challenging Omeish and opposing critical race theory, numbered approximately 30 individuals with a handful wearing masks. Waving U.S. flags, they played loud music attempting to drown out the other chanting in support of Omeish. At times, this group advanced in unison up to and into the larger group of Omeish supporters.
"The Fairfax GOP is trying to remove her [ Omeish] from office. That is affecting the entire community and not just her. We're trying to create a platform to raise awareness for our issues," said Omar Elbaba, 15, of Vienna.
"This is clearly an Islamophobic smear campaign to delegitimize her [Omeish's] position… and what she brings to the table …What a world we live in where an elected official cannot pray for her people," said Shayma Al-Hanooti, FCPS graduate and Arlington Public School teacher.
"This is freedom of speech," said Hala Abdelaal of Fairfax, class of 2015 Thomas Jefferson High School. "This is our Constitution."
Protesters opposing Omeish almost all refused to comment. Leslie Sandler of Fairfax Station said, "Fairfax County Public Schools is not the place to have political rhetoric. We're here for our children."
OMEISH WAS ONE of the last to comment at the Fairfax County School Board Meeting. Omeish said she took pride in a community where all come to the table and can have a dialogue, a place to "confront courageously the differences that come to the table."
"I understand that for many Jewish families, my constituents, that they share a deep and sacred relationship with Israel … I've been able to listen and dialogue with, and I want to continue to listen. The loudest thing I want to be heard today is that I want to listen…because that is how we move forward, and that is how we grow. ...
"Anti-Semitism is a real and growing threat that must be addressed in our schools, our country, and our world. And conflating the criticism with that only harms those of us seeking to advance justice and diverts our focus," said Omeish. "We must choose to step up and to ensure that we don't allow those seeking to sow hate and division to capitalize on our disagreement. … We can and must fight these things together, anti-Semitism, racism, Islamophobia, and especially that which is couched as a response to oppression of all kinds together."