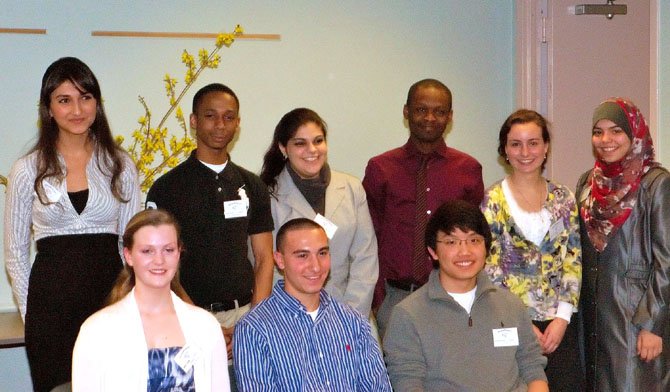 Eleven recipients of a Student Peace Award of Fairfax County were selected by their schools to be recognized for their contributions to peace or conflict resolution, whether in their schools, their communities, or the greater world.
The awardees were honored at a reception at the Pennino Building on March 4. The guest speaker was Michael Beer, Executive Director of Nonviolence International since 1998.
Recipients from our area include:
Yon (Daniel) Jang, senior at Thomas Jefferson High School for Science and Technology. Daniel, born in Korea, was one of the authors of the book Lost Family which describes the experiences of families torn apart by the Korean War. Through Voice of Divided Korean Families (VODKF), which he co-founded, Daniel has led numerous awareness campaigns to promote the reunion of Korean-Americans with their families in North Korea.
Mary Frances, senior at Paul VI Catholic High School, is a member of the Student Government Executive Board. She works for peace and unity by encouraging students to become involved, and she promoted teamwork as captain of the Junior Varsity Lacrosse team. Through her church's Sunday School program, she introduces four year olds to conflict resolution.
Abrar Omeish, of the Robinson Secondary, is a supporter of "Arab Spring" and traveled to Tunisia to aid Libyan refugees. She is active in the Interfaith Youth Action Group, and she gave a Unity Speech at the 2010 9/11 Unity Walk. She is a member of the Fairfax County Human Rights Commission, and she founded MSA at her school -- an interfaith group that works to bridge religious and cultural differences. She was invited to the White House and given an opportunity to speak on a panel at a Congressional Summit. She has published several works and was featured in The Washington Post, LIFE Magazine, and Bisnow Media.
David Tannenbaum, of W.T. Woodson High School, used his own money and effort to assist the people of Darfur by serving as an intern with the Save Darfur Coalition, writing a blog to help illuminate the Darfurese plight, and forming Woodson4Darfur -- a club dedicated to raising funds for the people of Darfur and promoting awareness in the school community.
Other recipients are:
Ye Eun Jeong of James Madison High School, Brandon Allen, senior at George C. Marshall High School, Sarah Khaliq of Mountain View High School, of The Quander Road School, Franck Simo of South Lakes High School, Mariam Ebadi of JEB Stuart High School,and Sarah Haug of Westfield High School.