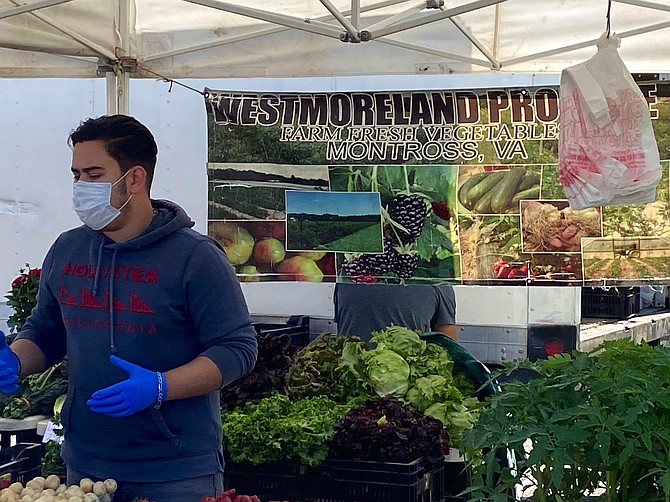 The Burke Farmers Market, operated by Fairfax County Park Authority in the VRE parking Lot, 5671 Roberts Parkway, was the first to open in the County program for the 2021 season. It will be the last one to close, currently scheduled for Dec. 18. The market is open on Saturdays, 8 a.m.–noon.
Aimee So of Burke stood in the first aisle with her son, Landon, 4, enjoying the sun, the people, and the market's vibe. "This is his highlight of the weekend. We live nearby, and I put him in the wagon," said Aimee.
The Burke Market garnered several new vendors, a pasta maker, honey bee farmer, jam and jelly specialist, and someone who believes he found the perfect coffee bean to roast for a great cup of coffee. According to the Park Authority website, Foggy Mountain Pasta uses only local or organic flour mills, "amazing" veggies, and pasture-raised eggs. Rock Hill Honey Bee Farms are purveyors of high-quality honey from Italian honey bee hives and is a 100 percent Service-Disabled Veteran-Owned Small Business. 
CAE's Artisanal Confections creates small-batch "wine jellies, preserves, and confections meant to awaken the palate and indulge the senses," according to its vendor website. Not to be outshined, the Haymarket Coffee Company crew found what they consider the best coffee bean. It grows high in the volcanic mountain jungles of El Salvador.
Market shopper Hilah Kaufman of Fairfax watched her daughter, Maya, 6, savor a cold chocolatey treat in a cup. Quickly, it began melting, dripping off her spoon and across her mouth. "I came because it's a great option and close to us. This is our first time here since before COVID," said Hilah.
Like all other Fairfax County Park Authority Markets, "By providing access to locally grown foods, [the FCPA] farmers market program strives to improve the health of Fairfax County citizens, support local food producers, and protect the environment," according to the County website. Market-goers can, if they choose, pre-order items by visiting the county website, Burke Farmers Market | Park Authority. Pre-pay and pick up at the market.
Donna James of Springfield worked the market entrance table, greeting shoppers as they arrived. Given the new masking guidelines issued by the Centers for Disease Control and Prevention, some market shoppers asked James as they were about to enter.  "Can we remove our masks now?"
"If you've been vaccinated, it's optional. Just keep your distance, social distance, and be mindful of that," said James.