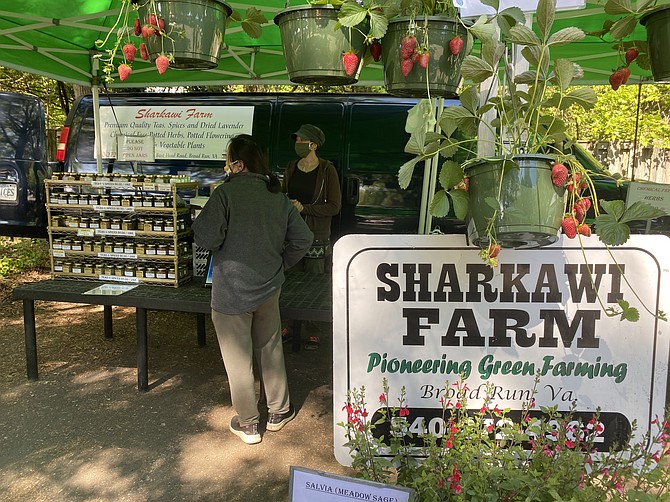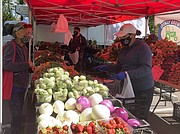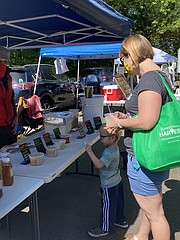 The McLean Farmers Market at Lewinsville Park, 1659 Chain Bridge Road, opened for the second day of its weekly spring to late fall season on Friday, May 15, from 8 a.m. to noon. Operated by Fairfax County Park Authority, co-market manager Bill Smith said the McLean Market has one of the longest run histories in the county. "We have some vendors that have been here all along," Smith said, referencing Sharkawi Farm in Fauquier County.
The farm grows 40 chemical-free varieties of potted herb, fig, and guava plants, flowering perennials, pansies, and dried lavender. They also manufacture 56 teas, spices, and spice mixes with all products Virginia Finest Certified and chemical-free.
Upon entering the market, one of the first stalls is home-based business Meredith Fermentalist. They take fresh vegetables, and through the fermentation process, transform them into side dishes to be eaten alone or added to other dishes to enhance the flavors. Shopper Anna Steel and her son, Emmett, 3, looked over the containers of kimchi, pickled daikon, and bean sprouts, enjoying the sun, the people, and the market's vibe.
One of the market's newest vendors is Cannabreeze CBD Hemp Farm of Loudoun County. They are a local Seed-to-Sale CBD hemp farm and produce premium-grade CBD hemp products from plant germination through harvesting, oil extractions, and into the products. Another new market vendor is Mimis Company, sweet & salty pastry. Offerings include chorizo paella, Peruvian Arroz Co Pollo and Apple Strudel.
Smith said he would be bringing home a couple of items from the market, lettuce, a borek, and maybe some other dessert-type things. He described a borek as a savory pie with layers of phyllo dough. Vendor Ozfeka Catering in Arlington County stocks them at the market.
Co-manager Fred Wagner said he would be taking home fresh asparagus. "And the strawberries, they are amazing. And the greens, the kale. Incredible. The rain/sun combo has been great for leafy greens this year," Wagner said.
According to vendor Travis Urda of Mt. Olympus Berry Farm in Caroline County, shoppers should be able to smell fresh strawberries. "After they've been picked for a couple of days, the smell goes away," he said. That's because nutrients in fruits and veggies start to deplete once they are harvested. Days of storage and transport time, temperatures, and exposure all affect nutrient loss and flavor. Supermarket fruits, produce, and veggies can not outshine those picked that morning at local farms or backyard gardens.
Like all other Fairfax County Park Authority Markets, "By providing access to locally grown foods, [the FCPA] farmers market program strives to improve the health of Fairfax County citizens, support local food producers, and protect the environment," according to the County website. Market-goers can, if they choose, pre-order items by visiting the County website for the McLean Market. Shoppers pre-pay online and pick up at the market.