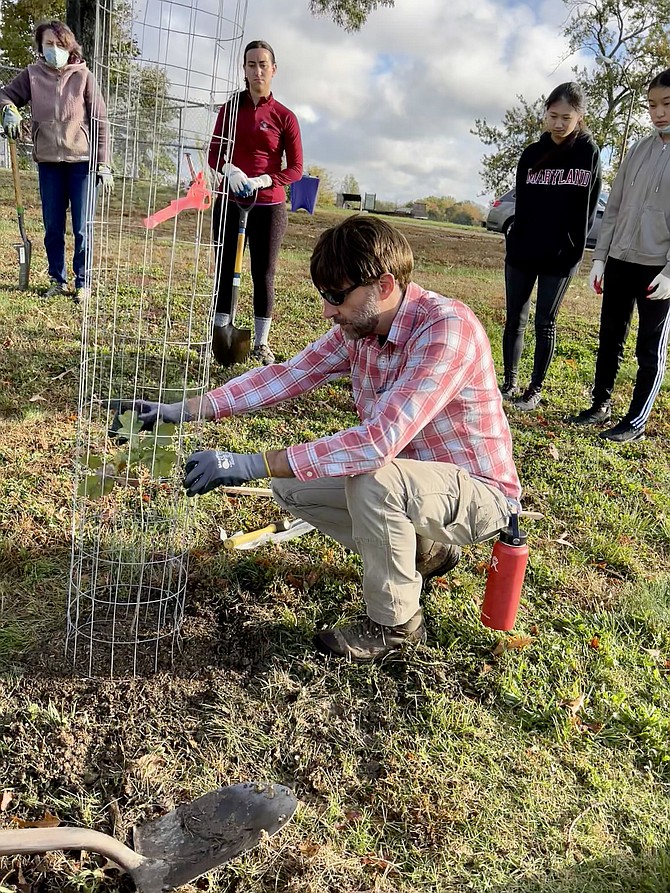 The Laurel Hill Park Volunteer Team planted southern red oak seedlings (Quercus falcate) on Oct. 30 as part of the Celebration of Trees campaign organized by Plant NoVA Natives.  The event, one of many planned across the area this Fall, is part of a five-year campaign to preserve native trees and see more planted in Northern Virginia. 
The planting at the historic Barrett House replaced three mature oaks lost last year after a period of several year's decline. The seedlings will grow to medium sized trees, providing shade, with a large root system for watershed protection, and with a beautiful red leaf color in late summer and the Fall, from which the trees get their name. All oak species provide high food value and shelter for wildlife, including insects, mammals, rodents, birds and deer. This particular oak is the larva host for the Banded hairstreak and White hairstreak butterflies.
In coordination with Fairfax County's Natural Resources Branch of the Park Authority, additional seedlings were planted in the park's reforestation area. The reforestation project, under the management of ecologist Darko Veljkovic, will include the planting of hundreds of native trees of various species this December, to reclaim forest habitat from invasive shrubs and vines. The Laurel Hill Park Volunteer Team's planting of six southern red oak seedlings was the symbolic start of that reforestation effort.
Fairfax Releaf, an independent non-profit organization promoting the planting and preservation of native trees, provided the seedlings for the Laurel Hill planting. The organization makes trees available to Virginia residents and businesses to "lessen the impact of development on the environment" in our fast growing county. (
fairfaxreleaf.com
) A variety of tree species are available, most of which are grown at the Virginia Dept. of Forestry nursery in Augusta County. The state's nursery grows hardwood and pine trees from donated acorns and seeds gathered by volunteers around the state. The Laurel Hill volunteer team effort brought the process full circle, from acorn donation to tree planting.