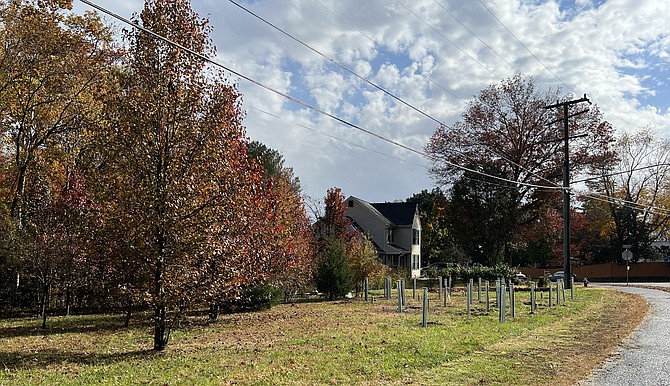 With the cost of lawn mowing services passing $1500 annually for a small lot, the Ridge Road Estates Home Owners Association (RREHOA) in Springfield voted to turn their grassy common area into a better nature habitat, and save money at the same time. Using their own sweat equity, a group of 14 neighbors in the 37 household community dug holes and planted trees on Nov. 11 and 13. Tree seedlings and planting supplies were donated by Fairfax Releaf. 
Tree placement on the lot mirrors the community's house layout, so that each household has a designated native tree to monitor and maintain. The trees will be joined by native wildflowers grown by individual families from donated seed; and by wildflower seeds scattered into the soil for a re-wilding garden effect.
Community efforts such as this one, are encouraged by "Celebration of Trees," a campaign organized by the nonprofit group Plant NoVA Natives (plantnovanatives.org). 
"Whatever your priority (people, wildlife, planet, shade, beauty, clean air and water, erosion prevention, animal food and shelter) there is a reason why you should plant a native tree."
Fairfax Releaf (fairfaxreleaf.com) is a volunteer non-profit group seeking "to conserve, restore and promote sustainable urban forests in Northern Virginia."
Susan Laume is a Virginia Master Naturalist. See 
virginiamasternaturalist.org