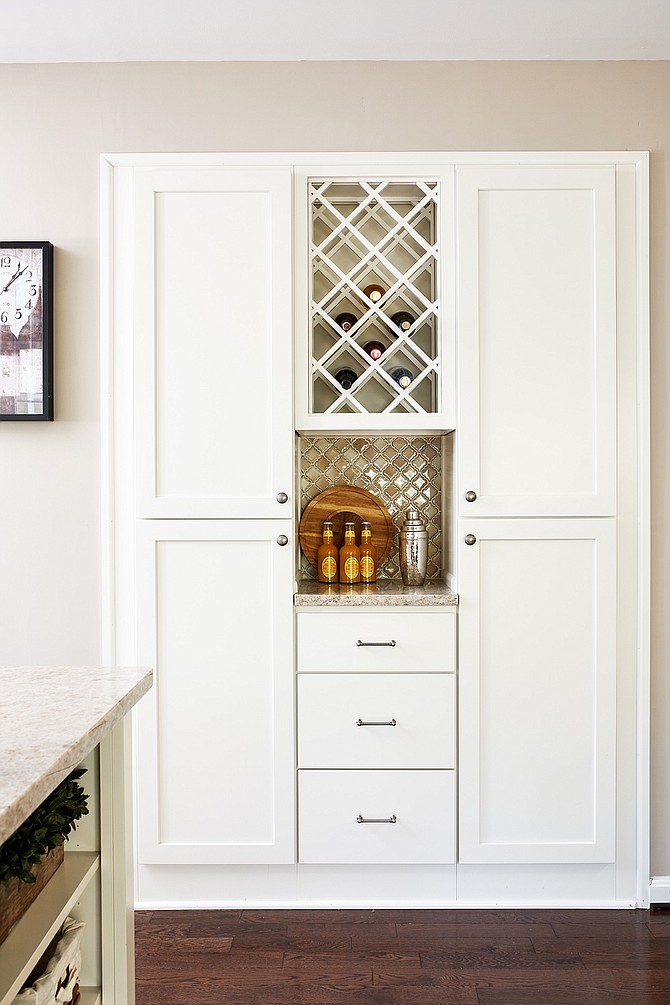 As the holiday season begins in less than two weeks, a home's kitchen is the center stage for holiday parties and even casual gatherings with friends. But many people feel that their kitchen could use an overhaul. 
 Local designers offer suggestions for making the best of your space.
"Though a remodeling project is unrealistic given the time constraints, minor tweaks can spruce up or refresh a kitchen," said Angela Morrison, designer and founder of Morrison Style in Vienna. "You don't have to redo your entire house for the holidays. You can easily do a few easy things to make it look updated for the holidays." 
After giving her kitchen a quick makeover in advance of a Hanukkah party that she hosted for her children's friends and their parents three years ago, Linda Goldstein,a Bethesda based mother and interior designer, says that she developed several strategies for making a big impact on a dated kitchen in a minimal amount of time.  
"I tried several design tricks, so I know that they work," she said. "I have shared these with my clients who have short lead times, but they want to have a kitchen that looks decent for the holidays. You can make mini adjustments that have a big impact and don't cost a lot of money."   
Before tackling any design project, Fairfax based designer Julia Tull of Tull and Foley Designs believes in starting with the basics. 
"Anytime you're sprucing up a space, it's a good idea to start by taking inventory of the space," she said. "During the holidays we are cooking a lot more food at one time, it's important to make a note of the things that are currently on your countertops and see what can be packed away to free up much needed space. Crockpots and waffle irons can be stored elsewhere."
 "Anytime you're sprucing up a space, it's a good idea to edit the room first."  
— Julia Tull, Tull and Foley Designs, Fairfax
Something as simple as a fresh coat of paint can transform a kitchen with a minimal investment in time and money. "Over even just a few years, paint can start to look dingy and dirty, and this can really bring down the look and feel of your kitchen," said Jennifer Moriarty, an interior design student who lives in Alexandria. "Instead of leaving it, take a day or two and add a fresh coat of paint to your cabinets and kitchen walls."  
"In most cases it's better to hire a professional painter, but you can also do it yourself and make them look respectable and save money," added Goldstein.
Updating hardware can give an outdated kitchen an updated look.  "Replace the kitchen pulls and handles," said Moriarty. "It's not a bad idea to splurge on them and reuse them if you decide to remodel your kitchen in the near future."  
"Another easy thing you could do in a day is to replace the faucets," continued Moriarty. "It can be done in a day and is another inexpensive option."  
Replacing a kitchen's window treatments can transform a room instantly, easily and inexpensively suggests private interior designer Anita Stanley of Woodbridge. "The design options are plentiful," she said. "Very few things transform the style of a room like window treatments."   
Replacing outdated or worn flooring might be a long-term project, but Chris Katkish, general manager, InSite Builders & Remodeling in Bethesda suggests a quick fix. 
"Consider using Peel and stick tile for flooring," he said. "Not a permanent solution but could be just enough to get through the holidays."  
Replacing lighting will brighten a kitchen space and create an updated look.  "Add inexpensive under-counter LED lighting," said Katkish. "Toe kick lighting is not very common, but a great way to make a space pop."   
Lighting can make even the most dated cabinets look chic, said Linda Berkson of Berkson Interiors in Vienna. "Under cabinet lighting brings attention to the beautiful tile work of your backsplash and adds a festive glow to your kitchen," she said. "Under cabinet lighting kits are easy to install and can be found on Amazon."   
Holiday lights are for more than trimming the tree. "As the days grow shorter, lighting becomes more comforting," said Morrison. "Put mini lights on top of your cabinets. You buy different color lights and swap out the color for the particular holiday. Orange lights work for Thanksgiving, blue for Hanukkah and red and green for Christmas."  
Try adding accessories in holiday colors, suggests lead designer Jen Patton of Patton and Patton Interiors. "You can swap out things like potholders, vases, dishware, and candles from everyday patterns to holiday-inspired ones," she said. "Add a few cheerful touches of red, green, and silver. Maybe you could add a garland on the wall or a small vase with pinecones, festive berries, and candles for a centerpiece."   
"If you have the space, you can hang a wreath on one of your walls or drape garland on top of a cabinet," said Patton. "Use a mini-Christmas tree, holiday candles or ornaments, to create a centerpiece." 
"Do you get a lot of cards?" asks Berkson. "Perhaps attach them to cascading grosgrain or another type of ribbon and turn a plain wall into a festive display."
"You can embellish your kitchen table and counters with simple seasonal décor, but you can't redesign it in two weeks."
— Linda Berkson, Berkson Interiors in Vienna
Even those with Formica countertops that are reminiscent of the 1970s, can create the illusion of elegance and festivity. "If you don't like your counters and don't have the time or money to redo them, you can always cover sections with holiday placemats or nice cutting boards," said Patton.  
When the counters are satisfactory, they can be versatile. "Take one section of a countertop and make it the drink center," said Tracy Morris, Tracy Morris Design, based in McLean, VA. "That way, you will not have guests making drinks where you are trying to cook. Line up the bottles, fill a decanter and show your guests a great time."  
Use the space to create stations that are streamlined and inviting. "It's a quick way to update the kitchen for the holidays and keeps [guests] out of the work space, but still part of the conversation." said Allie Mann, designer and senior interiors specialist with Case Architects & Remodelers in Falls Church, VA. 
Those fortunate enough to have a kitchen island can enjoy the luxury of an additional canvas on which to express holiday creativity. "Consider using it to lay out a buffet," said Nadia Subaran of Aidan Design in Bethesda. "It could also serve as a great kids' table." 
As with other facets of the impending holiday festivities, practicing expectation management with kitchen design is essential for a peaceful Yuletide season. "You have to be realistic about what can and can't be done," said Berkson. "You can embellish your kitchen table and counters with simple seasonal décor, but you can't redesign it in two weeks. Try to get easy kitchen maintenance done now and make a mental note of any bigger projects you'd like to complete next year."