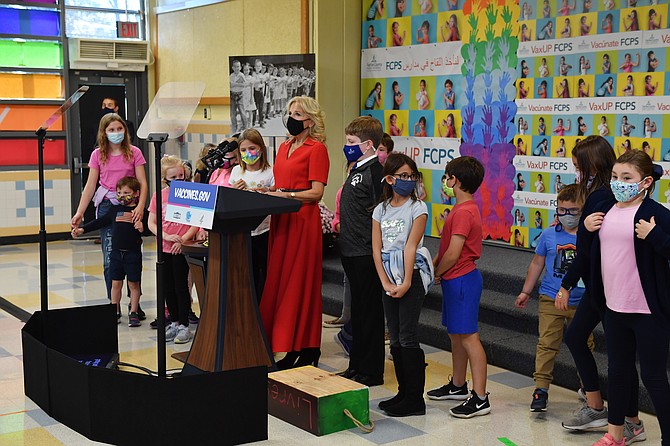 On Monday, Nov. 8, First Lady Dr. Jill Biden and U.S. Surgeon General Vivek Murthy visited Fairfax County Public Schools, Franklin Sherman Elementary in McLean, to promote the pediatric COVID-19 vaccine for children ages 5 to 11 years old.
The choice of Franklin Sherman ES allowed Biden and Murthy to kick off the national COVID-19 pediatric vaccination campaign at the same school where the first polio vaccine was administered 67 years earlier. On April 26, 1954, Franklin Sherman Elementary students became "Polio Pioneers," the first children to receive the Salk vaccine, which started the United States on the path to eradicating polio.
"This vaccine is the best way to protect your children against COVID-19," Biden told parents and their newly vaccinated children. "It's been thoroughly reviewed and rigorously tested; it's free, and it's available for every child aged five and up."
School Superintendent Scott S. Brabrand said that with the opportunity for widespread COVID-19 vaccination of younger children, it was hoped that students would learn in person, avoid school or division closures, and keep school staff and students safe. "We are proud to be leading the way in the vaccination rollout for children ages 5 to11, just as we did with the polio vaccine in 1954," Brabrand said.
A week before, on Tuesday, Nov. 2, CDC Director Rochelle P. Walensky endorsed the Advisory Committee on Immunization Practices' recommendation that children 5 to 11 be vaccinated against COVID-19 with the Pfizer-BioNTech pediatric vaccine. The approval paves the way for the vaccine to be given to approximately 28 million children aged 5 to 11 in the United States. It was an important step forward in the fight against the virus.
Biden and Murthy's visit to Franklin Sherman comes after the virus claimed the lives of more than 5 million people worldwide, including more than 750,000 Americans and more than 1,200 Fairfax County residents.
More than 85 percent of Fairfax County students aged 12 and older have received at least one dose of the COVID-19 vaccine. FCPS has successfully implemented layered prevention strategies since the start of the pandemic in March 2020 and reports that it continues to have both an extremely low positivity rate (0.35 percent) and transmission rate (0.02 percent) in its schools.
FCPS will soon host school-based vaccination clinics evenings, weekends, and during the school day. The school division partnered with a private vendor to open in-school clinics where students can be vaccinated with parent or guardian permission and with or without their presence.It is partnering with Fairfax County Health Department, hosting several mass vaccination clinics, pop-up clinics at school sites in the evenings and/or weekends, and supporting school-based clinics during the school day.
Inova Children's is holding weekend pediatric vaccination clinics at the Inova Center for Personalized Health and Inova Cares Clinic for underserved communities. The Virginia Chapter of the American Academy of Pediatrics will deliver more than 3,900 vaccines per week through its pediatricians.
Fairfax County School Board Chair, Stella Pekarsky, said, "We are proud of the way the schools, the County, and our private partners have come together to ensure that everyone who wants the vaccination will be able to get it."