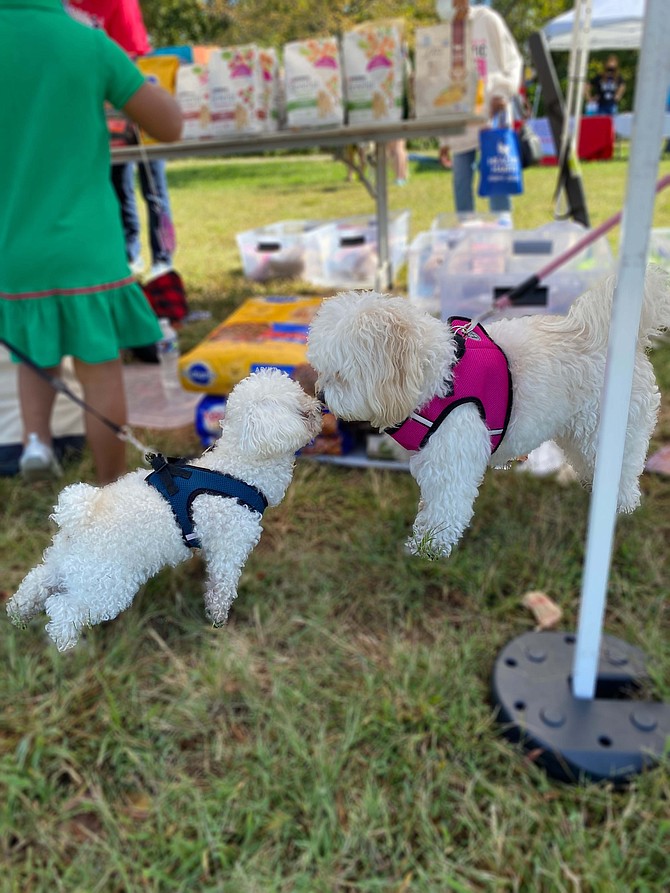 By the time the Community Care Clinic was in full swing on a recent sparkling fall morning, a line of people and pets snaked through Four Mile Run Park in the Chirilagua neighborhood of Alexandria. Pet owners had lined up so their beloved animals could get free vaccinations for rabies, distemper and parvovirus from licensed veterinarians — and the humans could take advantage of COVID-19 vaccinations and bags of shelf-stable groceries, among other resources.
Ileana Ramos pulled a red wagon bearing a mother cat named Nala and three of Nala's black and gray kittens. Ramos, her mother and her daughter all had made the trip from Stafford, Va., to make sure the felines got their vaccinations.
Becky Burnley brought her eight-year-old Maine Coon rescue cat, Jody, joining the line for both vaccinations and a trim of Jody's claws. "She's my faithful companion," Burnley said. "She provides unconditional love."
Tereza Son and her family were accompanied by Jackson, a six-year-old Jack Russell terrier mix they had rescued. "Jackson was due for his rabies vaccination, and it was really helpful that it was free," Son said. "My husband and daughter enjoyed the playground that was nearby while Jackson saw the vet."
The Community Care Clinic, which attracted hundreds of people, was a collaboration between the Animal Welfare Leagues of Alexandria and Arlington. The clinic followed the CDC's "One Health" model, which recognizes and utilizes the interconnection among people, animals and the environment to better serve the community. 
"Our goal is to be a resource to our community, and by connecting with people near where they live, we were able to better serve attendees, both human and animals," said Stella Hanly, Executive Director of the Animal Welfare League of Alexandria. In all, nearly 20 people received COVID vaccinations, which were administered by the staff of Neighborhood Health, and more than 200 vaccinations were provided to pets.
Waiting for the pets were veterinarians skilled at calming animals while administering critical vaccinations. At one table, dogs distracted by cream cheese or peanut butter hardly noticed the needles providing potentially life-saving vaccines. In the closed tents serving cats, one veterinarian gently interacted with the animals, often giving owners her impression of the cats' overall health as she worked. "Her skin looks good, and her weight is just fine," Dr. Laura MacLean said to owners of a young brown and white tabby cat named Rose. Rose and her sister, Tulip, each got rabies shots and a nail trim.
Numerous tents and tables dotted the park that morning, offering an abundance of resources and information. Pet food, preventatives, dewormer and other animal supplies were available, as well as bags of groceries from ALIVE! Representatives of Inova; InspireLit; Liberty's Promise; Nueva Vida; Recreation, Parks & Cultural Activities of Alexandria; Senior Services of Alexandria; and Virginia Cooperative Extension provided information on health and nutrition, support services, local recreational opportunities, free books and more. Support for this event was provided by PetSmart Charities and the Del Ray North/Mount Vernon Shopping Center.
"By connecting with people and their pets at the same time, the event helped make our community a healthier and safer place for all of its residents," said the Animal Welfare League of Alexandria's Joanna Fortin, director of community programs. "We worked with hundreds of our neighbors to make sure they all received the care and support they deserve."
###
Celebrating its 75
th
 year, the Animal Welfare League of Alexandria operates the Vola Lawson Animal Shelter, Alexandria's only open-access animal shelter. The AWLA also offers assistance to Alexandrians with questions about wildlife and animals in the community. More information can be found at AlexandriaAnimals.org.