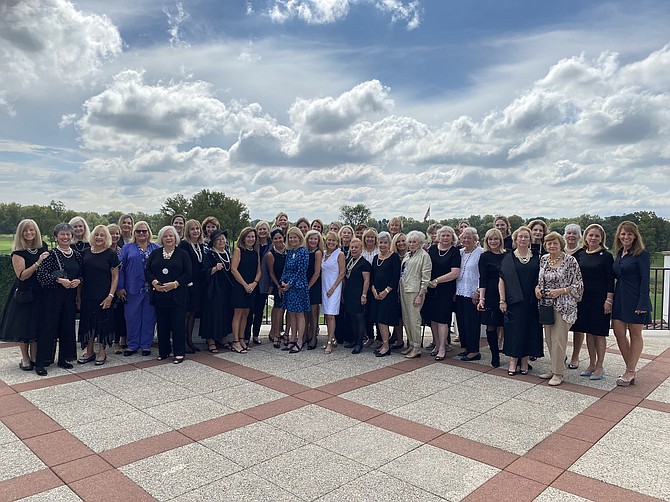 The Little Farms Garden Club of Potomac celebrated its 60th Anniversary with a brunch at Congressional Country Club on Oct. 7. Using the theme "Breakfast at Tiffany's" (which also has its 60th anniversary this year), the planning committee designed centerpieces, programs, a menu card, and filled Tiffany gift bags with party favors. Over 40 members attended, all dressed to emulate Katherine Hepburn's role of Holly Golightly, so there was a lot of sparkle and glitter. 
After the brunch, the club recognized past presidents, emeritus members, and new members. Emeritus members spoke on what they had learned from being a member and the meaning it has had in their lives. Patricia Olsen, president, noted that while the club has increased their gardening knowledge and contributed to the beautification of the community, the real reason ladies have joined, gotten involved and stayed involved through time is because of the relationships they have developed through the years. 
Little Farms Garden Club has been a fixture in Potomac since 1961. Its objectives have always been civic responsibility, neighborhood beautification and horticultural education. Past projects in Potomac have been landscaping areas of Potomac Elementary, the construction of the Gazebo at Potomac Place Shopping Center on River Road, planting cherry trees in the Village, raising funds for the construction of a brick median on River Road & Falls Roads, Christmas decorating of Great Falls Tavern, developing the Blue Star Memorial Garden honoring members of our Armed Forces at the Potomac Community Center, installing an additional LFGC memorial garden at the Community Center, landscaping Rockland House for women in transition from homelessness, work with developmentally challenged individuals in their Garden Therapy program, and most recently patio pot landscaping for Byron House, an assisted living facility. 
Outside Potomac, the club has volunteered at the National Arboretum, participated in the Washington Cathedral Flower Mart Show, and furnished decorated trees and wreaths at the Botanical Gardens and Strathmore Hall.  In addition to their monthly presentations on gardening and nature preservation, the club often takes educational tours of historic gardens and homes and has conducted formal flower shows. 
Every December at their Gathering for Giving holiday party, they collect gift cards to be donated to families in need through Potomac Community Resources. Last year the club donated money to MANNA and Nourish Now food banks. LFGC is a testimony to the philosophy that good things do stand the test of time.