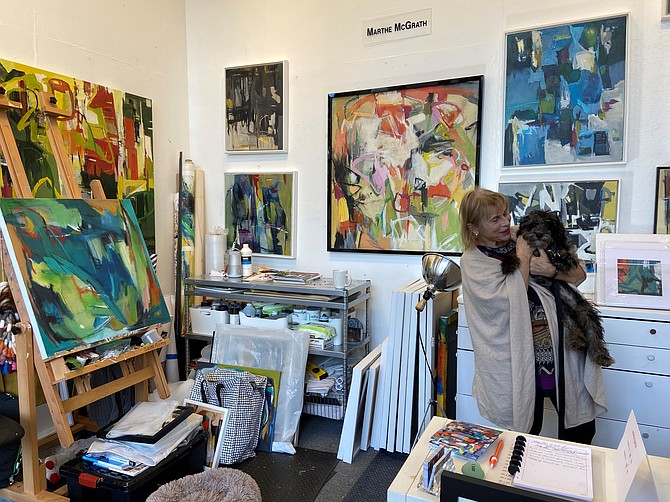 Reston Art Gallery & Studios launched its first 2022 exhibition, "Winter Winds." The show is devoted to the oil and acrylic paintings, watercolors, mixed media collages, metal mobiles, and other works by the gallery's eight working in-house artists. "The works depict the season's sentiments in realism and in abstract," an exhibit description says. The show runs through Feb. 27 and is open to the public for no charge, with works available for viewing and purchase.
The gallery's website http://restonartgallery.com/artists/default.html contains examples of artwork by the featured in-house resident artists, Sandra Dovberg, Pat Macintyre, Marthe McGrath, Wayne Schiffelbein, Dorothy Donahey, Gail Axtell, Rosemarie Forsythe, and Julia Tova Malakoff.
Viewing hours are on the weekends from noon until 5 p.m. and by appointment. Passersby can peer in the gallery's glass façade anytime, view the installed works, and possibly see artists in action.
Reston Art Gallery & Studios is located on the far end of Reston's historic Lake Anne Plaza, at 11400 Washington Plaza West. Look for the large rectangular ART sign. 
Follow @
RAGSReston
 on Facebook, @
RestonArtGallery
 on Instagram, and visit 
RestonArtGallery.com
 for more.