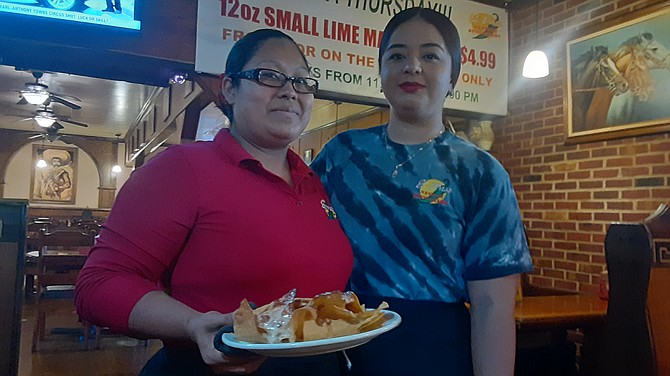 In Mexico, there are "street tacos," for sale by vendors who push carts similar to the hot dog cart that is a mainstay on the streets of Washington, D.C. Along Richmond Highway in Mount Vernon, the street taco is still available, reflecting the multi-cultural influences that are found in this part of Fairfax County.
Tacos El Costalilla in Hybla Valley Center is one place that specializes in street tacos.
"They're Mexican. In Mexico they're really small but we double the taco," said Paula Gonzalez, a relative of the Gallegos family that owns the restaurant. It's a small place with limited seating, but a big fanbase that flock there during lunch and dinner. In addition to the tacos, "a lot of people come in for the salsa," she said, and Mexican dishes like the Torta Ahogada ($7.50) which she called "a typical meal from Mexico." 
The soups are big there too and on weekends they sell out of their hominy soup and beef honeycomb soup. Gonzalez is proud of their food quality. "Sometimes customers say it's better than from their country," she said.
Just north on Richmond Highway is El Paso Mexican Restaurant where they specialize in a dish called "Gomez Street Tacos," particularly on Tuesday nights, where for $6.99, the dish has three tacos, rice and beans. "You can't beat it," said manager Roy Gomez, a member of the family that owns the El Paso chain which has one restaurant in Springfield and another in Woodbridge. The Gomez Street Tacos are available in "al pastor," which is pork, and beef, chicken, steak and "carnitas," which is Mexican shredded, pulled pork.
Their taco nights attract a lot of regulars who bring their friends, and with Fort Belvoir and Bolling Air Force Base close by, "we have a lot of military come in," Gomez said.
Monday nights are children's night and they have a magician. On weekends, they offer 15 percent off to nurses and firefighters, "They're the ones that are real heros," Gomez said.
A little further south on Richmond Highway is Taco Lucas where they have eight kinds of tacos, ranging in price from $1.79-2.99. They just introduced the Taco Birria, which is a kind of beef taco and it is the "number one seller here now," said manager Louise Callejas. The tacos at Taco Lucas are bigger than street tacos but Callejas remembers seeing the street tacos for sale in the urban areas of El Salvador where he is from. "Somebody sets up a grill," he said. "In El Salvador, it's the pupusas, a national thing," he said, and pointed them out on the Taco Lucas menu. Pupusas were the number one seller before the taco birra was introduced, but now "it's a close second," he said.
Other taco places in Mount Vernon include Ricos Tacos Moya, El Pollo Ranchero and El Pollo Primero.
If you go for a taco….
Tacos El Costalilla, 7862 Richmond Hwy. (703) 704-9088
Ricos Tacos Moya, 8685 Richmond Hwy. (703) 780-2880
El Pollo Ranchero, 6324 Richmond Hwy. (703) 721-2000
El Pollo Primero, 7324 Richmond Hwy. (703) 765-0093
El Paso Mexican Restaurant, 8746 Cooper Road, (703) 912-6166
Taco Lucas, 8142 Richmond Hwy. (703) 799-6756