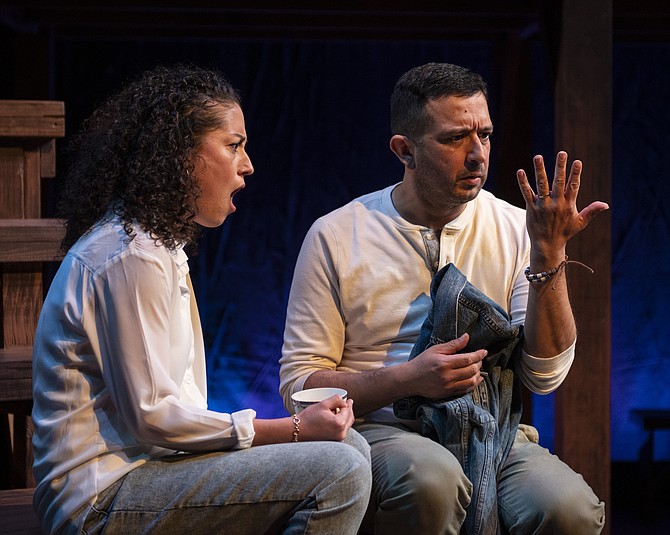 Full of mystery and magic with amusing comic touches, 1st Stage has produced a superior production of "Secret Things," by award-winning playwright Elaine Romera. The appealing "Secret Things" takes a willing audience on a fascinating, time-shifting journey of discovery as a young Latinx searches for unknown ancestral roots. She may find more about herself and her own heart than she expected.
From left, Alina Collins Maldonado, Luis Alberto González, 
"Secret Things" has a simple premise, but it is far from straightforward. Delia, a Latinx journalist played with radiance and confident charm by Alina Collins Maldonado, is a Time magazine reporter in the 1990s. She receives an anonymous package with articles about Mexican-Americans claiming to have hidden Jewish roots. The package suggests they settled in the northern Mexico area 500 years before, after escaping the Inquisition. The intrigued Delia wants to investigate what might be only a myth about these Crypto-Jews. 
Delia is originally from New Mexico and vaguely remembers unexplained family rituals. She is estranged from her family. Her mother and aunt (Luz Nicolas in enigmatic dual roles) and father (Lawrence Redmond in dual roles as a soft-touch Dad and a Rabbi who does not wish to offend anyone) live in New Mexico.  
To set off, Delia must first convince her editor the story is worth pursuing. He is an annoying ex-boyfriend (with bits of continual misogyny from Matthew Sparacino). Her quest for truth only becomes more complicated after meeting a man named Abel (quietly magnetic, genuine Luis Alberto González) who may or may not melt her heart
What might Delia find out about purported Crypto Jews? What might she find about her own heart as she finds tantalizing crumbs to follow? What will she decide is real, even a place called Sephardia?
Well directed with a needed fluid touch by Alex Levy, "Secret Things," explores issues of identity rarely depicted on DC area stages. The technical aspects of the production include quietly effective visual and sound clues. The spartan set design is by Jessica Cancino, shadowy lighting by Alex Casillas; Kelsey Hunt's unpretentious costumes and scene setting sound by Ethan Balis. There are scenes that are overly drawn out that can reduce the play's enjoyment.
1st Stage's "Secret Things" offers a ready audience an opportunity to become unmoored from accepted realities to find surprising possibilities about ancestry and inner lives.
Where and When:  1st Stage presents "Secret Things" at 1524 Spring Hill Road, Tysons, Va. 22102. Performances now through Dec 12, 2021. Thursday at 7:30 p.m., Friday at 8 p.m., Saturday. at 2 and 8 p.m., Sunday at 2 p.m. Run time is approximately 2 hours with no intermission. Tickets: $50 general; $47 seniors 65+; $15 student; $15 educators. Tickets at www.1ststage.org or 1st Stage box office at 703-854-1856. 
Note:  Health and Safety: 1st Stage patrons, staff, artists, designers, and volunteers must be fully vaccinated. Patrons are required to show proof of full COVID-19 vaccination alongside a picture identification.