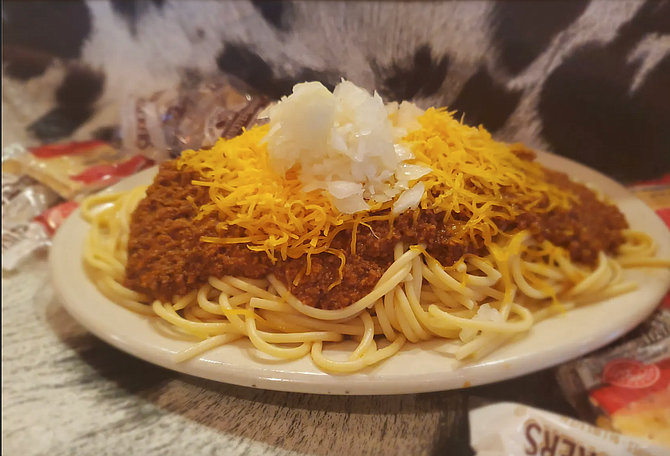 Tired of turkey sandwiches, stuffing salad, turkey tetrazzini and the last of those crescent rolls? Take the family out after the Big Day and give yourself a reprieve from leftovers for at least one meal. Here are four spots just waiting to do the dishes for you for a change.
Hard Times Café, 1404 King St.
Any Alexandrian knows Hard Times, the venerable chili joint on upper King Street. Take visiting family and friends to dive into a piping-hot bowl as well and give yourself a break for the night. Five-way chili mac with a heaping plate of toppings? Go for it. In the mood for burgers rather than another turkey sandwich? You're in the right place. If you're feeling a little plump the weekend after the big Thanksgiving meal, Hard Times also has – what! – salads as well. Go wild.
Elizabeth's Counter, 804 N. Henry St.
Poor old breakfast. It tends to get lost in the shuffle around Thanksgiving, when everyone's bustling about the kitchen trying to get dinner on. Don't let it get short shrift the rest of the week as well. Elizabeth's Counter, long known as a doughnut hub, is an easy way to treat your guests with a sweet beginning over the weekend (and take the pressure off your own kitchen for a change). Dozens of flavors change nearly daily, so lock in your order online and head over to the shop for pickup. (May as well get some coffee, too, while you're there.)
St. Elmo's, 2300 Mount Vernon Ave. and 529 Montgomery St.
And speaking of coffee, St. Elmo's is a great place to caffeinate the clan (and maybe pick up a pastry or sandwich – we won't tell the others). With treats like cortados and matcha lattes, it has everything under the sun on offer in the coffee department. And whether you're closer to the Del Ray or North Old Town location, no matter! Both outposts will take good care of you.
Makeda, 516A South Van Dorn St.
Sometimes, it's time to venture to another continent to break the American Thanksgiving rut. Makeda's Ethiopian menu has that going for it in droves. The West End restaurant runs the gamut from vegetarian fare to combinations to all manner of lamb, poultry and seafood. Start off the proceedings with some samosas, pillowy pockets of lentils or meat, and then move on to the main course of your choice (for variety, you can't go wrong with the combination platters). And if you're tired of pie, some baklava is waiting for you to order at the end of the meal.
Hope Nelson is the author of "Classic Restaurants of Alexandria" and owns the Kitchen Recessionista blog, located at www.kitchenrecessionista.com. Email her any time at
hope@kitchenrecessionista.com
.