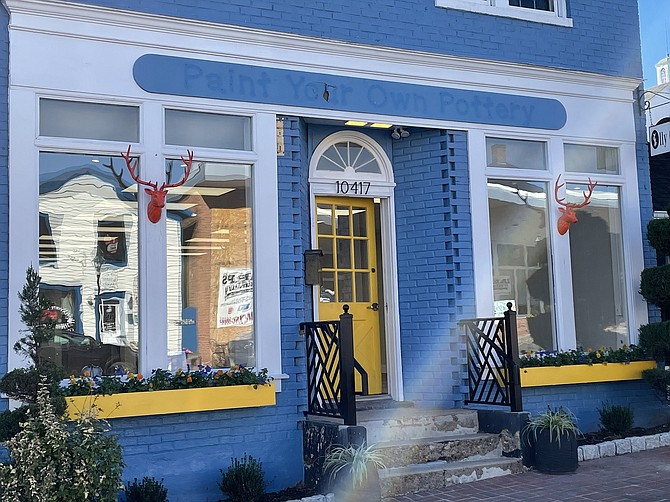 Billing itself as a lifestyle boutique, MARA Hair and Mode Studio in Fairfax City aims to give its clients the hair and makeup styles that are perfect for them, as well as clothing and accessories. But now, it's expanding its operations so that its existing shop at 4011 Chain Bridge Road will focus on hair and makeup, and its fashions and home goods will move into a new home on Main Street.
As part of this weekend's Small Business Saturday, MARA Mode on Main Market will welcome customers into the iconic blue building at 10417 Main St. that used to house Paint Your Own Pottery. Its first days of business will be an open house, Saturday, Nov. 27, from 11 a.m.-5 p.m., and Sunday, Nov. 28, from noon-4 p.m.
"What started as one stylist's chair has grown into a big family of staff and an amazing and supportive community in Fairfax City," said MARA Hair and Mode Studio founder Jana Klavina. "As our community got bigger, planning to extend our studio has been in the works."
She said the business had several opportunities to expand in other cities. But once the news of its possible departure from Fairfax spread, City Mayor David Meyer spoke with her. And, said Klavina, "That conversation made me realize that Mara Hair and Mode Studio has a big imprint in Fairfax City." 
And now, it's been able to expand just around the corner from its salon. "It's no secret that this location is dear to my heart, and I was ecstatic when the opportunity arose to stay in Fairfax City," added Klavina. "We are spreading our wings in the neighborhood with a second location, right here in the heart of Old Town Fairfax, just a few steps away from our hair studio." 
Danielle Wade, MARA creative partner and boutique director, said some of the brands and goods available in the new location are: The Wooden Postcard Co., mailable, art/keepsake, wooden postcards; Frères Branchiaux candles in a variety of holiday scents; Scout Curated Wears, brass suncatchers with crystals; The Rainbow Vision, curated greeting cards, notepads, 6-12-month planners and journals; Powder Design, socks, scarves, hats and gloves for parents and children; Larissa Loden, jewelry from women-designed and owned businesses and made in the U.S.; and Jackson Rowe, clothing from a women-designed and owned company. 
"The Old Town Fairfax Business Assn. is excited to have this prime space leased with a proven and talented team of women business owners," said Shannon Duffy, the association's executive director. "The new boutique will contribute to expanding the types of goods and services available in Old Town Fairfax, adding home goods to the lifestyle boutique mix."  
For Small Business Saturday, MĀRA Mode on Main Market will open with a holiday-market concept. "A bevy of activities are planned throughout Historic Old Town Fairfax that day," said Duffy. "And now there will be a new boutique for all to visit."
Still, said Klavina, "The boutique will be blossoming in a new location but not leaving Mara in the slightest. Now, with this freeing up some space in our little house [on Chain Bridge Road], we're able to do some much-needed expansion to the salon. We'll be adding two chairs to serve our community." 
"Our lead team at MARA has grown and, without them, none of this would've been possible," she added. "Together, we will be a haven for our existing team members to grow, expand their vision and create opportunities for new members."