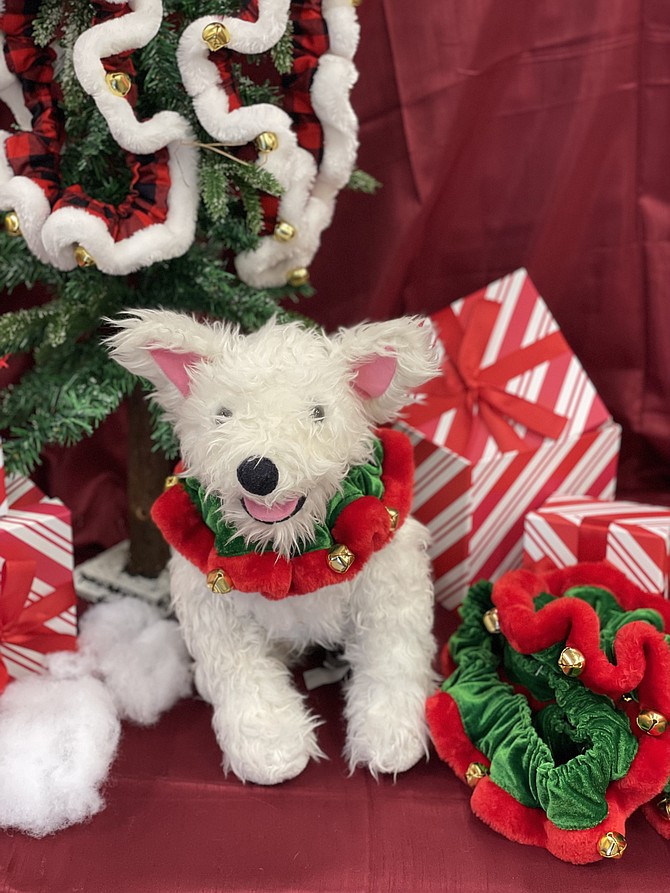 This Holiday Season is the perfect opportunity to re-engage with our community and support the small businesses that make Alexandria a vibrant place to call home. Forget the hassles of shipping delays, lost packages, and supply-chain shortages. The act of gift-giving should be a thoughtful experience that enjoyably engages the senses. So why not break the habit of clicking and spending online? The local stores in our community are well-stocked with beautifully curated collections of gifts to delight everyone on your list. 
Shopping small allows us to personally connect with neighborhood business owners who are passionate about their offerings and full of suggestions about how best to make holiday wishes come true. So, get out of the house and come discover the treasure shops that line the streets where we live. 
Gifts for Four-Legged Friends
The Olde Towne School for Dogs is located in the heart of Alexandria's historic district (529 Oronoco St) and is recognized as a landmark facility for educating dogs and their owners. But did you know they also have an retail space filled with unusual and fun holiday gifts for furry family members? This local business is staffed with helpful employees who have lots of great suggestions for your holiday shopping. The Honey I'm Home Countdown to Christmas Calendar is a delicious way for your pet to celebrate Christmas everyday with nutritional honey coated buffalo treats. And since there is no sweeter time than the holidays to treat someone, consider GIVEPET's holiday snacks that let you treat your pet (and a dog in the shelter) with every package purchased. It is hard to resist the cheerful sound of jingling bells, and with the Huxley & Kent's jingle collars you'll be spreading jingling joy on your winter walks. You'll also find Hanukkah options for furry friends. FabDog's Menorah Moose will brighten your dog's Hanukkah and the Cherish Treats from Copa Judaica will keep them entertained for more than 8 days. 
Gifts for the Earth-Conscious
Mason & Greens is more than just an inviting and eclectic shopping experience at 913 King Street - it is also a lifestyle that embraces sustainability. Every shopping trip to Old Town should include a visit to this wonderful retail space because it is brimming with items that inspire shoppers to be more mindful of our impact on our world. For the eco-friendly on your holiday list, you will find all things zero-waste and 
plastic-free at Mason & Greens. Shop compostable wrapping paper, plantable seed cards, vegan advent calendars, plastic-free ornaments and more. With a five cent bag tax taking effect in the City, plus Arlington and Fairfax County beginning Jan. 1, you might be especially interested in a Mason & Greens tote so you can stylishly avoid those bag fees and do better for the planet.
Gifts for the Gardener
The one thing that every gardener loves is inspiration for how to make their garden better. Green Spring Gardens, at 4603 Green Spring Road, and the Friends of Green Spring (FROGS), do just that. This public park provides year-round motivation with a wooded stream valley and ponds, a native plant garden, more than 20 thematic demonstration gardens, a greenhouse, a plant and gift shop, a historic house, and a horticultural reference library. And the Friends of Green Spring is dedicated solely to the support of this special place. A gift membership to FROGS is the gift that keeps giving, because it includes special admission privileges and discounts at 345+ gardens throughout North America, including free admission to Hillwood in DC, and Lewis-Ginter Botanical Garden in Richmond. There is no better gift for a gardener than to treat them to all the benefits of a FROGS membership, all while supporting Green Spring Gardens. While you are at Green Spring Gardens, be sure to check out the gift shop in the horticultural center where you can find garden gift ideas, including gardening caps, pruners, naturalist puzzles, gardening journals, nature-themed socks, house plants, and more. Memberships can be purchased in person, by calling 703-642-5173, or on-line at FriendsofGreenSpring.org.  
Gifts for the Nature Lover
It's hard to wrap up a big blue sky, trees or sunshine, but the Wild Bird Center (3216 Duke St) succeeds in bringing joy to the nature lover in all of us with wonderful gift ideas that can fit in a bag. Their Clear View Window Feeders are great for introducing children to birding by making it close and personal. Easy-to-fill open trays come in different sizes to fit your needs and the covered roof provides all-weather feeding. A good read for birders and non-birders alike is David Allen Sibley's What It's Like to be a Bird. In this book, you will find answers to the most 
frequently asked questions about the birds we see most often. Sibley's wonderful large full-color illustrations and expertise are a feast for the eyes as well as the mind. And when the cold weather forces us inside, peanut wreaths add festive charm that is appreciated by birds and squirrels who provide entertainment with their silly antics while retrieving their treats.
Gifts for the History Buff
It is hard to beat George Washington's Mount Vernon as a destination for history lovers, and we are so fortunate to have this historic gem in our community. When looking for gifts for the history buff, look no further than the gift shops at Mount Vernon. Consider a signed first edition of "Travels with George: In Search of Washington and his Legacy," by Nathaniel Philbrick, where the author argues for Washington's contribution to the forging of America by retracing his journey as a new president through all thirteen former colonies. Or pick up a copy of George Washington's "Rules of Civility & Decent Behaviour in Company and Conversation," a guide for social behavior and good manners that is as relevant today as it was in George Washington's time. An exciting new product is Virginia Porter, Mount Vernon's rye cask-aged porter that bears a beautiful label with George's image. Combined with a can of Mount Vernon salted peanuts, and you can probably make anyone happy, whether they are a history-buff or not. As the best possible gift for the history enthusiast on your list, consider a membership to Mount Vernon, which comes with many benefits and helps to support the Mount Vernon's Ladies Association in their important mission to preserve George Washington's legacy. 
Gifts for the Sensory-Connoisseur 
For everyone on your list who is exhausted from the pandemic, there is no better time to focus on self-care and Nicole Scott-Howe's charming boutique, Re-Design in a Day, offers locally made products to pamper the senses. Her inviting neighborhood store offers fragrant soaps, soothing lotions, honey salve, bath teas, rose petal facials, and aromatherapy soy candles, as well as vintage finds and home decor. In supporting this local business, you support the local businesses that Nicole showcases in her store. The Re-Design in a Day store is located in the Hollin Hall Shopping Center, open Wednesday-Sunday. 
Be sure to embrace all the wonderful retail opportunities that bring life to our community and support local businesses. Be well, stay safe, and Happy Thanksgiving.