Gun owners entering the Town of Herndon, whether visiting or transacting business, need to be aware that new gun control laws take effect on Jan. 1, 2022. On a 4-3 vote, held during the Sept. 28 Town Council Meeting, the Council approved the new restrictions. Council members Alam, del Aguila, Dhakal, and Singh, voted yes.  Councilmembers Friedrichs, Regan, and Mayor Olem voted no
. Before the vote, Singh explained that metal detectors would only be used at the Herndon Council Chambers in 'Option B,' thus lowering expenses.
Under the new ordinance, no guns would be permitted inside these buildings: Herndon Council Chambers - 765 Lynn St.; Herndon Municipal Center - 777 Lynn St.; Old Town Hall - 730 Elden St.; Herndon Community Center - 814 Ferndale Ave.; Herndon Golf Course Club House - 909 Ferndale Avenue; Herndon Golf Course Maintenance Facility - 909 Ferndale Ave.; Public Works Town Shop - 1479 Sterling Rd.;
Public Works Operations/Water and Sewer - 1481 Sterling Rd.; Herndon Police Department - 397 Herndon Parkway; Cemetery Offices and Maintenance Shop - 831 Dranesville Rd..
Earlier, Councilmember  Signe Friedrichs had moved to table indefinitely Ordinance 21-O-10 with the motion seconded by Mayor Sheila Olem. The motion failed 2-5. 
According to Lesa Yeatts, town attorney, at the Sept. 21 work session, Counc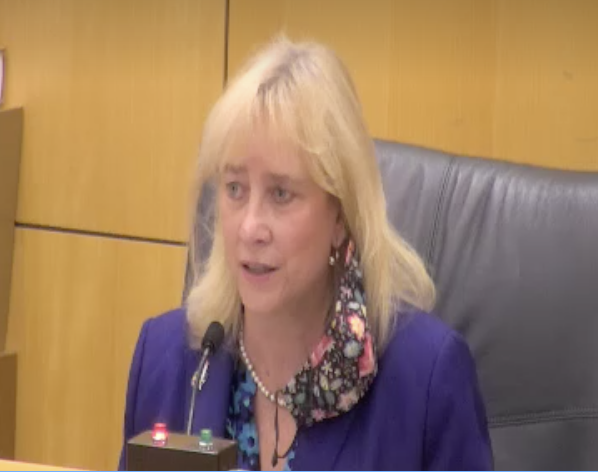 Mayor Sheila Olemil had directed her to bring forward on Sept 28 an 'Option B,' focusing on firearm prohibition in just town buildings making it less restrictive.
Yeatts said in her staff presentation to Council before their vote, exemptions remained the same and included Senior Reserve Officers' Training Corps program, sworn law enforcement personnel, security personnel hired as employees or contracted by the town and who were authorized to carry firearms and Town buildings operating as a courthouse. A violation would be a Class 1 Misdemeanor.
Yeatts added that budgetary impacts for enforcement of the ordinance would be $6,000 for signage and, based on facilities included and level of security desired, $0-744,600 for other items necessary for enforcement and protection of staff and visitors such as metal detectors and staff to operate them. 
With the approval, the Town of Herndon joins other, mostly larger Virginia jurisdictions that enacted similar ordinances after Virginia General Assembly, effective July 2020, voted to allow local jurisdictions the power to adopt their ordinances prohibiting firearms in some public places. Arlington, Loudoun, and Fairfax counties and the cities of Alexandria, Charlottesville, Falls Church, Newport News, Richmond, Roanoke, Winchester, and the Town of Blacksburg approved firearms restrictions.
The topic of adopting an ordinance prohibiting firearms had come before the Herndon Town Council at least eight times between April 6 and Sept. 21. On May 6, Council marked Gun Safety "High Priority" on its Strategic Initiatives. On June 1, Council reached a consensus to move forward in September with two public hearings.
According to Mayor Olem, Town of Herndon residents overwhelmingly opposed the new ordinance, as evidenced by comments from the audience at the two public hearings.  By Olem's count, at the Sept. 14 public hearing, 17 Town of Herndon residents spoke;11 objected to the new ordinance, four appeared undecided, and two said yes. At the Sept. 28 public hearing, 23 people spoke, but only 14 were town residents. Of the 14 residents, 13 objected to the gun ban, and one said yes.
In addition, Olem said in an interview that the tally of written emails and correspondences received by Town Council by Sept. 28, according to her count was 361 written comments. However, only 39 were town residents;  36 of whom opposed the gun ban, and three supported it. 
Mayor Olem said that her concern with the ordinance is that it addressed a problem the Town of Herndon didn't have. "According to our professional law enforcement staff, we do not have a problem with guns in our public town buildings or parks. Simply placing signs on town public buildings and at parks will not deter crime from happening at that location and could encourage individuals to open carry to test our ability to remove them from the location."
Vice Mayor Cesar del Aguila said by Council voting approval for the new gun restrictions, the town "joined other county municipalities across the state, taking steps toward addressing a trend of growing  gun violence." "We set forth for future Councils that there won't be any type of issue with people bringing and displaying arms in council chambers. …The Democratic Party has always endorsed gun safety, gun control…Over the next couple of weeks, we will start dialing into what we want to fund."