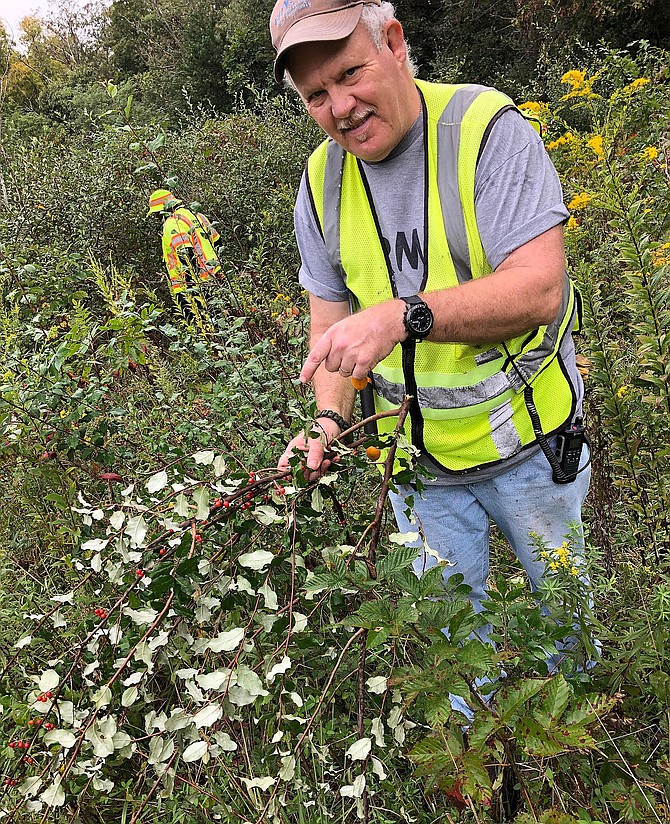 The Lamb Center's City Jobs program has received accolades since its inception nearly three 
years ago. And now, it's receiving international recognition as a model for fighting homelessness, thanks to the Voice of America (VOA).
A daytime, drop-in shelter, The Lamb Center in Fairfax City provides food, clothing, showers, laundry services and spiritual guidance for the homeless. But it wanted to do more; and in November 2018, City Jobs – a partnership between this nonprofit and the City of Fairfax – was born.
Since then, this program has provided employment to people desperately needing it and added workers to Fairfax's Parks and Recreation Department maintenance crews, enabling them to improve response time and tackle deferred projects. As a result, they've beautified the City while improving the environment by picking up litter and removing invasive species. Participants also extended leaf-collection and snow-removal efforts, plus planted trees throughout the community.
Recently, City Jobs became the subject of a Voice of America  broadcast that aired in Pakistan. VOA reporter Sadia Batool was in a park working on another story when she came across a City Jobs team. 
After one of The Lamb Center volunteers explained the program to her, it sparked her interest in doing a broadcast about it, and she then interviewed the workers. Additionally, through Voice of America 's social channels, her City Jobs story reached Urdu-speaking audiences in India, Europe and throughout the world. 
"Understanding homelessness transcends boundaries," explained Lamb Center Interim Executive Director Tara Ruszkowski. "Sadia knew the story would resonate with local communities in Pakistan. What came as a cool surprise was the interest Lamb Center crew members had in sharing their stories. The team knows it's doing important work and is proud to be an example for other communities." 
Batool said it would be interesting for Pakistani viewers to see how cities, counties and nonprofits "come together to help needy and homeless individuals. Probably the main takeaway for them is how homeless people are given a chance to become useful members of society."
Pleased about the recognition this program is receiving, Fairfax Mayor David Meyer said, "Local governments can play a key role in addressing the challenges of homelessness. The City Jobs program in the City of Fairfax is an example for communities to follow, not only in the U.S., but around the world." 
"Employment creates dignity, self-worth, a sense of purpose and hope for the future for persons experiencing homelessness," he continued. "And communities benefit from the work of the participants. Everyone is a winner." 
Indeed, using City Jobs as its own model, Fairfax County eventually partnered with Fairfax City in this venture. It developed Operation Stream Shield, a countywide initiative funding four teams from three, social-services agencies, including The Lamb Center. 
This program is built around the core concept of enhancing communities while building lives. The workers' confidence in themselves and their skills grows, and they're able to earn money, at the same time. Several have gone on to be hired full-time by the county. 
"This is a new level of community engagement and partnership," said Fairfax County Public Works spokeswoman Sharon North. "And it's proving to be beneficial for the county, our partners and especially for guests of The Lamb Center and other participating shelters."
No one is happier about City Jobs' success than Lamb Center Executive Director John MacPherson. "We hope our program will inspire other cities around the globe to adopt a similar approach to creating opportunities for self-sufficiency," he said.
"Individuals experiencing homelessness or struggling with substance abuse can find a sense of worth, community and hope for their future through programs like City Jobs. This program is a win for the City, community and workers."
--
Anna Howell contributed to this story.