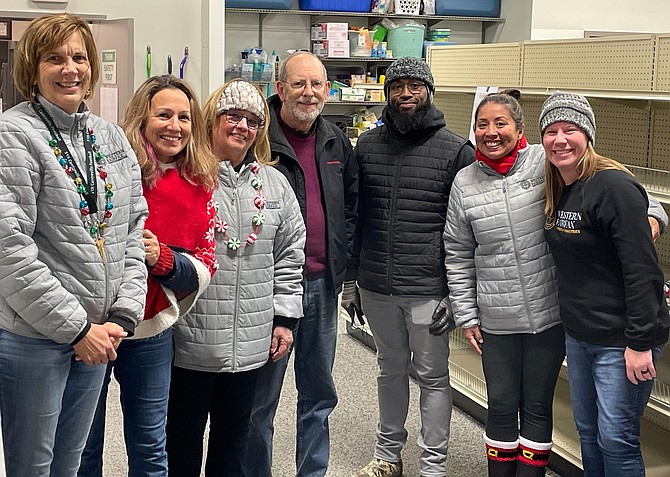 To the Editor:
As we start 2023, Western Fairfax Christian Ministries (WFCM) would like to thank all the partners that supported our Thanksgiving and December holiday food distributions. Together, we were able to provide Thanksgiving groceries for 850 families and December holiday groceries for 550 families.  
The groceries included milk, eggs, butter, chicken/turkey, potatoes, carrots, celery, onions, apples, oranges, rolls and boxes of cooking essentials such as vegetable oil, sugar, flour, cake/brownie mix, along with juice and canned vegetables. The December boxes also included some extra "School's Out" food items such as tuna, pasta, and pasta sauce.  
The families served included some of the 2,733 individuals that use our client-choice food pantry each month, as well as those referred by local schools, plus Meals on Wheels clients in western Fairfax County. (Nonprofit WFCM is based in Chantilly).
During both distributions, the Fairfax County Health Department provided COVID boosters, vaccinating nearly 40 individuals. In December, Supervisor Kathy Smith (D-Sully) and her team provided over 400 coats purchased through Operation Warm, with donations from Pohanka Automotive, the American Turkish Friendship Assn. and others in the community. 
Thank you to all the donors who made our Holiday Food Distributions possible:
Accenture
Capital Area Food Bank
Cedar Run Community Church
Centreville United Methodist Church
Christ Central Presbyterian Church 
Christ Presbyterian Church
Church of the Ascension 
Church of the Epiphany Anglican 
Clifton Presbyterian Church
Fairfax Church of Christ 
Gateway Community Church 
Food Lion
King of Kings Lutheran Church 
Knights of Columbus, St. Andrew the Apostle Catholic Church
Lord of Life Lutheran Church 
Ox Hill Baptist Church 
Pender United Methodist Church (Mary Martha Circle)
Premium Distributors
Pleasant Valley United Methodist Church 
St. Andrew Lutheran Church
St. John's Episcopal Church 
Sorah Family 
Sully District Supervisor's Office (nearly 400 coats via Operation Warm, in partnership with Pohanka Automotive, ATFA and other donors) 
The Church of Jesus Christ of Latter-day Saints
Union Mill Elementary
Westfields Business Owners Assn.
Westfields Marriott
Western Fairfax County Woman's Club
Zion Worship Center.
Sincerely,
Harmonie Taddeo,
WFCM Executive Director