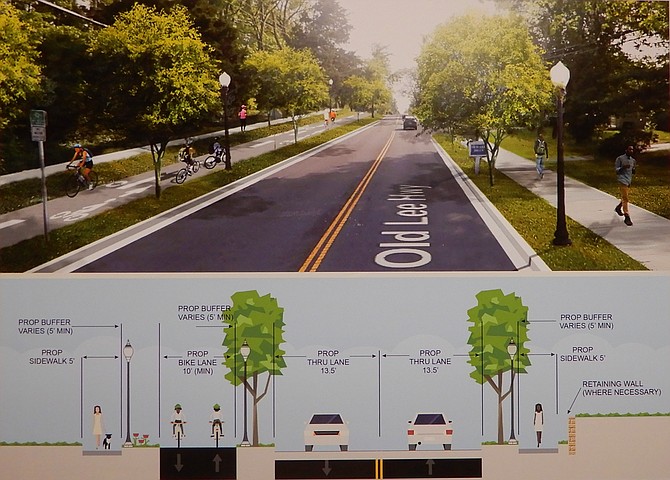 Fairfax City transportation staff recently shared the revised, preliminary plan for Old Lee Highway's multimodal improvements at an open house at the Sherwood Community Center. It's just one of many significant buildings along this well-traveled road in Fairfax City. 
Residents viewed project designs, discussed ideas with staff and submitted written comments. Three major changes were also unveiled, based on community feedback and Fairfax City Council's guidance. They entailed adding left turns, deleting the proposed roundabout at Country Hill Drive and not impacting St. Leo's Catholic Church.
"I'm impressed," said resident Betsy Coffey. "This plan looks well-thought-out and is going to improve the ways for people to get around. I do appreciate how livable this City is."
The project's goal is to provide continuous and consistent, multimodal connections along Old Lee Highway from Old Town to Fairfax Circle. Equally important is making the roadway safer for all users and repurposing excess pavement, while promoting alternative methods of reaching the City's library, Van Dyck Park, Sherwood Center, three schools, places of worship, police department, Historic Blenheim and residential neighborhoods along that corridor. In addition, commercial activity centers anchor each end.
City Council has already committed to keeping the existing travel and turn lanes, plus adding bicycle and pedestrian infrastructure. When completed, Old Lee will have 5-foot-wide sidewalks both sides; curb and gutter on both sides of the road; two-way, 10-foot-wide, separated bike lanes only on the north side; consolidated crossing locations with consistent signage; reduced crossing widths on the side streets; and improved lighting, landscaping and buffering.
A bus stop and bike-amenities hub are envisioned for Van Dyck Park, as well as bus stops and shelters, bikeshare stations, bike-repair areas and emergency, blue-light phones placed strategically throughout the corridor. There are currently nine pedestrian crosswalks along Old Lee, but they might be reduced to six, with about 1,000 feet between crossings.
The two lanes of road will be 13 feet, 5 inches wide each, and retaining walls will be added where necessary. And buffer spaces and bike-lane widths would be reduced, as needed, to minimize property and right-of-way impacts. Having separate lanes will allow pedestrians, cyclists and drivers to travel at different speeds safely.
The only roundabout still proposed would be at Ridge Avenue to improve neighborhood ingress/egress to and from that street. It would also accommodate U-turns for vehicles coming from Fairfax Shopping Center and would reduce vehicle speeds and provide a gateway to Old Lee.
Four, new, left turns would be added as follows:
*From southbound Old Lee Highway into Daniels Run Elementary;
*From northbound Old Lee Highway to Old Post Road;
*From northbound Old Lee Highway to Great Oaks Drive; and
*From northbound Old Lee Highway to the Sherwood Center/Police Station/Van Dyck Park.
A shared-use path is being considered from Great Oaks Drive to Ridge Avenue, to further reduce property and right-of-way impacts. And flashing lights at all proposed, mid-block, road crossings would alert drivers when pedestrians are present.
Total, estimated, project cost is $25.2 million. Funding includes $10 million in state revenue sharing money, $13 million from the Northern Virginia Transportation Authority and $2 million from the City's commercial and industrial tax – dedicated to increasing transportation capacity. 
However, not everyone attending the open house was pleased with what they saw, and several objected to various parts of the plan. "It looks like they were more focused on getting bicycles through this City than cars," said Gary Bottorff. "All we have to do is put a tree-lined median down the middle of Old Lee, a bike path on one side and a sidewalk on the other. We don't need sidewalks on both sides."
Furthermore, he added, "I don't think they need to take property from the north side. And we don't need a traffic circle. We need one, traffic light at the upper end of Fairfax High – and controlled remotely, so police can put it on red when buses are trying to exit."
Amy Wilson said flashing beacons aren't effective. "At Fairfax High, I watched someone try to cross, but the drivers wouldn't slow down," she said. "Maybe they need speed bumps there."
"I think the two, biggest problems aren't being addressed – the egress out of the Fairfax Circle Shopping Center and, across the street, from Mama Chang's [restaurant] and Home Depot," said Jane Gabbay. "It's difficult going left onto Old Lee, or even across the street, from the shopping center. But it's not within the scope of the project."
Avid bicyclist Doug Stewart said, "We like having Old Lee as pedestrian- and bike-friendly as can be and making sure it's safe to walk and bike across. There's a balance to be struck. But with all the churches, schools and parks along there, we want to maximize the opportunity for people to bike and walk there."
City Councilmember Joe Harmon said he'd like to see a left-turn lane into the Old Lee Hills community, going from Fairfax Circle toward Old Town. "In the afternoon rush, people are trying to turn into their neighborhood from Old Lee Highway without backing up traffic," he explained. "Other than that, I think the plan is pretty good."
***
City staff worked with a stakeholder advisory group to provide input on the preliminary plans. It included 18 volunteers representing the Preserve at Great Oaks, Historic Blenheim, Great Oaks, Old Lee Hills, St. Leo's, Fairfax High, Country Club Hills, Daniels Run Elementary, Christian Science Church, Army Navy Country Club, City Council, Daniels Run Peace Church, City School Board, Farrcroft, and the Parks and Recreation Advisory Board. 
Construction is tentatively set to start in spring 2023. For more information, go to fairfaxva.gov/OldLeeHwy. Submit comments at 
engage.fairfaxva.gov
.