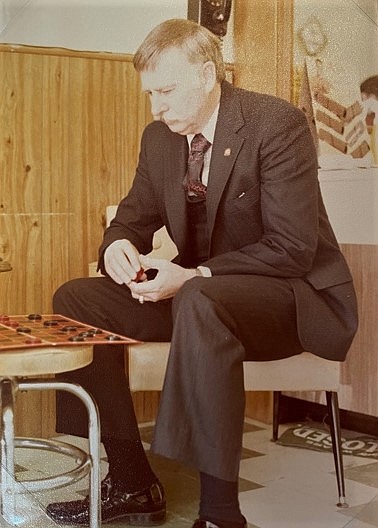 Springfield resident Jerry Corbin was known for many things over the last 70 years including a business entrepreneur, barber, unofficial mayor, and Jeopardy trivia whiz, but if you were going in his shop for a haircut, he let you know that he was also king of the checkerboard before the haircut. At age 95, Jerry Corbin died last month and left behind a legacy in Springfield.
"He was a shark," said daughter Joyce Corbin of his checker skills and later backgammon.
"He was just 'Dad,' never ostentatious," she said.
Corbin was involved in local little league, the Springfield Days celebrations, the Central Springfield Area Revitalization Council (CSPARC), the Lions Club and the lives of many who came to him for advice. "People would go to him all the time, he loved it," Joyce said.
In 1945, he and his new wife moved to Northern Virginia from Timberville, Va. which is a small town outside New Market. He opened his first barbershop, called Jerry's Barbershop, in the Jefferson Manor area of Alexandria, and set up a checkerboard in the front window inviting any challengers. In 1960, he opened a second barbershop in Springfield Plaza, and then opened "Plaza Pizza," which would later be turned into Malek's Pizza, a current staple for locals in the Springfield area.
He was a Frank Sinatra fan too, and lived by the Sinatra song, "My Way."
"He did everything his way," Joyce said.
In 1995, he was named the Fairfax County Citizen of the Year, Joyce said, and was also the president of the merchants association in Springfield Plaza.
At one time, there was a bowling alley in Springfield Plaza too, and Corbin had a permit to carry a gun, so he'd walk between his barbershop and the bowling alley and let the "ruffians" that hung out there know he was around. "Dad never got robbed," she said.
Carl Sell, long time area resident and curator at the Franconia Museum, participated in some local events with Corbin including the Lions Club. "Jerry was a primary mover in the Lions Club," Sell said. "Community efforts included the Christmas tree and fresh fruit sales that benefited the community and the less fortunate," he added. 
When he turned 95 last year, Joyce wrote a very quick post in the "I Remember in Springfield VA When," Facebook page of his milestone birthday. "It was quite overwhelming the number of people remembering him and received over 1200 'likes' and 451 comments," she said.