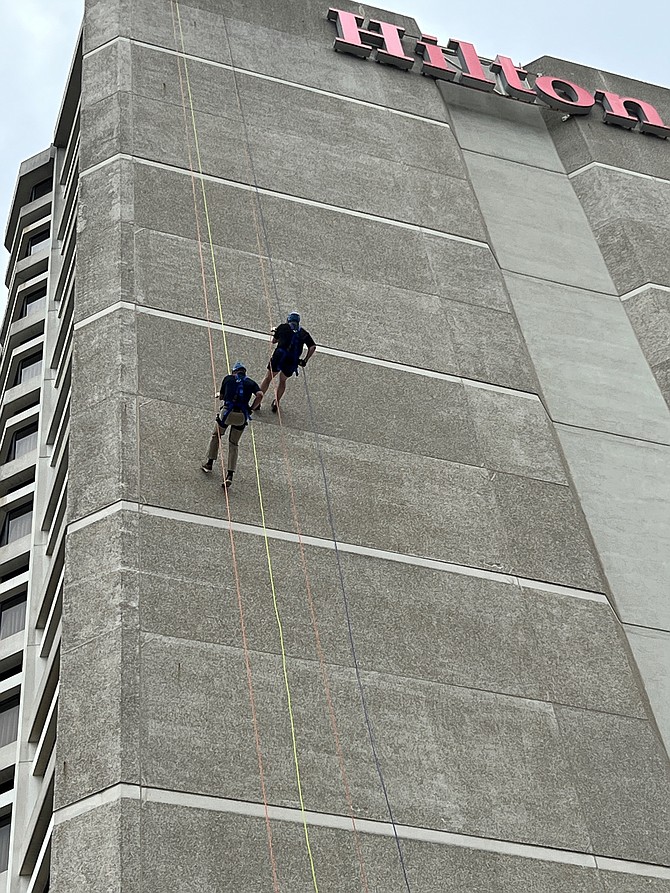 Excitement was mixed with tinges of fear as more than 80 volunteers rappelled down the 14-story Crystal City Hilton as part of the Over the Edge fundraiser for New Hope Housing.
Held May 5 and 6, rappellers included Arlington County Board member Matt de Ferranti, who descended side by side with Fairfax County Board of Supervisors chair Jeff McKay.
"I did not look down from the top," de Ferranti said. "I was a little too eager out of the gate but then I just slowed down and was happy to get down."
De Ferranti, who has rappelled before, was eager to raise awareness for homelessness.
"The cause is what it's all about," de Ferranti said.  "Homelessness is a fixable condition. We can end chronic homelessness, but we need people to believe that we can do it and invest in doing it."
New Hope Housing is a nonprofit operating homeless shelters and housing programs across Northern Virginia. The event was an alternative to a traditional gala in the wake of the uncertainties of the pandemic.
"This was a COVID-friendly way to raise funds that are desperately needed to support our mission," said Jan-Michael Sacharko, Director of Development for New Hope Housing. "Because of our partnerships with the Crystal City Hilton, Keller Williams Metro Center, sponsors and volunteers we were able to raise more than $200,000."
Crystal City Hilton General Manager Charles Hill was among those descending the 160-feet down the side of the hotel. "It was a little scary but exciting," Hill said. "But this is an important cause and we are happy to partner with New Hope and support the community."
McKay admitted he was hesitant but wanted to draw attention to the homeless situation throughout Northern Virginia.
"I was terrified when we started but as we went down it went a little bit easier," McKay said. "But even as scared as I was at the top of the building, it wasn't as scary as sleeping outside in the freezing cold dead of winter like too many of our homeless people have to each night. So if I can raise awareness and overcome a fear of my own here today it is worth it. Most importantly I wanted to support New Hope and what they are doing."
Lois Cook, vice president and wide receiver of the D.C.Divas football team, also took the challenge.
"The adrenaline was pumping and I was nervous at first," Cook said. "But I felt safe and secure although once you get on top of the edge, that's when I knew it was getting real."
De Ferranti added, "My wife said politely, 'Next time you decide to do something like this, let's talk about it first.'"