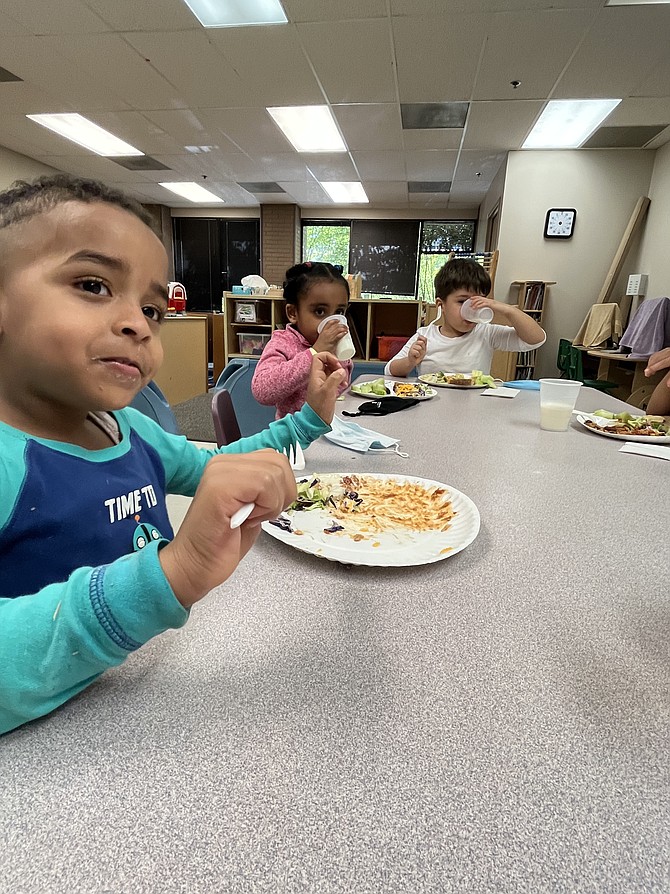 The federal Child and Adult Care Food Program (CACFP) is assisting Cornerstones in Reston in providing free meals to students and clients enrolled in two of the organization's community centers. For more than two decades, Cornerstones' Laurel Learning Center, 1484 Washington Plaza West, and Embry Rucker Community Shelter, 11975 Bowman Towne Drive, have ensured that children enrolled in the center and guests staying at the shelter receive hot, nutritious meals and snacks, said Margaret Anne Lara at Cornerstones.
Nonetheless, the ongoing pandemic demonstrates the frailty of the United States' health, economic, and social structures and those in Reston and Herndon. Cornerstones contributes to the wellness, healthy growth, and development of young children enrolled in Laurel Learning Center and families living in Embry Rucker shelter as designated Child and Adult Care Food federal program centers.
"Job loss for parents, rising food costs for all families, and the growing need for quality, affordable childhood education and youth enrichment programs are … having a profound impact on an entire generation of vulnerable children and their parents in Northern Virginia," Lara said.
The pandemic is far from over, and the future remains uncertain for those who experienced insufficient food. The 92 children enrolled in full-day childcare at Laurel Learning Center receive a hot meal and two snacks daily. Cornerstones participates in the federal program to improve the quality of meals served and to provide more nutritious options.
CACFP is administered by the United States Department of Agriculture's Food and Nutrition Service. "Many parents … depend on our supplemental lunches and snacks, including formula for infants, to help with tight food budgets," Lara said. 
Laurel Learning Center's director is Courtney Park-Jamborsky. Infants are included in the federal Child and Adult Care Food Program, Park Jamborsky said, because it comes down to civil rights. "You have to provide for everybody. So, if infants are using formula, meaning not breastfed, we offer formula."
Park-Jamborsky said access to nutritious meals and snacks also enables children to experiment with new foods and gain knowledge about nutrition. She said that Laurel Learning Center contracts with an Arlington-based company for lunches and for snacks the center adheres to the USDA's snack guidelines, making them nutrient-dense and enjoyable. "The kids love hummus and pita bread. They love chips and salsa ... We used to serve juices but felt it was too sugary. So, we started doing cucumbers and water and lemon and water," she said.
Every day, individuals experiencing homelessness who reside at Cornerstones' 70-bed Embry Rucker Community Shelter located at 11975 Bowman Towne Drive in Reston receive three hot meals and a snack, as well as individuals who are homeless and drop-in.
Without the federal Child and Adult Care Food Program, they would have to fundraise, and the funds would be designated. "Normally, that's an additional $50K that we would have to account for, and that's just for Laurel," Lara said. "Remember, Embry Rucker is doing the same thing as well… But they are serving three meals a day plus a snack... Without this program, well over $100,000 would have to be dedicated," Lara added.
Laurel Learning Center 
Cornerstones' Assistance Services and Food Pantry program is located in the same building as the  Center and provides fresh produce, pantry staples, groceries, diapers, and toiletries to families needing additional support. Parents can rebuild their family's economic stability and self-sufficiency through Cornerstones' employment readiness and job skills training programs. The Center , which can serve up to 130 students, is currently accepting applications for children ages 0-12 years old. Contact Courtney Park-Jamborsky, Director, Laurel Learning Center, 571-323-1398 or by email at courtney.park@cornerstonesva.org. 
Embry Rucker Community Shelter 
The shelter provides healthy, safe, emergency housing for families and single men and women. It opened in 1987 and is dedicated to helping clients overcome the circumstances that led to their homelessness and facilitating their transition to stable housing. To learn more, visit http://www.cornerstonesva.org.